Chocolate Chip and Beer Caramel Cookie Bars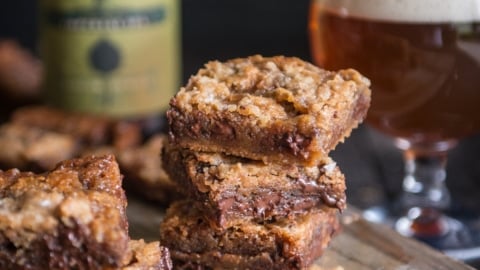 Chocolate Chip and Beer Caramel Cookie Bars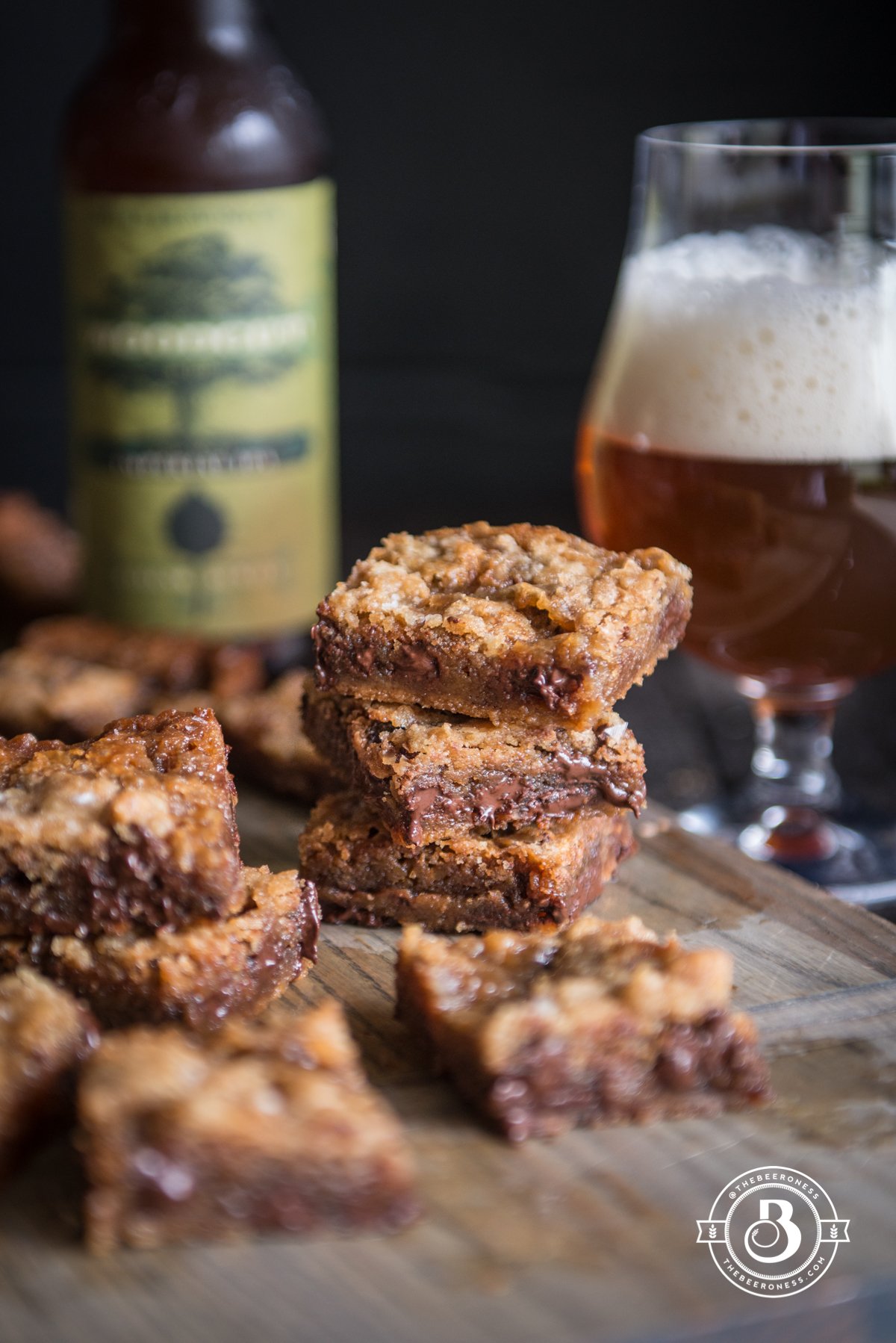 If you haven't been putting caramel in your cookie bars it's time to rectify that injustice. I know, you've had other things to do, I get that. But now's the time. Because if you're going to all the trouble to make some cookie bars it's not going to take you that long (about 8 minutes to be exact) to boil some beered-up sugar.
You also need to add "beered-up" to your vocabulary, since you're about to use it when you set down a plate of these delicious little beasts in front of your friends and explain exactly how lucky they are to partake. Beered-up will be part of the explanation that will immediately illicit a spontaneously unanimous "wow" that they didn't even realize would be beautifully coordinated.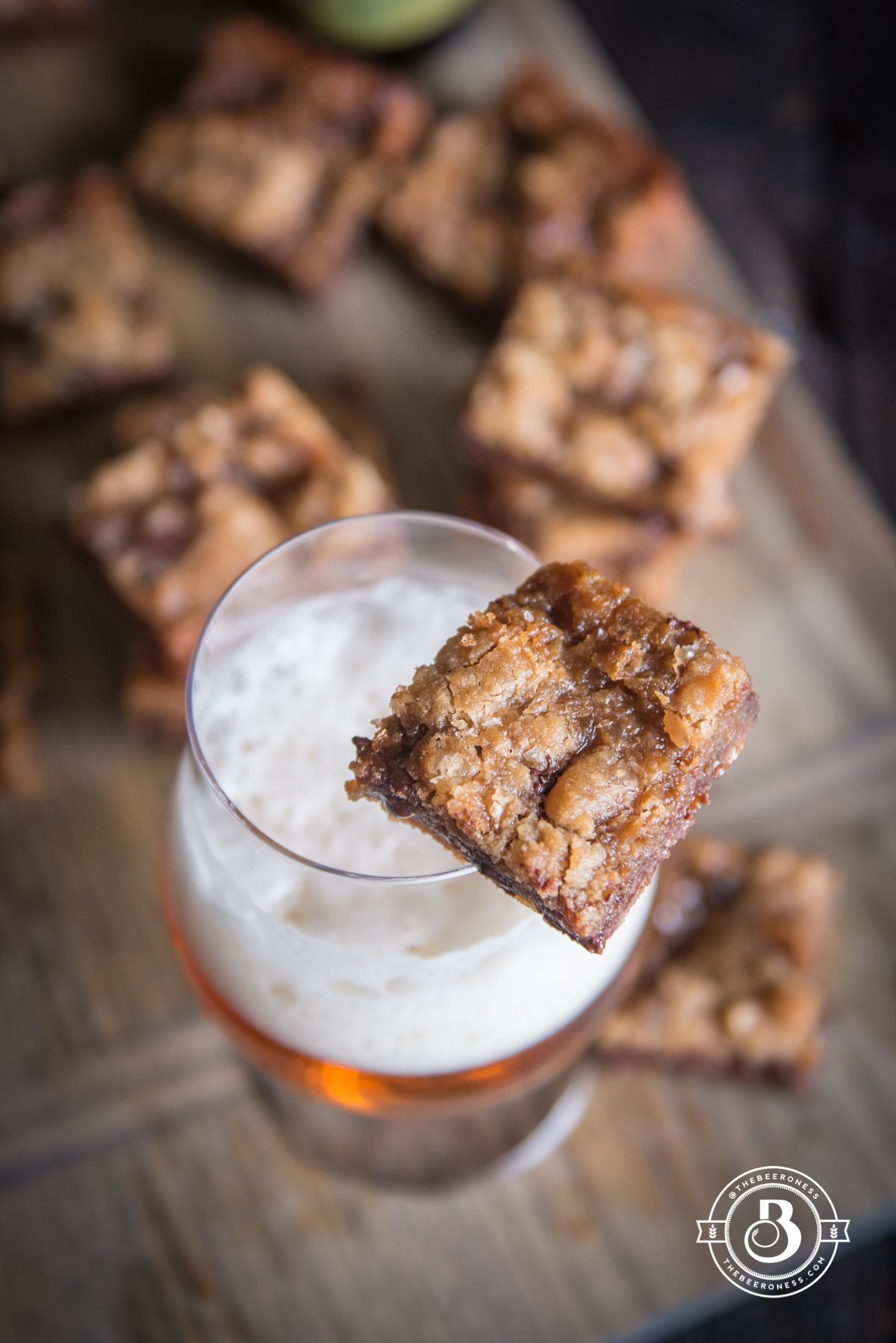 And then you'll open a beer and tell them exactly how much you adore them and that's why you went to all the trouble to not only make them some cookie bars but to also beer up some caramel to go inside. They'll be amazed, of course, and offer to buy you a really good beer as a thank you. You're welcome.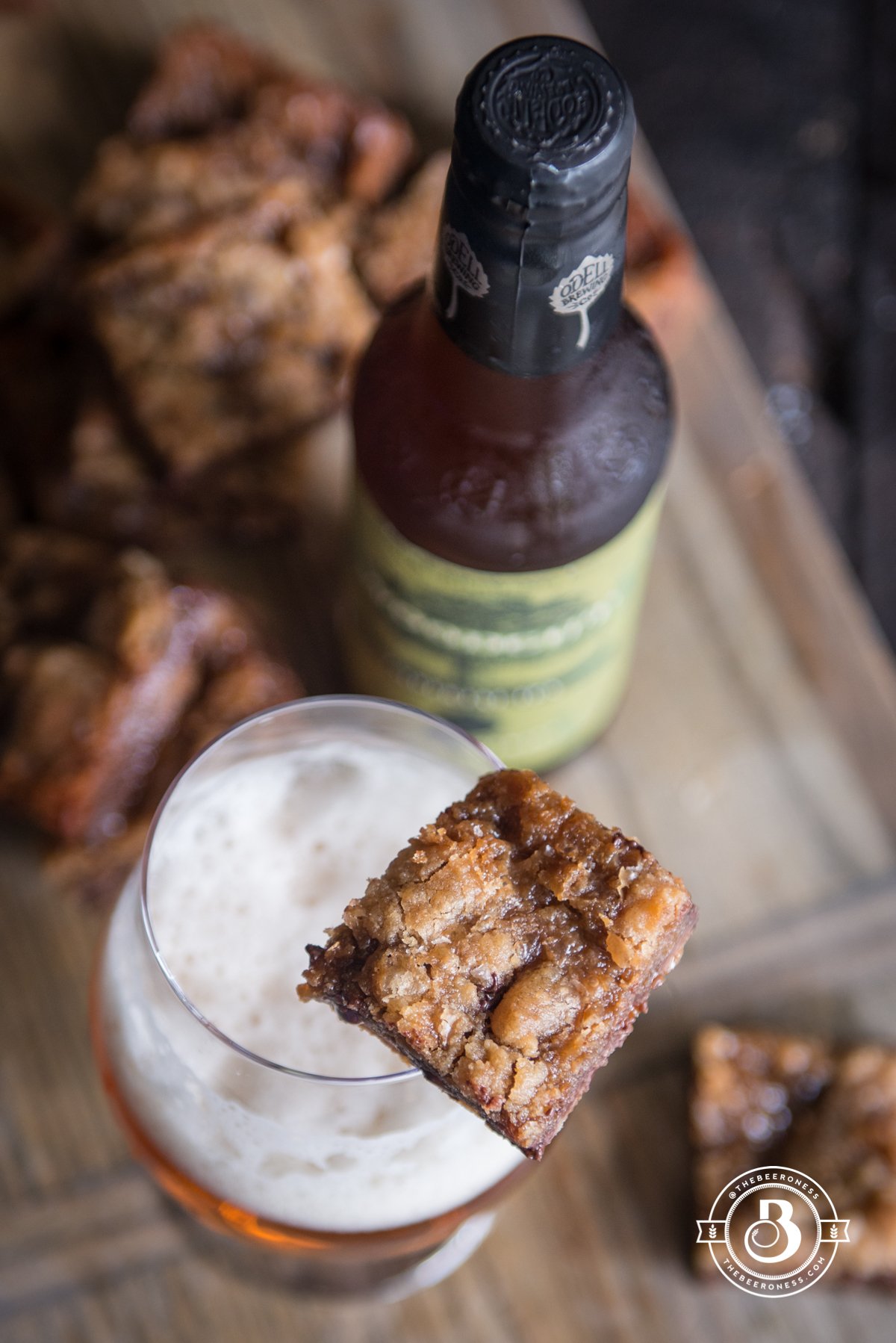 I used Odell Brewing Woodcut #9 Oak Aged Imperial IPA for the caramel sauce.
Chocolate Chip and Beer Caramel Cookie Bars
Ingredients
For the cookie layers:
1

cup

(228g) butter, melted

1

cup

(200g) brown sugar, packed

½

cup

(100g) granulated sugar

1

teaspoon

salt

1

large

egg

1

teaspoon

vanilla

3 ¼

cups

(390g) all-purpose flour

1

teaspoon

baking soda

8

ounces

dark chocolate chips

1

teaspoon

flakey sea salt

I use Maldon
Caramel recipe:
½

cup

(4oz) IPA beer, plus 1 tablespoon, divided

½

cup

(100g) granulated sugar

½

cup

(100g) brown sugar, packed

2

tablespoons

(29g) unsalted butter

1

teaspoon

vanilla extract
Instructions
Preheat the oven to 350°F.

Add the melted butter, brown sugar, granulated sugar and salt to a mixing bowl, mix until well combined.

Add the egg and vanilla, mix until well combined.

Sprinkle with flour, baking soda, and chocolate chips, stir until just combined.

Line a 9x13 pan with parchment paper. Add half the cookie dough to the pan in an even layer.

Bake for 18 minutes or until just starting to turn golden brown. Remove from oven an allow to cool for 10 minutes.

Add ½ cup beer, granulated sugar, and brown sugar to a pan over high heat. Stir until the sugar has dissolved. Clip a candy thermometer onto the side of the pan. Cook the sugar without stirring (swirl the pan if hot spots develop) until the mixture reaches 250°F, about 7 minutes.

Remove from heat, stir in the butter, vanilla and remaining 1 tablespoon beer. Allow to cool for five minutes.

Pour the caramel over the cookie layer. Add the remaining cookie dough to the top in crumbles, evenly as possible but it isn't necessary for it to be completely uniform.

Sprinkle with flakey sea salt.

Bake for 18 more minutes or until the top is golden brown. Allow to cool completely (at least 1 hour) before cutting.