Chocolate Beer Cheesecake With A Pretzel Crust
Choosing a beer for a recipe isn't as arbitrary as it may appear. It also isn't difficult, but it does require thought and planning. Substituting your favorite beer in a recipe isn't always a good idea, and may result in an end product that is nowhere near the intentions of the recipes author.
Where do you start? The recipe or the beer?
A fair question, and it's a toss up. Which ever way you begin, the recipe or the beer, make sure to be mindful of the flavors. Dark beers go well with "dark" recipes. If that beer you want to cook with is a stout, look for a recipe that calls for "dark" ingredients: chocolate, beef, bacon, etc. If the beer you love is a Pilsner, look for a recipe with "light" ingredients, lemon, chicken, fish, etc. There is some room to move around with this rule, but finding complimentary flavors is the key to success when cooking with beer.
Be careful with IPA's. It's incredibly difficult to cook with high hop beers due to the fact that the hops reduce to a very bitter product. If you are in love with an IPA, or another high hop beer, strong starches and sugar mellow hops a bit. Try a pumpkin muffin, or a sweet potato pie. Or look for recipes where the beer won't be reduced, like marinades, beermixology cocktails, or dips.
If the recipe is where you want to start, make note of the flavors and try to find a beer that mimics those. If you want to bake a chocolate dessert, for example, look for a beer with chocolate notes, or coffee, or malt. Look at the list of flavor notes that the beer has and try to imagine those in your dish. Most large chain retailers of craft beer (like BevMo or Total Wine) have cards near the beers that explain the flavors in that beer and give you a fairly accurate flavor profile. If you are making a chicken soup, for instance, you might look for a beer with lemon or basil notes, not a beer with coffee and caramel notes.
Now that you have had your crash course in beer recipe development, please, go cook your beer loving hearts out. And don't forget to share.
For this recipe, I choose Lagunitas Wilco Tango Foxtrot. I had four craft beers, mostly stouts, that were in the running for this recipe, and all would have made great choices. In the end, it came down to a gut feeling. Lagunitas WTF won out, although loosly categories as a "brown? ale" and more hops that I would generally recommend for this recipe, the flavors of chocolate and malt were an incredible fit for this recipe. This is a beer to keep an eye out for, it's smooth and bold and fantastic. A fabulous drinking and cooking beer.
A chocolate stout makes an excellent choice for this recipe as well. I've made it with both and although I love the WTF, a chocolate stout seems to give more consistent results as far as a general beer style.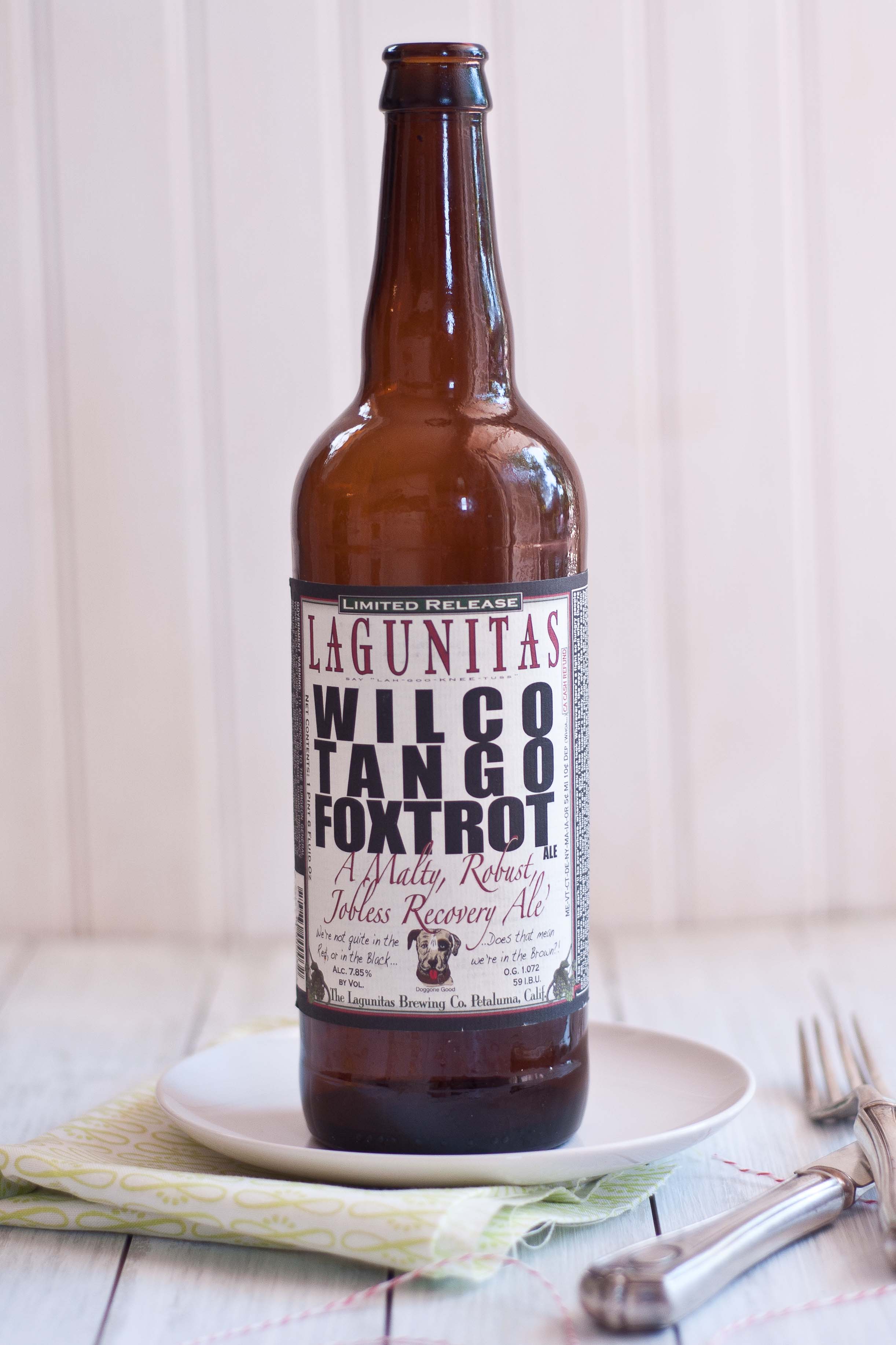 If you can't get your grubby little hands on some WTF, a stout with notes of chocolate would make a great substitution.
Chocolate Beer Cheesecake With A Pretzel Crust
Chocolate Beer Cheesecake With A Pretzel Crust
Ingredients
For the Crust:
4

standard sized graham crackers

1

cup

pretzel rods

2

tbs

brown sugar

3

tbs

melted butter

unsalted
For the filling:
7

oz

dark chocolate

60%

1

cup

Chocolate Stout

or Laguanitas WTF

3, 8

oz

packages of cream cheese

softened

1 1/4

cup

sugar

3

eggs

2

tbs

flour

1/3

cup

cocoa powder

1/2

salt

1

tbs

espresso powder
For the Sour Cream Topping:
1

cup

sour cream

1/4

cup

powdered sugar

2

tbs

Lagunitas WTF
Instructions
Place one oven rack in the middle position, with one rack below. Preheat oven to 325.

In a food processor add the graham crackers, brown sugar and the pretzels and process until it's the consistency of crumbs. Turn the food processor on, remove the stopper from the lid and slowly add the butter and process until it resembles wet sand.

Coat the inside of a 9 inch spring form pan with butter. Pour the crust into the spring form pan. Using the bottom of a heavy, flat bottom glass, press the crust very well into the bottom of the pan until well compacted.

In a pot over medium high heat, add the beer and the chocolate, stir until melted and remove from heat. Allow to cool.

In the bowl of a stand mixer add the cream cheese and the sugar and mix until smooth. One at a time, add the eggs, scraping the bottom of the bowl between additions. Pour the cooled chocolate into the mixer and beat until well combined. Lift the head of the mixer and sprinkle the flour, cocoa powder, espresso powder and salt over the batter, stir on low speed until just combined.

Pour the batter into the pan over the crust.

Place the pan in the oven in the middle position. Place a baking dish on the rack below the cheesecake, fill with water.

If you have experience with a water bath, feel free to use that technique instead of the water pan below the cheesecake.

Bake the cheesecake until the center just slightly jiggles, but doesn't slosh, when you shake the rack, about 60-75 minutes. This isn't a situation where a tooth pick inserted in the middle should come out clean, you just need the center to set and it will continue to set as it cools. Remove from oven.

For the sour cream topping: add the ingredients to a bowl and whisk until well combined. Top the cheesecake with the sour cream topping and return to the oven for 8 minutes. Remove cheesecake and chill in the pan until ready to serve, at least 3 hours.