Chili Lime Beer Chicken
Girls are beasts.
I played Powder Puff Football in college in the free safety position, all 115 lbs of me, and saw up close and personal the kind of rule breaking brutality one girl can throw at another. Maybe it's years of being told to sit up straight and act like a good girl, but once you strap on that waist belt of tear away flags and throw a football in the mix girls unleash a lifetime of pent up frustrations. I saw elbows to the face, cleats to the shins and pony tail pulls to the ground. None of that was me, other than one full contact body shove in the end zone, I played pretty fair. Sure that girl cried, but if you can't handle the heat, get off the field.
The greatest part about my season of savage girl on girl football was that I now completely understand the game, which makes watching it so much more enjoyable. I'm also able to explain it in "girl language" to those ladies who missed out on being body checked by the pissed off Freshman ("downs are like chances").  Which other than the chicken wings I've made, is what I can bring to the Football Watching Parties I'm invited to.
And as much as I love to watch my team rattle the stadium so loudly the crowd registers on the Richter scale (raise your hand if you know who I'm talking about), I love the food that football watching requires.
This  weekend, and the very exciting game that will be happening on Sunday, will necessitate this Beer and Buttermilk Fried Chicken, probably this dip, and I'm using it as an excuse to make these Beer Doughnuts again. Because even if wrong team wins, at least I'll have fried chicken and doughnuts. I'll just have to find someone to body check to make myself feel better.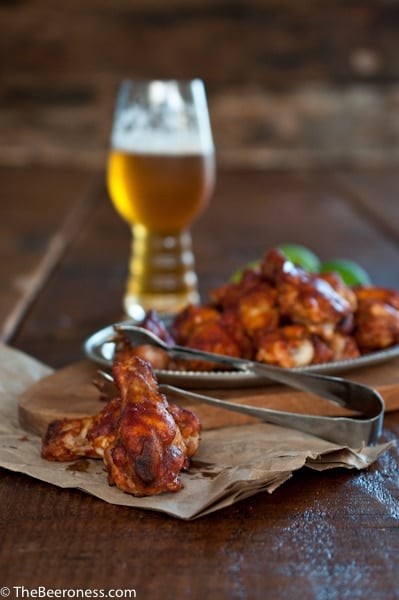 Chili Lime Beer Chicken
Ingredients
12

ounces

pale ale

3

tbs

tomato paste

3

tbs

fresh lime juice

1

tbs

chili powder

½

tsp

salt

½

tsp

smoked paprika

½

tsp

garlic powder

½

tsp

salt

2

tbs

honey

1

tbs

soy sauce

2

tsp

red chili sauce

such as Sriracha

2

lbs

chicken wings
Instructions
In a large bowl whisk together the beer, tomato paste, lime juice, chili powder, smoked paprika, garlic powder, salt, honey, soy sauce and red chili sauce.

Add the chicken, stir to coat, cover and refrigerate for 3 hours and up to over night.

Place the oven rack at the top 1/3 of the oven. Preheat oven to 400.

Cover a baking sheet with aluminum foil and lightly spray with cooking spray. Remove chicken from marinade, add to prepared baking sheet.

Add the marinade to a pot over high heat. Bring to a boil, stirring frequently until thickened and reduced, about 8 minutes.

Brush chicken on all sides with thickened marinade.

Bake for ten minutes, brush with marinade, repeat until chicken is cooked through, brushing with marinade and turning every ten minutes. Chicken will take 30-40 minutes to cook.