Chili Beer Chicken Tacos with Pineapple Salsa + Best Summer Beer Tub Beers
20 minute dinner: Chili Beer Chicken Tacos with Pineapple Salsa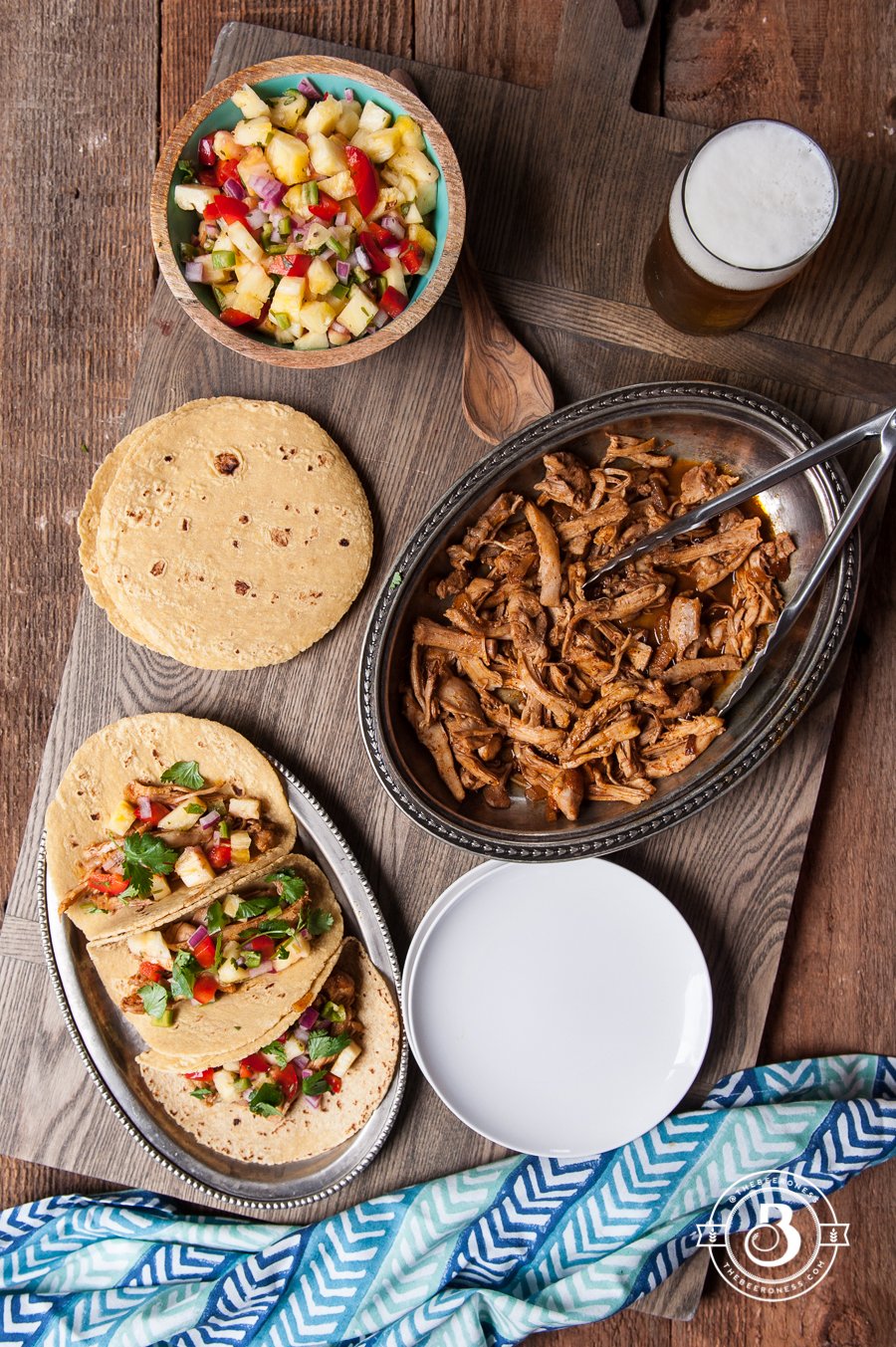 Stocking a beer tub for a summer party is as important as planning the food. Beer sets a tone and fuels conversation. It's as much about offering your friends their favorites as it is about introducing them to new ones.
When planning the brew menu keep in mind the types of drinkers you've invited as well as how far you want to push their palates. Offer your guests safe choices, slight pushes in new directions, and a few more extravagant options for the fearless few who want to try something new.
Keep in mind that while you may be drawn to the bold punch of a triple IPA, don't forget that long summer parties pair better with lower alcohol session ales to keep your guests (or yourself) from becoming a cautionary tale or a viral YouTube video. Keep most of your offerings below 6% ABV to help your guests stay in control.
Wheat beer: This is an important addition to your beer tub. The low hop profile is perfect for the "craft beer is too bitter" guy. Most wheat beer is very low on the bitterness scale and a common gateway for those new to craft beer. Wheat beer is also insanely drinkable and pairs easily with a wide array of foods.
Recommended: Allagash // White, Bell's // Poolside Ale, Dogfish Head // Namaste , Widmer//Hefe, 21st Amendment // Hell or High Watermelon,
Pilsners: Pilsners are having a moment in the craft beer scene right now. Pilsners are about balance, no one ingredient takes center stage. They are hoppy but aren't the hop bombing IPA's or the malt saturated Belgians on the other end of the spectrum. Pilsners are a crisp, drinkable introduction to hops with nice carbonation for summer drinking and burger eating. They are also the perfect way to show Macro Beer Guy that he might actually love a crisp refreshing beer that has a kick of flavor to it.
Recommended: North Coast // Scrimshaw, Breakside // Liquid Sunshine, Victory // Prima Pils
Session IPA's. Given that you'll be the host for a mass beer consumption, you should be mindful of ABV. While many-a guest might scoff at the 4% brew, and feel a manly surge of testosterone when he cracks open a 12 % beast, you know he needs to get home intact. Session beer (beer that has less than 5% ABV) has so much flavor no one will miss the alcohol, or the obnoxious behavior as a result.
Recommended: Odell // Loose Leaf, Left Hand // Good Juju, Rogue // 4 Hop, Oskar Blues // Pinner, Fort George // Suicide Squeeze
Classic Pale Ales. These are the standards, the beers that got us into craft beer. The ones that make us nostalgic and are easy to share. It's hard to fill a tub without a few of these in the mix.
Recommended: Sierra Nevada // Pale Ale, Stone // Pale Ale, Oskar Blues // Dales Pale Ale
Sour & Wild Ales. Love 'em or hate 'em, sours are part of the conversation and a rapidly growing style in today's craft beer market. Grab a few for your guests, you'll never know who is going to love them, maybe even you.
Recommended: Odell // Brombeere Blackberry Gose, New Glarus // Raspberry Tart, Anderson Valley // Blood Orange Gose,
Chili Beer Chicken Tacos with Pineapple Salsa
Ingredients
2

tablespoons

olive oil

¼

cup

36g chopped white onion

6

boneless

skinless chicken thighs

1

teaspoon

6g salt

2

teaspoons

6g chili powder

1

teaspoon

3g garlic powder

1

teaspoon

3g onion powder

½

teaspoon

3g cumin

½

teaspoon

1g smoked paprika

¼

teaspoon

0.5g cayenne powder

12

ounces

wheat beer

or summer ale (not too hoppy)

1

cup

chopped pineapple

¼

cup

chopped red onion

1

jalapeno

chopped

¼

cup

chopped cilantro

pinch

salt

½

tsp

red chili sauce

juice from ½ lime

12

Good quality corn tortillas
Instructions
Add the olive oil to a pan over medium high heat. Cook the onions until starting to brown.

Sprinkle the chicken breast on all sides with salt. Add to the pan, cook on both sides until seared. Sprinkle chicken chili powder, onion powder, cumin, and cayenne. Add the beer, bring to a simmer, reduce heat to maintain a simmer (do not boil). Cover with a lid, allow to simmer until chicken is cooked through, about 8 minutes.

Remove chicken from the pan, shred using two forks. Return the chicken to the pan, allow to simmer for 3 minutes. Remove from pan, add to a serving platter.

In a serving bowl add the pineapple, jalapenos, cilantro, salt, chili sauce and lime juice, stir to combine.

Serve the chicken in the tortillas, topped with the salsa.