Chicken in a Creamy Parmesan Bacon Beer Sauce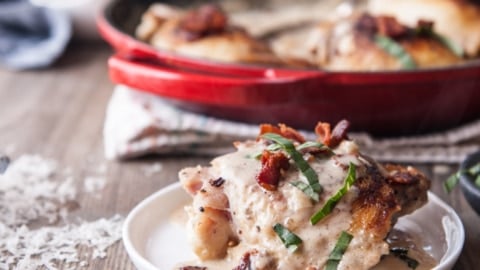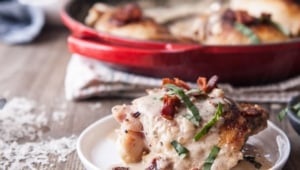 One pot, thirty minutes: Chicken in a Creamy Parmesan Bacon Beer Sauce
"It's because you're entitled!"
I heard the agent at customs yell through the window. She spits her words at an English woman in front of me, waking up the weary crowd in line to enter Stockholm. I was running on the fumes of two hours of sleep (because of this), and the outburst shook the grip exhaustion had on my brain.
"You have an expired visa, an expired passport, and a warrant! I'm not letting you into the country!"
Seemed startlingly angry for such a passive country. The woman fought back, her words getting lost in the commotion of the airport. Two minutes later guards came to escort her to wherever it is that you take an entitled English woman without proper documentation.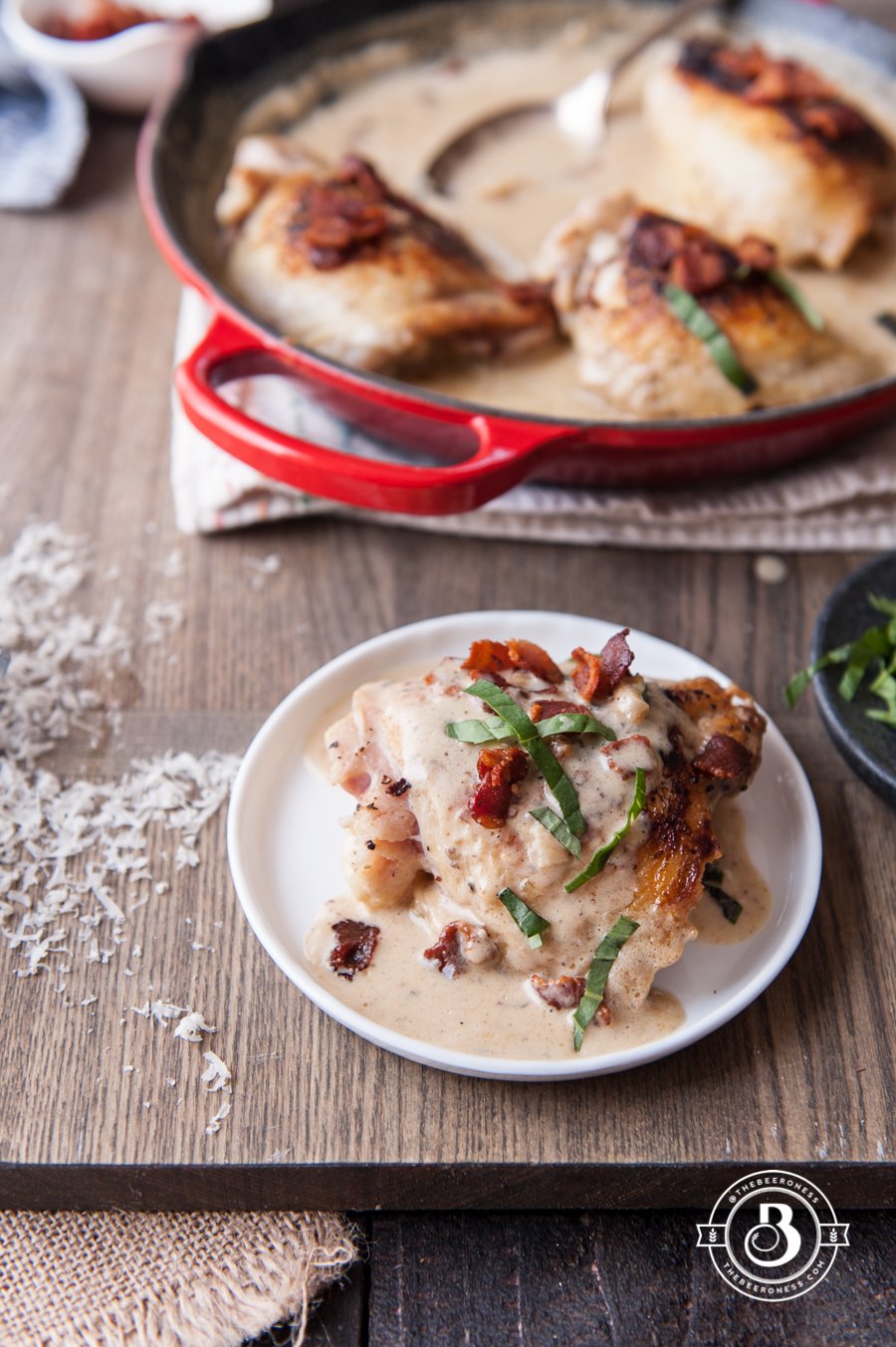 There was, I guess, a relief. That she wasn't American, that her brash self-importance didn't speak for me. Relief that it was my turn. And I defaulted, as I do, to an overly nice and accommodating tone as a way to apologize for the previous interaction the agent was asked to endure. I'm sorry, I won't give you any trouble, all my paperwork is in order, I want my smile to speak at her.
I move on, through the airport, past my short layover, trudging through the waist-high mud of exhaustion and jet lag. Three hours down, 15 more to go before I'm home. And even longer before I can cook again. It's really the only thing I miss when I travel. I miss cooking. I miss my kitchen. I miss making food and losing myself in the process of it all. Before I get back to the kitchen I'll need to endure another day of travel, and another customs line. Possibly smile-apologizing for an actual American to another Customs agent.
When I get home, I'll make chicken the way I do when I want it to taste like comfort, in a cast iron pan with a creamy sauce.
Chicken in a Creamy Parmesan Bacon Beer Sauce
Ingredients
4

chicken thighs

1

teaspoon

6g salt

1

teaspoon

3g pepper

3

strips of bacon

chopped

3

cloves

garlic

minced

1

tablespoon

28g flour

½

cup

4oz pale ale

¾

cup

180mL heavy cream

½

cup

53g shaved parmesan

6-8

large basil leaves

ribboned
Instructions
Sprinkle the chicken on all sides with salt and pepper. Place skin side down in a cold cast iron skillet. Place over medium high heat until the skin has browned, turn over and cook until chicken is cooked through. Remove from skillet.

Add the bacon to skillet, cooking until crispy. Remove with a slotted spoon.

Pour out most of the fat in the pan, leaving about 1 tablespoon still in it.

Stir in the garlic until fragrant, about 30 seconds, sprinkle with flour stirring until the flour has been cooked, about 1 minute. Pour in the beer, scraping to deglaze the pan. Add the cream and reduce heat to medium.

A hand full at a time stir in the cheese until well combined.

Add the chicken back into the pan, cooking until chicken is warmed.

Sprinkle with crispy bacon and basil. Serve immediately.