Chewy Lemon Blueberry Cookies
This post is evidence that I am a totally sucker. Twice.
First, my three-year-old lifts a huge tub of blueberries into the shopping cart and says, "Can I have the blueberries? I love them." I agree. Sucker.
The next day, she climbs in my lap and says, "Can we please make cookies?" I agree again. Sucker.
I would show you the picture of her helping me scoop the dough into the cookie sheets, but she did so naked. She's in a naked phase, as soon as we walk in the door she strips off all her clothes, yells, "Naked lady on the loose!" and runs through the house. I've decided not to fight this battle, we've just had to come to an agreement about when it is, and is not, appropriate to be naked. Which makes me say things like, "Honey, we don't get naked at the post office." I'm assuming she'll grow out of it. Or someday find happiness at a nudist colony, preferably in a warm climate.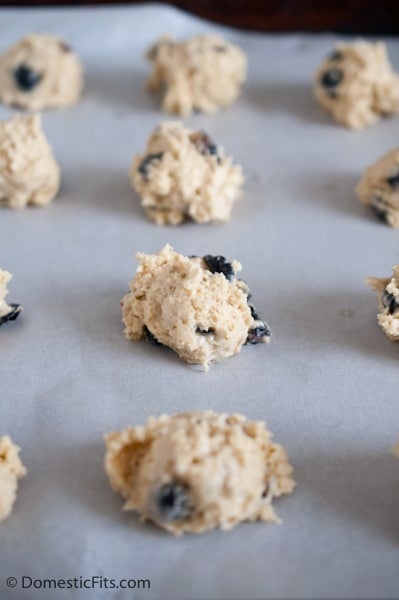 We actually made these twice. I've told you this before, but my version of The Perfect Cookie is chewy, not cakey. And despite my best intentions, the first batch came out cakey: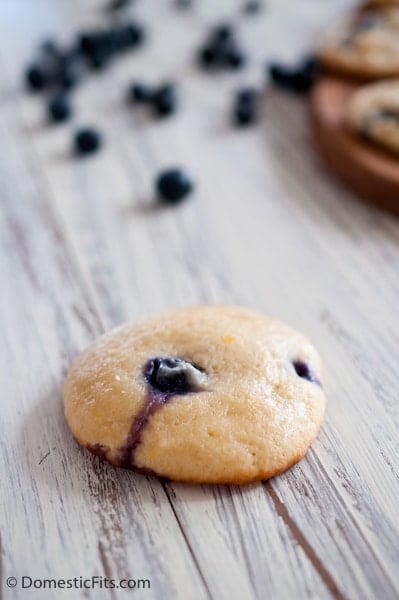 And although I was disappointed in the lack of chewyness, I still ate five (for real, don't judge). The second round was exactly what I wanted, soft, chewy, slightly puffy, and not cakey. But I do understand there are those of you who do like the cakey version, also they would be fantastic to make blueberry whoopies with, so I'm posting both.
But the chewy ones were better.
Chewy Lemon Blueberry Cookies (both cakey and chewy versions listed)
Yield: 24 cookies
Ingredients
Cakey version:
2 ½ cups All Purpose flour
1 tsp baking powder
½ tsp baking soda
½ tsp salt
½ cup (1 stick) butter
1 cup brown sugar
¾ cup white sugar
2 eggs
¾ cup sour cream
3 tbs lemon juice (about 1 large lemon)
1 tsp lemon zest
1 cup fresh blueberries
OR
Chewy Version:
1 1/4 cups All Purpose flour
1 cups bread flour (can use AP flour, but won't be as chewy)
1 ¼ tsp baking soda
½ tsp salt
½ cup (1 stick) butter, cut into cubes
1 cup brown sugar
1/2 cup white sugar
1 egg
1 additional egg yolk
3 tbs lemon juice (about 1 large lemons)
1 tsp lemon zest
1 ½ cup fresh blueberries
Instructions
Preheat oven to 350.
In a medium-sized bowl mix together the flour(s), baking soda, (baking powder if making the cakey version) and salt. Set aside.
In the bowl of a stand mixer beat both kids of sugar and butter until light and fluffy, about 5 minutes. Add the egg(s), beat until very well combined, about 3 minutes. Mix in the sour cream (cakey version only). Add the lemon juice and zest mix until well combined.
Sprinkle the dry ingredients over the wet ingredients, stir until just combined. Gently stir in the blueberries.
Using a cookie scoop, scoop golf ball sized mounds onto a cookie sheet that has been covered with parchment paper (if making cakey version, chill for 20-30 minutes prior to baking or they will spread too much. Chewy version does not need to be chilled).
Bake at 350 for 12-16 minutes or until the top just starts to turn a very light golden brown.
immediately slide the parchment onto the counter, allow the cookies to cool to room temperature.