Cherry Vanilla Pale Ale Party Cake
I'm a huge fan of ridiculous cakes.
My Epic Chocolate Stout Cake has three layers of cake and three layers of chocolate fudge. My Lemon Dream Cake is similar. I even spent years making obnoxiously large cakes shaped like hamburgers and sharks, and by the way, who cares if a cake is shaped like a burrito? Now, I just care if it tastes good.
I'm overly concerned with the presentations of my food, which I completely blame on instagram and my current career path which has resulted in an obsession with presenting the world (or maybe just my neighbors) with an impressive plateful of edible art. I'm an asshole, we established this earlier this week with the polenta discussion. Sometimes I want a break from all this self-inflicted baking demand and I just want to make something that's casual and easy to take to a party. I want the cake equivalent of the perfect pair of jeans, it looks great in a laid back sort of way.
Sheet cakes remind me of childhood, but with three homemade layers it's fancy enough for something that you probably shouldn't wear jeans to. Although if this fancy soiree thinks it's too good for a bottle of beer, then you should just take your casual-yet-elegant cake and move on. Jeans are case by case, but beer should always be invited.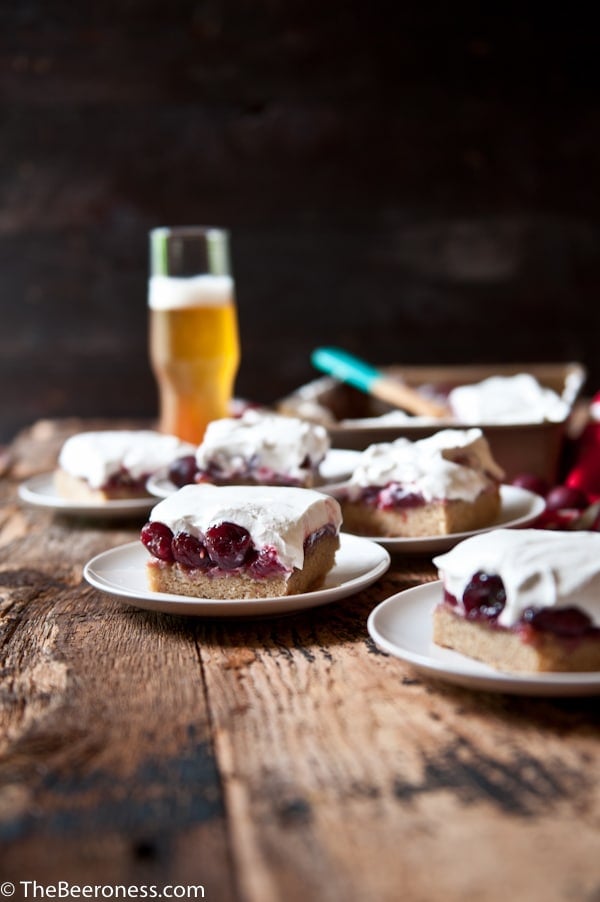 Cherry Vanilla Pale Ale Party Cake
Ingredients
For The Cake Layer:
½

cup

unsalted butter

1

cups

sugar

¼

cup

raw honey

2

large eggs

2

tablespoons

canola oil

¼

cup

buttermilk

1

teaspoon

vanilla extract

1 ¾

cups

all-purpose flour

1½

teaspoons

baking powder

½

teaspoon

salt

½

cup

pale ale

2

tablespoons

fresh lemon juice
For The Cherries Layer:
¼

cup

cornstarch

1 ½

cups

granulated sugar

2

lbs

cherries

pitted

½

cup

beer
For The Whipped Cream layer
3

cups

heavy cream

½

cup

powdered sugar

2

tsp

vanilla extract
Instructions
Preheat oven to 325°F.

In a bowl of a stand mixer, beat the butter and sugar and honey until well combined.

While the mixer is running, add the eggs, one at a time, scraping the bottom of the bowl between additions.

Add the canola oil, buttermilk, and vanilla extract and beat until well combined.

In a medium bowl, sift together flour, baking powder, and salt. In a small bowl, add the beer and lemon juice.

Alternating between the dry ingredients and the beer, slowly add both to the mixer, a little at a time, until all the ingredients are just combined.

Grease and flour a 9x13 baking pan. Pour the batter into the prepared pan.

Bake at 325°F until light golden brown, 23–26 minutes. Remove from the oven and allow to cool completely.

Stir together the cornstarch and sugar in a saucepan. Stir in ½ cup pale ale until dissolved, stir in the cherries. Simmer over medium high heat until cherries have started to break down and sauce has thickened, about 15 minutes.

Pour the cherries over the cake in an even layer. Chill until set, about 1 hour.

In the bowl of a stand mixer add the heavy cream, powdered sugar and 2 teaspoons vanilla extract, beat until medium peaks form, about 5 minutes. Spread the whipped cream in an even layer over the cake. Chill until ready to serve.