Cherry Ale Ricotta Crostata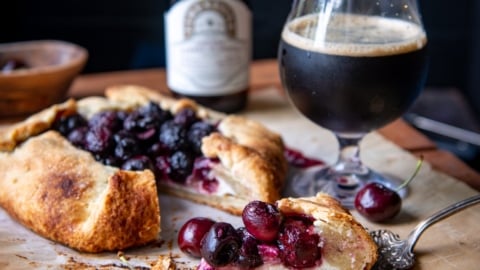 I know what you're thinking. You're looking at this thinking, "Why you say crostata when this is clearly a galette?" No? You weren't thinking that because you're normal and not a huge nerd like me? Sorry. But now I have to address this issue. This is what happens when I create a problem that didn't exist.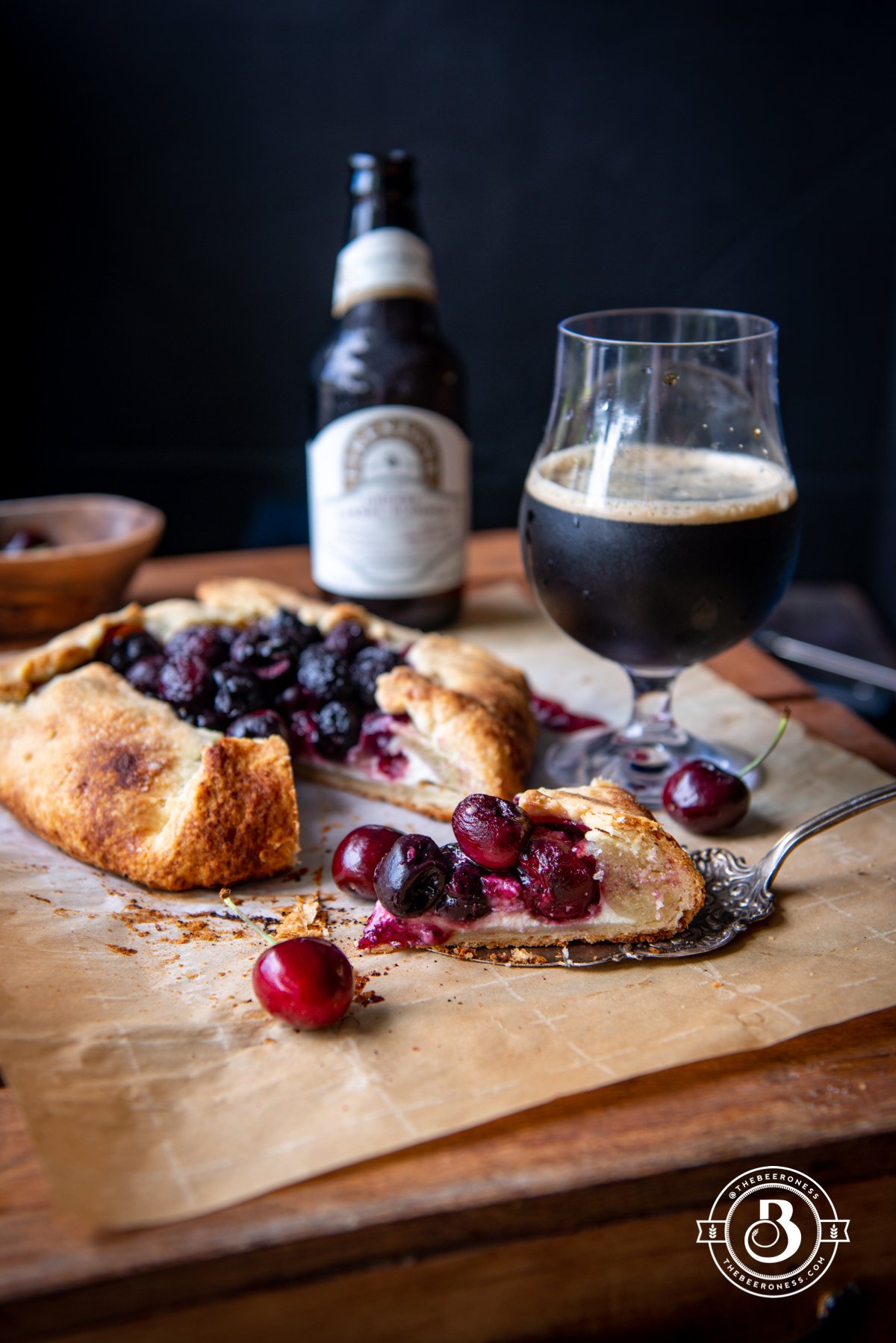 You see, it's like crisps and chips. Or pants and trousers. Or The Rock and Dwayne Johnson. They are the same thing, it's just different people call them different things. Specifically French people and Italian people. The French like to say galette ("guh-let", in case you wondered and googled it so you won't sound like an idiot at the dinner party you brought what you thought was pronounced a "gal-lay" but it isn't and then you're super relieved you looked it up because you were already embarrassed for yourself. Just me again? Geesh). And the Italians like to say Crostata (which is pronounced exactly how you'd think because I looked it up too because I was scared to make the same mistake twice).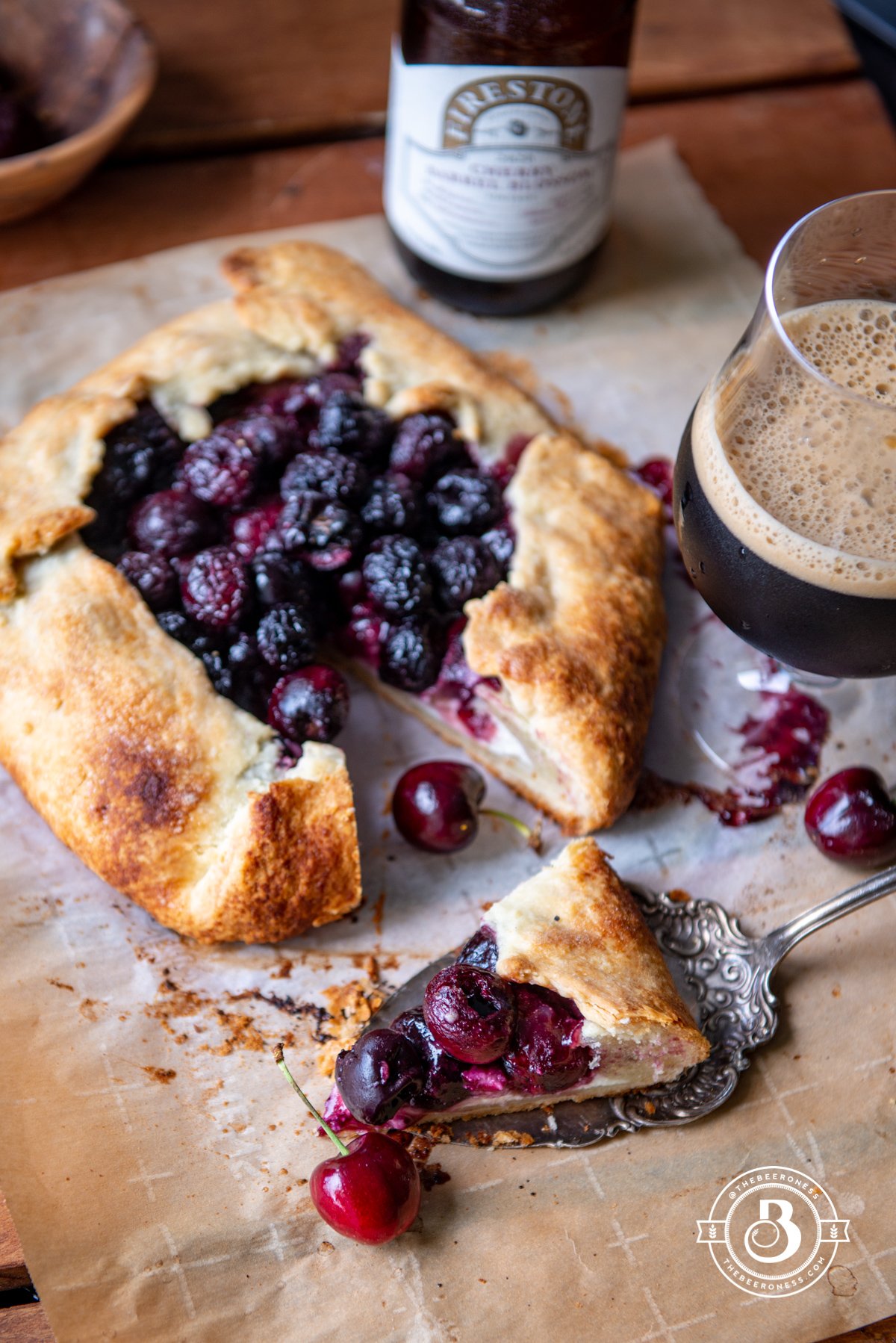 So why, you ask, did I choose crostata instead of galette? Because I liked the way it sounded with "ricotta" and if you don't believe that is a 100% true story, you clearly don't know me well enough. Come on! Ricotta Crostata is just way more fun that Ricotta Galette. You know this to be true.
And your final question is OBVIOUSLY "what beer did you use" because you always have the best questions. The answer is Firestone Walkers Cherry Barrel Blossom, a super-rich and drinkable barrel-aged-cherry-bitters-infused beer. It's also a great dessert beer. You can use which ever beer you want, pretty much any beer will work when you're making beer ricotta, as long as you like it, the flavor will come through. I will advise against anything too hoppy because those hops don't mess around once you boil them, but it's your world. If you want a hoppy ricotta crostata, who am I to stop you?
Cherry Ale Ricotta Crostata
Ingredients
Crust:
1 ½

cups

(180g) all-purpose flour

½

teaspoon

(3g) salt

1

tablespoon

(15g) sugar

½

cup

(114g) cold unsalted butter, cut into cubes

¼

cup

(48g) ice-cold beer (pale ale, Saison, wheat beer)

1

tablespoon

melted butter

1

teaspoon

sanding sugar

or granulated sugar (optional)
Ricotta:
3

cups

(24oz) whole milk

pasteurized is fine but do not use Ultra-Pasteurized, it won't work

½

cup

(4oz) heavy cream

½

teaspoon

salt

¼

cup

(2oz) beer*

Plus 2 tablespoons divided

3

tablespoons

(36g) lemon juice

1

tablespoon

sugar

½

teaspoon

vanilla extract
Cherries:
¾

lbs

(12oz) pitted fresh dark sweet cherries (such as Bing, Jubilee, Chinook)

1

tablespoons

(12g) lemon juice

3

tablespoons

(38g) granulated sugar

½

teaspoon

salt

2

tablespoons

cornstarch
Instructions
Make the crust:
Add ¾ cup of flour (reserve the other 3/4 cup), salt and sugar to a food processor, pulse to combine. Add the butter, process until well combined.

Add the remaining flour and pulse 6-8 times or until all the flour has been combined.

Add the beer, pulse until just combined. Lay a long sheet of plastic wrap on a flat surface, add the dough to the center.

Form into a flat disk. Wrap disk tightly in plastic wrap. Chill until firm, about 3 hours, and up to three days.
Make the ricotta:
In a pot over medium-high heat (do not use an aluminum pan) add the milk, cream, salt, and 1/3 cup beer.

Clip a cooking thermometer onto the side of the pan.

Bring the liquid to 190°F degrees, stirring occasionally to prevent the bottom from scorching. Keep a close eye on it, the liquid reaches and passes 190 very quickly and you don't want it rising above 200°F.

Remove from heat, add the remaining 2 tablespoons beer and then the lemon juice, and stir gently once or twice. It should curdle immediately. Allow sit undisturbed for about 5 minutes.

Line a large strainer with 1 or 2 layers of cheesecloth; place the strainer in the sink over a large bowl.

Pour the ricotta into the strainer and allow to drain for 15 to 30 minutes and up to an hour (the longer it drains, the firmer the consistency).

Place in an air-tight container, Stir in the sugar and vanilla extract, and store in the fridge can be made up to 3 days in advance.
Prep the cherries:
Add the cherries, lemon juice, sugar, salt, and cornstarch to a large bowl, toss to coat.
Assemble to Crostata:
Preheat the oven to 400°F.

On a well-floured surface roll the crust out into a large circle. Add the crust to a sheet of parchment paper on a baking sheet. In the center add the ricotta, leaving about 3 inches on the edges bare. Top with cherries in a large pile. Fold the edges of the crust up over the filling.

Brush the edges with melted butter, sprinkle with sugar.

Bake for 35-40 minutes or until the crust is golden brown. Remove from oven and allow to cool before serving.
Notes
*Any beer will work for the ricotta, but the ricotta will take on the flavor of the beer. A more intense beer will bring a more intense flavor. If you want a more mellow beer flavor use a Hefeweizen, Pilsner, or pale lager. I used Firestone Walker's Cherry Barrel Blossom barrel-aged ale.