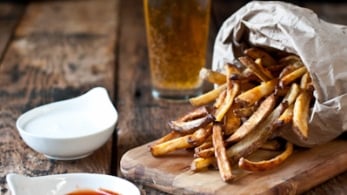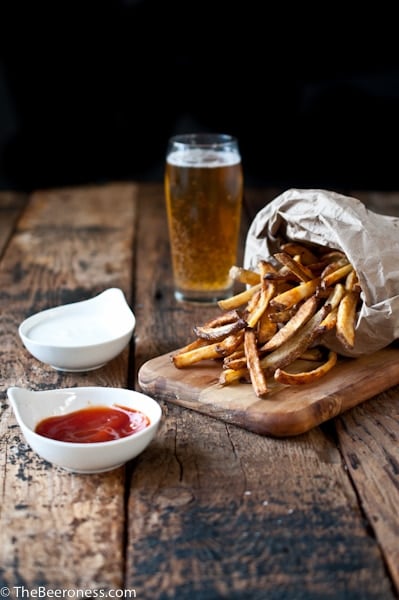 People have irrational culinary fears, I get it. Some people avoid recipes using yeast like they are circus clowns in a dark alley. Some people can't wrap their brains around the idea of plunging food into hot oil without a spotter. I have an irrational fear of mall Santas so I get it, there are just some things we tend to avoid.
Although I assure you, you'd be just fine if you wanted to fry these suckers in hot oil. I also assure you that if you bought a deep fryer your football parties will never be the same. But if you aren't there yet, I get it.
I spent most of the summer cooking everything I ate on my backyard grill, taunting the grill-less into Sad Face reactions. One of my go-to sides was grilled french fries. I cut them large enough as not to slip through the grates and I learned that soaking them in a salt brine gave you that creamy middle and crispy outside that you really want in your french fries.
Now that most the grills in America are covered in the unsavory film of winter, I've switched to the oven method. The salt water soak is still the way to go when you want that creamy/crispy combo, and letting the baking sheet heat up in the oven will give you more of that golden brown outside that you'd get from that scary vat of hot oil.
Although I do promise that if you do decide to deep fry your potatoes, you'll be fine. It's not that scary, not like, say a grown man in a red suit that lurks near a Hollister.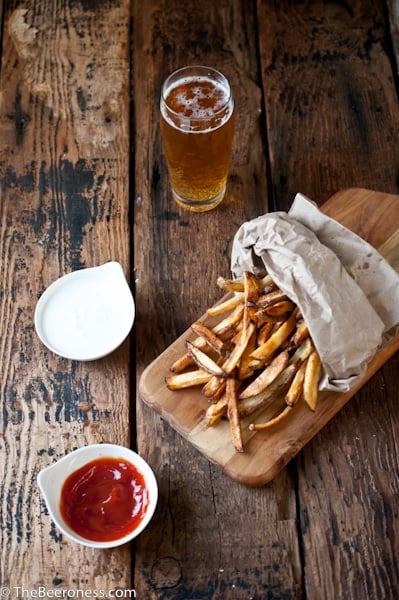 Beer Soaked Oven Fries
Ingredients
1.5

lbs

russet potatoes

12

ounces

pale ale

1

tbs

kosher salt

water

¼

cup

canola oil

1

tsp

garlic powder

1

tsp

onion powder

1

tsp

paprika

½

tsp

sea salt

½

tsp

black pepper

½

tsp

sugar
Instructions
Cut the potatoes into ½ inch strips.

In a large bowl add the beer and 1 tbs kosher salt. Add the potatoes to the beer, add just enough water that the potatoes are fully submerged, about 1 to 2 cups.

Cover and chill for at least 3 hours and up to 12.

Move the oven rack to the top 1/3 of the oven, place a rimed metal baking sheet on the rack. Preheat oven to 425.

Drain the potatoes and rinse well. Place on a stack of paper towels and pat dry. Add to a large bowl, drizzle with canola oil. Sprinkle with garlic powder, onion powder, paprika, sea salt, black pepper and sugar. Toss until well coated.

Pour the potatoes onto the baking sheet in an even layer.

Bake for 20 minutes. Turn with a spatula and bake until golden brown, an additional 15-20 minutes.