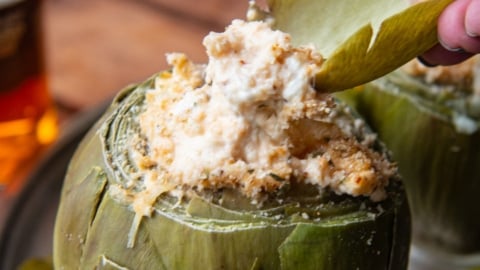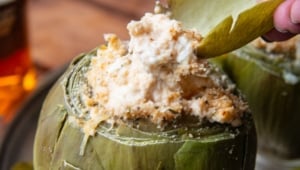 Hot Crab and Beer Cheese Stuffed Artichokes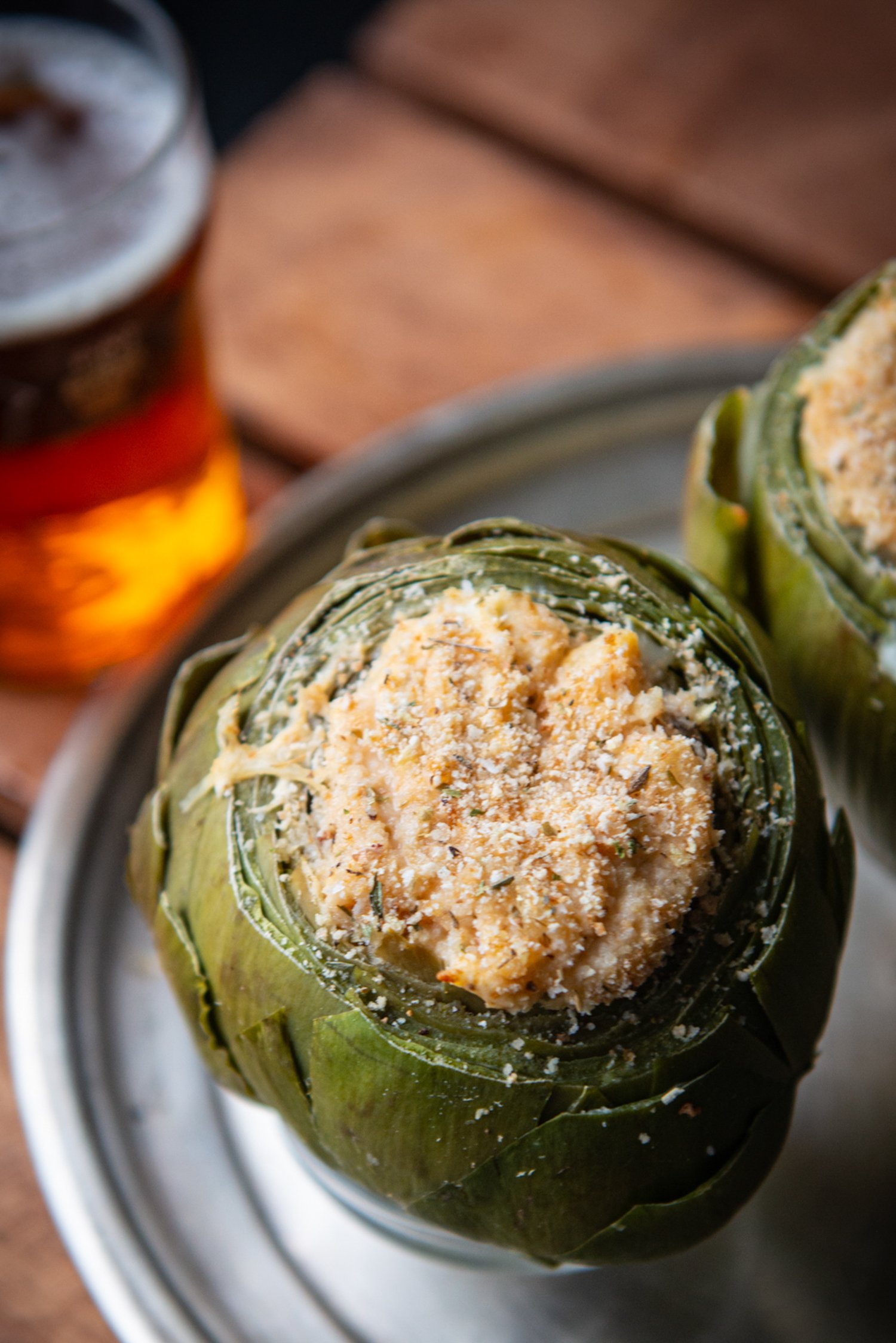 I know there are a lot of ways to stuff an artichoke, but this is the way I like to do it. You COULD cut it in half. You COULD stuff a bunch of crap between the leaves, but that's not how I stuff things into my vegetables.
Cut the heart out, fill it with beer cheese, enjoy. It's like a metaphor.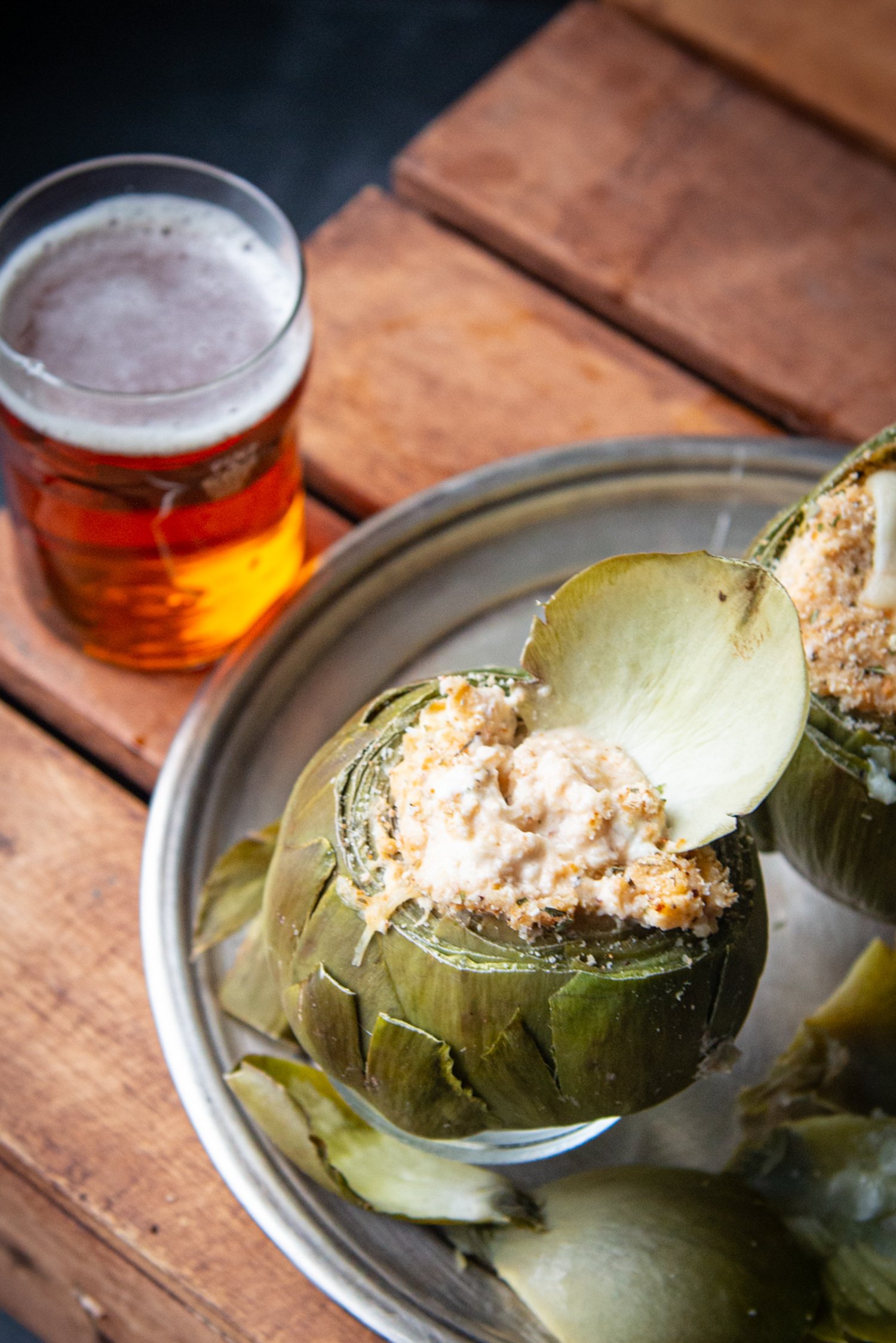 A really bad metaphor, obviously. One that I'm not sure what it means, but if you say it confidently enough people will nod along as if they get it, and are inspired by how wise you are. That might also be because you're holding the physical manifestation of the metaphor and they want to eat the metaphor. Basically, you can do whatever you want when you're holding beer cheese dip and people will agree with you. It's the perfect strategy for getting what you want.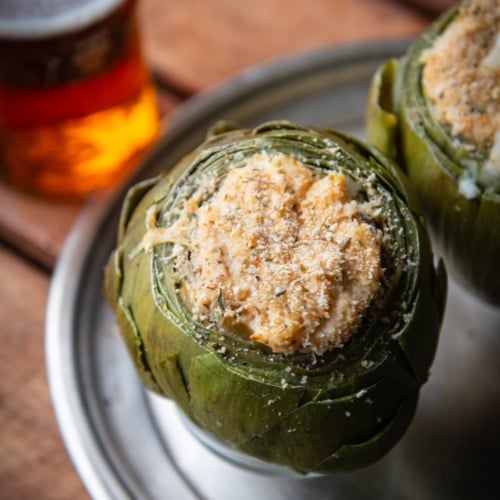 Hot Crab and Beer Cheese Stuffed Artichokes
Ingredients
4

large globe artichokes

8

ounces

cream cheese

¼

cup

IPA or Pale Ale beer

½

cup

shredded mozzarella cheese

¼

cup

parmesan cheese

1

tablespoon

lemon juice

1

teaspoon

hot sauce

½

teaspoon

old bay seasoning

1

teaspoon

garlic powder

6

ounces

lump crabmeat

¼

cup

Italian bread crumbs
Instructions
Cut the top inch off the artichoke with a sharp knife. Cut the stem so that the artichoke sits flat with the leaves pointing up.

Cook in lightly salted boiling water until the leaves peel away easily, about 30 minutes. Remove from water, allow to cool.

Preheat the oven to 375°F.

Starting at the center, pull the leaves apart to make the center more accessible. Using a melon baller or grapefruit spoon, remove the center leaves to reveal the "choke" and use a spoon or melon baller to remove the fuzz from the heart.

Add to a cast-iron skillet or baking dish, center hole facing up to make it easy to add the dip.

In a bowl stir together the cream cheese, beer, mozzarella, parmesan, lemon juice, hot sauce, garlic powder, Old Bay, and crab until well combined.

Divide the dip evenly between the four artichokes. Sprinkle with bread crumbs.

Bake until the dip is hot and melted, about 12 minutes. Serve warm.