Honey Mustard Mushroom Stout Chicken: 30 minute, one pot chicken dinner.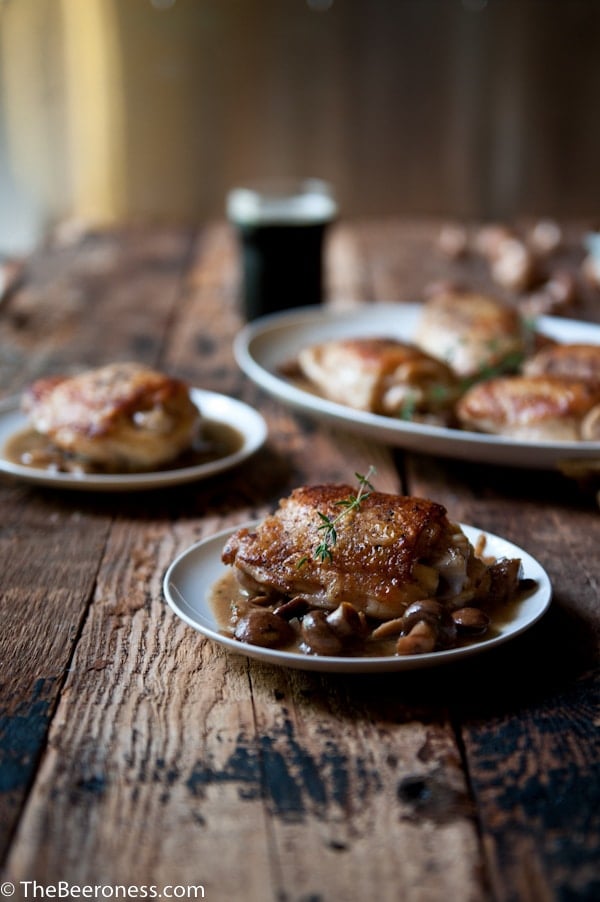 A few years ago I was stuck in a small town in south Italy on a 22 hour layover.
While trying to figure out if sleeping in the tiny terminal was feasible, I met an Italian girl about my age. Her English was good, she was stunning, and she was about half way to earning her pilots license, I was instantly enamored with her. She asked if I'd like to stay with her for the night, in the small apartment she shared with her mom. I quickly agreed, jumping in a cab with her to head to a crowded part of town.
She'd planed to drag me around Pescara, first with her boyfriend, then later with a much older man she referred to as her lover, but before then we were obligated to sit down at a small dining table with her mom, who'd been cooking all afternoon.  After an incredible meal of homemade bread, a small green salad, smashed peas and a roasted chicken, I'd offered to do the dishes. Half way through the clean up, Chiara came into the small kitchen dressed in tight jeans, shiny black heels that made her well over 6 feet tall and tight, tiny tube top. She leaned against the counter as I finished drying the larger platter and asked me about my life in LA and the celebrities I'd met. As I talked, she lit a cigarette she had buried in her purse. A few drags in, she froze as we heard her mom coming around the corner, she shove the cigarette into my hand and took a big step back. Her mom gasped as she saw the American girl in her kitchen with a lit cigarette, smoke wafting towards her hanging plants. I froze.
Her mom screamed at me in Italian, shooing us out the door. As soon as we were safely on our way to the bar where her boyfriend was eagerly awaiting our arrival, she thanked me. "She doesn't know I smoke, and she won't care if you do. You know, because you're American." After a long night of following Chiara around Pescara, meeting the throngs of men that where throwing themselves at her, we finally returned home to a dark apartment.
Her mom had left a note on her table for us. Chiara translated it for me, her mom had left some bread for me to eat in the morning, she knew I had a really early flight. She had also packed up some of the chicken for me to take with me on my flight. I was touched. "That's good," I said, "She must not hate me."
"Oh no," Chiara responded, "Even if she does she would still feed you. No one will ever go hungry in my moms house, friend or enemy."
To this day I have no idea if there is an older Italian woman on the East Coast of Italy that abhors the thought of me, but either way, her chicken is fantastic.
Honey Mustard Mushroom Stout Chicken
Ingredients
3

lbs

chicken thighs

1

tbs

salt

1

tbs

pepper

2

tbs

butter

¼

cup

chopped shallots

4

cloves

garlic

minced

8

wt oz mushrooms

shitake, crimini, oyster. Fresh not dried

1

cup

stout beer

½

cup

beef broth

simmer until reduced by about half

2

tsp

chopped fresh thyme

2

tsp

chopped fresh rosemary

1

tbs

raw honey

1

tbs

whole grain mustard

¼

cup

heavy cream

salt and pepper to taste

rice for serving
Instructions
Preheat the oven to 425.

Sprinkle the chicken on all sides with salt and pepper.

Melt the butter in a pan over medium high heat. Add the chicken, skin side down, cook until skin is browned and crispy, flip the chicken, cooking on the other side until slightly browned. Remove from pan (chicken will not be cooked through).

Add the shallots, reduce heat to medium, cooking until slightly browned. Add the garlic and mushrooms, cooking until the mushrooms have softened, about five minutes. Add the beer, scraping to deglaze the pan. Simmer until reduced by half. Add the broth, thyme, rosemary, honey, and mustard, simmer for about five minutes. Add the cream, simmer until slightly thickened.

Add the chicken back into the pan, place the pan in the oven (make sure this pan is oven safe, if not everything can be transferred to a baking dish instead) roast at 425 for 20 minutes or until the chicken is cooked to 170F degrees.

Serve over rice with sauce.
Notes
Note: if the skin is no longer crispy after roasting, place pan under a preheated broiler for about 2 minutes or until skin has crisped.