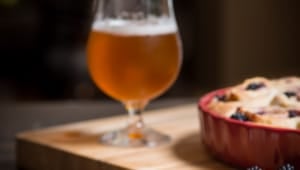 Blackberry Sweet Rolls with Beer Dough, like cinnamon rolls just WAY better. 
It finally happened. Out of nowhere, and without my consent. I'm not even sure when it started, really. But now, it's official.
I'm a Pacific Northwesterner, authentic and legitimized and I was finally given proof. I am, after all, a California girl born and raised. Heat seeking, lizard-on-a-rock always looking for a terrarium to spend time in. Summer was always my favorite season, and I need sunshine like I need air. But then, it happened.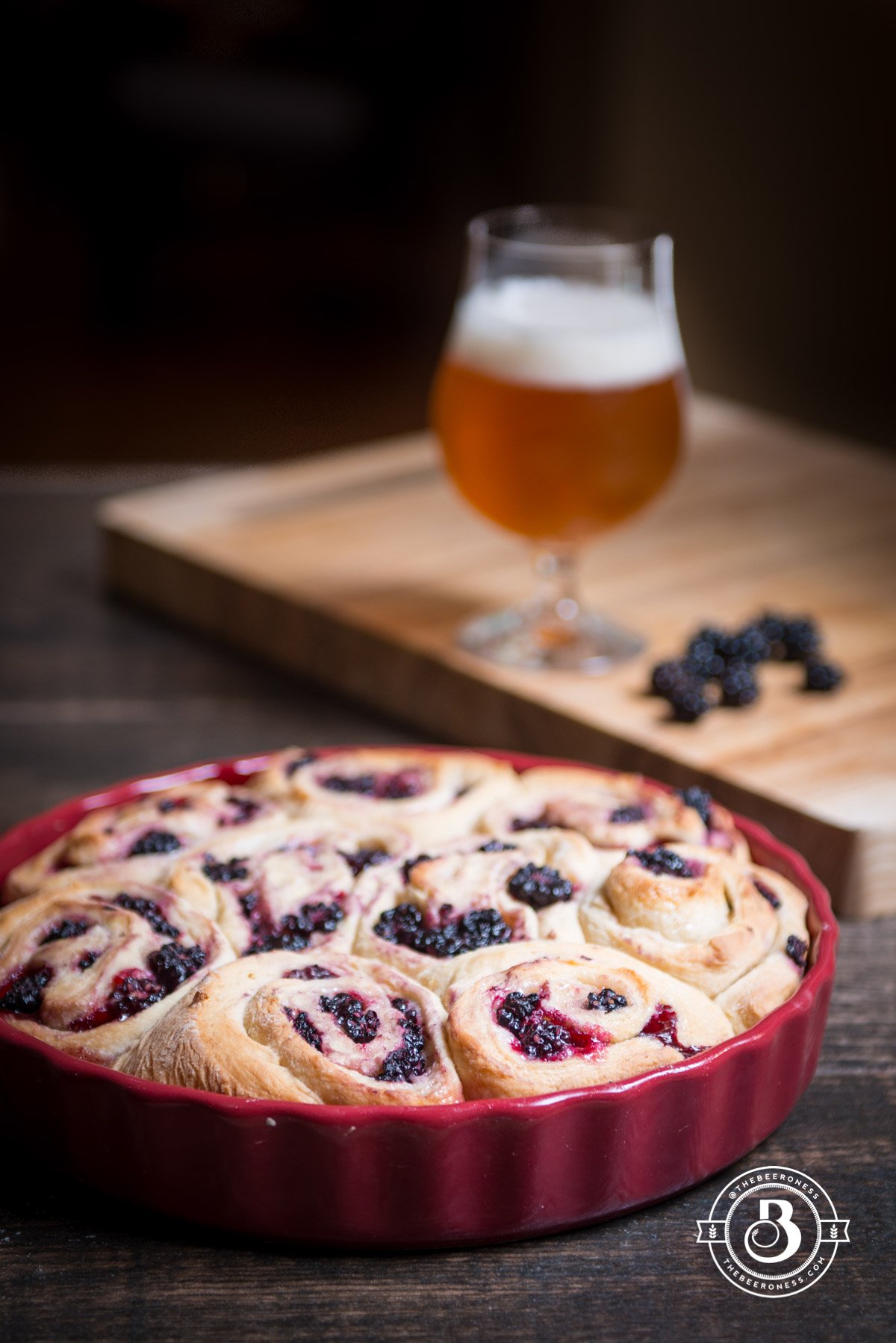 After weeks of near triple-digit heat squeezing the breath out of  Seattle area, I woke to a light rain, air sweet and soft, and a dew covered garden.  "Thank God," I thought, "It finally rained," and there it was. A delicate summer rain was welcomed into my life like aloe on a sunburn.
I'm a Pacific Northwesterner. I even found myself aching for the fall, the sweaters, the smell of a fireplace, the color of the leaves as they say goodbye like the finale of a fireworks show.
I won't be drinking any pumpkin spice lattes any time soon, so don't get any ideas. I will, however, be picking as many blackberries as I can before they leave for the year. Freezing the excess for winter baking, and take full advantage of these charming weeds that overtake the Seattle area side roads and unkempt lots.
Just about 20-minutes of picking yielded 4 pounds of fruit, so obviously I needed to spend Sunday afternoon baking some Blackberry Sweet Rolls, and settling into the idea that for the first time in my life I'm not really sad to see the summer come to an end.
Blackberry Sweet Rolls with Beer Dough
Ingredients
For the dough:
4

cups

480g all-purpose flour

2 ½

teaspoons

1 envelope rapid rise dry active yeast

¼

cup

50g granulated sugar

1

teaspoon

2g lemon zest

1

cup

8oz beer (Hefeweizen, pale ale, pilsner)

½

cup

1 stick unsalted butter, softened

2

teaspoons

10g vanilla extract

1

teaspoon

6g salt
For the filling:
½

cup

114g butter, softened

½

cup

100g granulated sugar

1

teaspoon

6g salt

1

teaspoon

5mL fresh lemon juice

1 ½

cup

220g blackberries
Frosting:
1

tablespoon

15mL lemon juice

1

teaspoon

6g lemon zest

1

teaspoon

5g vanilla extract

4

ounces

cream cheese

softened

½

cup

114gsoftened butter

2

cups

240g powdered sugar

½

teaspoon

3g salt
Instructions
Stir together the flour, yeast, sugar, lemon zest, in a stand mixer.

Heat the beer to 120°F (Always defer to the liquid temperature listed on the package of yeast, regardless of what the recipe says. Your yeast package says 105°F? Heat the liquid to that temperature!)

Add the warmed beer to the stand mixer, mix until incorporated.

Add the butter, vanilla and salt. Continue to beat until the dough is no longer sticky and gathers around the hook, about 8 minutes.

Add dough to a large, lightly oiled bowl. Cover and allow to rise until doubled in size, about 1 hour.

Add dough onto a lightly floured surface. Roll into a large rectangle about 9x13 inches in size.

Add all filling ingredients (except the blackberries) to a bowl, mix until well combined.

Spread the filling evenly across the dough, sprinkle evenly with blackberries.

Starting with the long end, roll the dough tightly into a long log. Cut into 12 rolls about 1 ½ inches wide.

Add the rolls tightly into a baking dish, cut-side up.

Allow to rise until doubled in size, about 30 minutes.

Bake at 350°F until golden brown, about 40 minutes.

Beat together the butter and cream cheese until well combined. Add in the remaining ingredients, then beat until light and creamy.

Frost before serving. Serve within 10 hours of making.