Bacon and Beer Cheese Brussels Sprout Gratin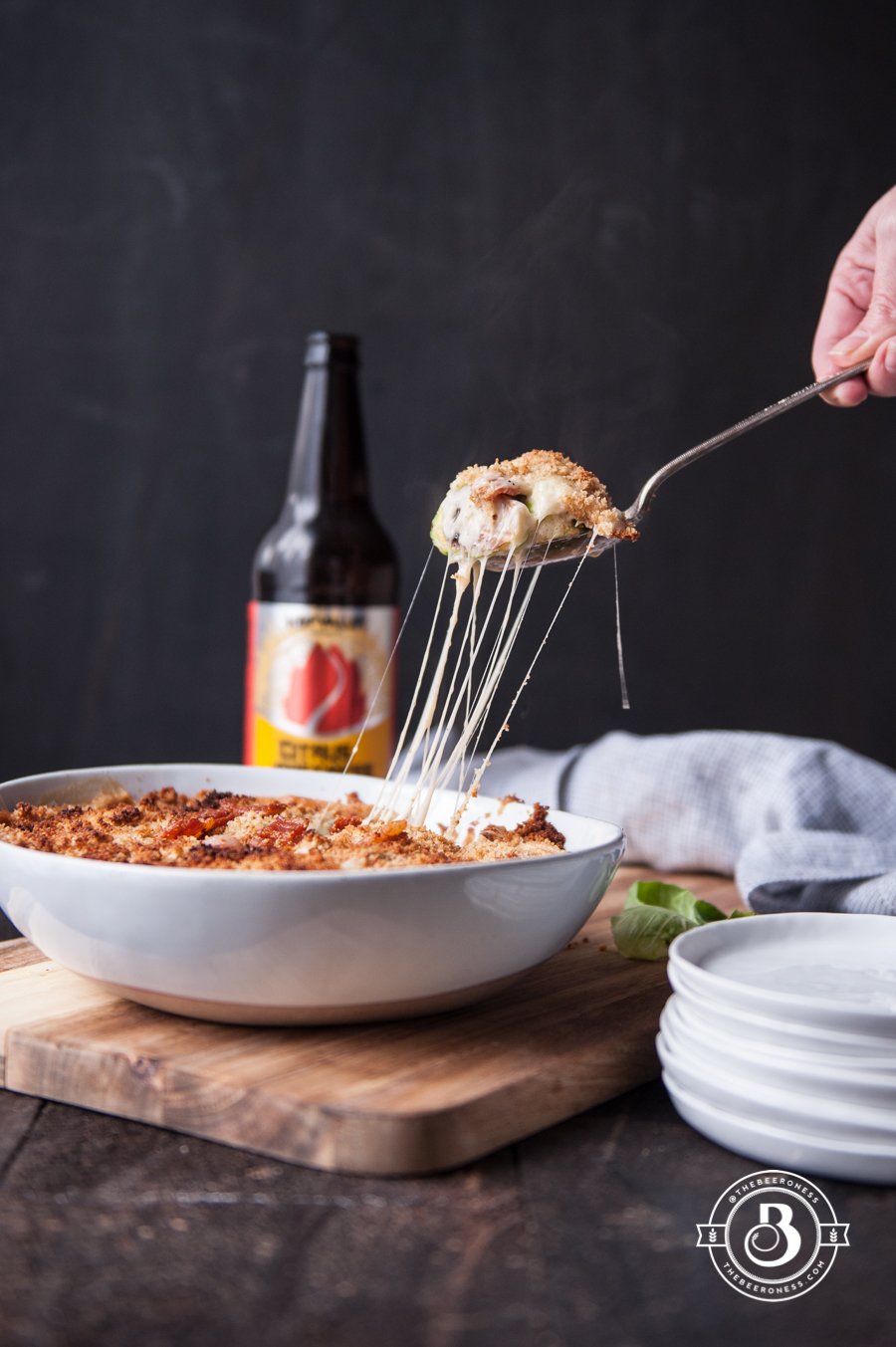 I judged a beer competition last year with the primary assignment of the IPA category. A fantastic assignment under normal circumstances but this day, there were some logistical issues.
Pound for pound I was the smallest judge and this was the biggest category, 35 beers in total, all that need to be sampled. But that was just issue one. The biggest hurdle was issue two: I had a co-judge that didn't know beer. He was a prominent local chef, and clearly knew flavors but wasn't well versed in what makes, not just an IPA, but a great IPA.
We didn't agree. He chose a beer that was so terrible that the other judges and I had wondered how they had reached the designation of IPA for this malt bomb. The beers I picked, mostly bold, dry hopped IPA's, he said tasted "too vegetal." He needs malt, I need big hop aroma and flavors. We spent an hour crossing off beers that we absolutely could not get behind. He crossed off some of my favorites, I crossed off his. But I fought for Hop Valley's Citrus Mistress, it seemed like such a great choice. I loved it! It gives me the hops I need and had enough malt to keep him happy. I made him try it again and reconsider. He liked it, a lot. We've found it, I though. Two people from very different ends of the IPA flavor spectrum have agreed.
Then, he changed his mind. Maybe it was him not wanting me to win. Maybe he was still resentful that I have given a big fat veto to an "IPA" with only 22 IBU's. But he crossed it off. I fought harder, tried to get him to see my point of view, but 35 IPA's rattling my bones muddied my ability to form logical arguments and blocked his ability to hear them. We ended up giving the final award to a different beer. A beer that was good, one that I liked, but one that I didn't love nearly as much as Citrus Mistress.
So now I buy it when I see it in the bottle shops and whisper a small apology for letting it down at a beer event that really meant nothing more than a stadium full of people having a good time. Maybe next year, Citrus Mistress, maybe next year.
Bacon and Beer Cheese Brussels Sprout Gratin
Ingredients
4

strips thick sliced bacon

chopped

1.5

lbs

Brussels sprouts

trimmed and cut in half

½

lbs

parmesan

shredded

½

lbs

mozzarella cheese

shredded

2

tbs

cornstarch

1 ¼

cups

IPA beer

I used Citrus Mistress

½

tsp

black pepper

½

tsp

salt

¼

tsp

mustard powder

2

tbs

butter

melted

½

cup

bread crumbs
Instructions
Preheat oven to 450

Cook the bacon in a large skillet over medium heat (medium heat will render more fat and crisp the bacon more than high heat). Once the bacon is crisp, remove from pan with a slotted spoon, set aside.

Place the pan back on the burner and turn heat to high. Add the sprouts, cut side down, cooking until browned but not cooked through. Add sprouts to a baking dish, sprinkle with chopped bacon.

In a blender add the parmesan, mozzarella, cornstarch, beer, pepper, salt and mustard powder, blend until smooth.

Pour the cheese mixture over the sprouts.

Toss the bread crumbs with melted butter, spread evenly over the top of the cheese.

Bake, uncovered, until breadcrumbs have browned, about 15 minutes.