Caramel Apple Brown Ale Cake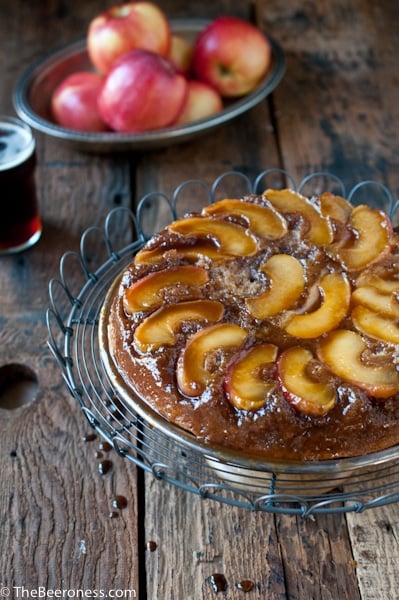 I was once asked to write a piece about apples for a print magazine. Seems easy enough, I did grow up on a farm flanked by apple orchards.  But here's the problem: I tend to be a bit opinionated about certain things. Most issues bring out a very "live and let live" spirit in me, but ask my opinion and I'll tell you.
For instance, this exchange happened recently:
I was at Nordstroms Rack recent perusing the discounted designer shoes and a woman had her foot stuck into a particularly hideous pair of white and black slingbacks. "You look stylish, can I ask you a question?" She asked as I tried to squeeze past her. I said yes, of course. "Do these look good on me?"
As any man can tell you, the immediate answer should be "Of course, you look fantastic, no one has ever looked better in mid-range kitten heels!" But I'm not typical, and I never want to hear that. I want the truth, sorry Jack Nicholson, I can handle it. So I assume if you ask a complete stranger—rather than the man whom you're letting see you naked on the regular— you want the actual truth. If you don't, don't ask me.
"No, those are terrible." I said, in a sympathetic tone.
She looked genuinely shocked, as if she'd cobbled them herself in an elf-infested cottage. "They aren't flattering to your toes, they don't seem to fit well and the pattern looks dated. Try these." I said, grabbing her a slightly higher heeled pair with a more muted pattern and a larger opening at the toe. They were also a half size bigger.
"But I'm not a 7 1/2." She said as she slid her foot into the perfect fitting pair of shoes.
"Yes you are, just try them on. No one can see the size." They looked great on her, "See, your legs look longer, your toes look smaller and that shoe goes with more things."
"Oh, wow. Thank you." She bought them. And to this day I imagine her saying a silent thank you to the girl in the discount clothing store for talking her into buying them every time she gets compliments on her favorite pair of shoes.
I'm going to do this for you right now with apples, like I did for that print magazine.
Don't ever, under any circumstance, ever, ever, cook with a Red Delicious apples. It's a giant mistake and your baked goods will suffer. Like a vapid 22-year-old in a mini skirt holding a cosmo at a trendy bar: all the good qualities are on the outside. Sure they look good, but nothing on the inside is worth the stunning good looks. The flesh of a Red Delicious is mushy, mealy, and breaks down during cooking.
What should you use? I'm so glad you asked. You need an apple that can take a punch. You need one that has a bit of a sour bite to balance the sugar in your recipe. I love Honey Crisp, although some can tend to be a touch sweet and occasionally mushy (but that's rare and usually for an overripe apple), SweeTangos are fantastic but hard to find. Granny Smith is an easy go-to, although a bit more sour than other varieties. However, the flesh stands up to baking, and the tartness is a great balance to the sweetness of a baked good.
Just don't ask my opinion about your shoes or produce unless you're prepared for the truth. But then again, I think you can handle it.
Caramel Apple Brown Ale Cake
Ingredients
For the caramel layer:
3

tbs

butter

1

cup

white sugar

¼

cup

brown ale

2

tbs

cream

2

large SweeTango or Granny Smith apples

sliced
For the cake layer:
1 1/3

cup

AP flour

1

tsp

cinnamon

¼

tsp

ground nutmeg

1

tsp

baking powder

½

tsp

salt

1

cup

white sugar

½

cup

brown sugar

1

large egg

2/3

cup

brown ale

1/4

cup

heavy cream

¼

cup

melted butter

1

tsp

vanilla
Instructions
Add the butter, white sugar and brown ale to a saucepan over high heat. Stir until butter is melted and sugar is dissolved. Allow to boil without stirring until dark amber color, about 5 minutes. Remove from heat, stir in the cream, allow to cool until the bubbling stops.

Arrange the apples slices in a cake pan or deep dish pie pan that has been well greased.

Pour the caramel over the apples.

Ina large bowl stir together the flour, cinnamon, nutmeg, baking powder, salt, white sugar and brown sugar.

Make a well in the dry ingredients, add the eggs, beer, cream, melted butter and vanilla, stir until just incorporated.

Pour batter over apples.

Bake at 325 for 45 minutes or until golden brown and top springs lightly when touched.

Wait precisely ten minutes, invert on a serving plate to remove from pan.