Buttermilk and Beer Beignets
Buttermilk and Beer Beignets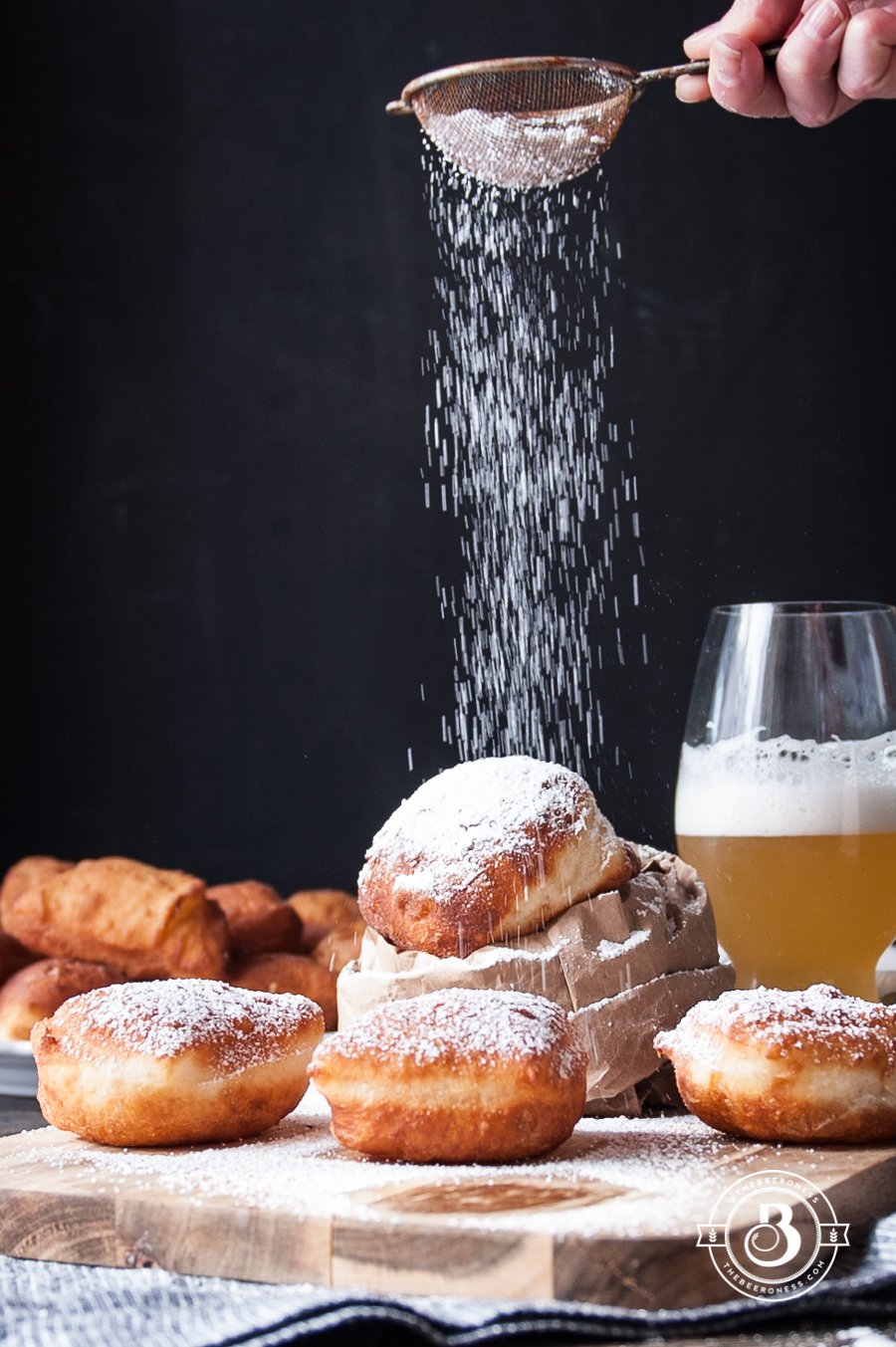 I have this detrimental habit of undercutting my price, or doing work for free, in exchange for a plane ticket and a hotel reservation. Last year I nearly committed to writing an entire menu just for the opportunity to go to Uganda for the weekend. The timing ended up being too last minute and (fortunately or unfortunately, I can't decide which) I had to back out.
I also have a habit of obsessively bookmarking restaurants across the world if they sound interesting, just in case I'm ever in that area and looking for a place to eat. Most of which will go unvisited, but the few times I've found myself within walking distance of bookmarked business, I'm more thrilled than is appropriate.
The majority of my pre-trip plans include figuring out where I want to eat once I get there. Last year in Panama it was ceviche in the fish market. In Bogota it was Abasto. When I finally make it to New Orleans it'll be beignets at Cafe Du Monde.
This recipe is the closest I've come to the real thing. Light, airy, slightly chewy and completely addictive. The beer gives it a beautiful lightness that I haven't found in the classic recipes that call for evaporated milk.
These were so good, in fact, that they now replaced my beer doughnut holes as my go-to recipe for bring-a-dish gatherings.
Buttermilk and Beer Beignets
Yield: 20-24 Beignets
Ingredients
1

envelop

2 ¼ tsp/7g rapid rise yeast

¼

cup

54g sugar

4

cups

480g bread flour

½

tsp

2g baking soda

¾

cup

180g wheat beer

1 ½

cups

360 g buttermilk

½

tsp

3g salt

oil for frying

canola, peanut, or grapeseed oil

Confectioners sugar for dusting
Instructions
In the bowl of a stand mixer stir together the yeast, sugar, bread flour, and baking soda.

In a microwave-safe bowl combine the beer and butter. Heat until the mixture reaches between 120-130F on a cooking thermometer (mixture may curdle, this is normal).

Add the liquid to the dry ingredients, mix on medium speed until all the flour has been moistened.

Add the salt, turn the mixer on high and beat until the dough forms a soft sticky ball that gathers around the blade, about 8 minutes.

The dough will be very soft and loose, but if it's too loose to hold together add a few pinches of flour.

Transfer to a large, lightly oiled bowl. Loosely cover with a towel or plastic wrap. Allow to rise in a warm room until doubled in size, about 1 hour.

Add dough to a well-floured surface, dust with flour. Pat into a large rectangle about ½ inch thick. Avoid using a rolling pin in order to preserve the air bubbles in the dough.

Add 3 to 4 inches of oil to a pot over medium-high heat. Clip a cooking thermometer onto the side making sure the tip doesn't hit the bottom of the pot. Heat oil to 350F to 375F, adjust heat to stay in that temperate range.

Using a bench knife or pizza cutter, cut the dough into 2-inch squares. A few at a time (don't crowd the pot) fry the beignets on both sides until golden brown and cooked through, about 2 minutes.

Remove and allow to drain on a stack of paper towels or a wire rack. Sprinkle with powdered sugar just before serving.