Brownie Waffles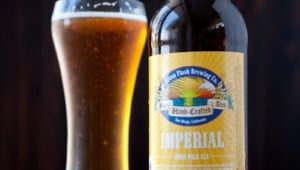 I can't decide if I've been obsessed with Dessert for Breakfast or if it's really an obsession with Breakfast for Dessert.
Well, you say, it depends on what time of day said meal is being consumed. Although if this dessert/breakfast hybrid is eating all day long, the lines get a little blurred.
Now that I've shared with you my Pecan Pie French Toast, and Oatmeal Cookie Pancakes now I throw these Brownie Waffles at you.
I figured out that although I eat pretty well most of the week, I let myself eat whatever I want at my Saturday morning breakfast, making me want to get the most bang for my bite. Hence, breakfast and dessert crammed into one plate. I hope you don't mind too much.
And if you want to get craaaazy, go ahead and top this with vanilla ice cream. And sprinkle it with bacon. But make sure and invite me over.
Beer Soaked Apple Pie With Cheddar Beer Crust
Ingredients
Crust:
2 1/2 cups flour
1 tsp salt
1 tsp sugar
2 sticks unsalted butter
2 cups shredded cheddar cheese
6-8 tbs beer (pale ale, or wheat beer work best)
2 tbs melted butter (to brush on prior to baking)
Filling:
7 cups Granny Smith apples, peeled, cored and sliced (Granny Smith are the only apples that will not turn mushy during this process)
16 oz pale ale or wheat beer
2 lemons, juiced
1/4 cup unsweetened apple sauce
2 tbs flour
1/2 tsp nutmeg
2 tsp cinnamon
1/4 cup white sugar
1/2 cup brown sugar
1 tsp corn starch
Directions
Combine 1 1/2 cups of flour, salt, and sugar in a food processor, pulse a few times until its combined. Add the butter and process until well combined, about 2 minutes.Add the remaining flour and process until incorporated, about 1 minute.
Move to a bowl and add the cheese and 6 tbs beer, mix until just incorporated. Don't over mix. If the dough is too dry, add more beer until the right consistency is reached.
Split into two equal sized portions and form into disks. Wrap the disks in plastic wrap and chill until very firm, about two hours. Because this dough is so soft, it is very important for the pie dough to be very cold and very firm.
Place the apples, lemon juice and 16 ounces of beer in a bowl and allow to soak at room temperature for 2 hours. If the apples are not fully submerged, toss every half hour to redistribute. Remove the apples from the beer and allow to drain and dry for about 30 minutes, or until fully dry.
Preheat oven to 350.
Add the apples and the remaining filling ingredients to a bowl and toss to coat.
On a well floured surface, place one of the disks, add flour to the top of the disk as well.
Roll out into an even thickness. Marble rolling pins are very cold and don't disrupt the fat inside the dough, making them an excellent choice for rolling pie dough. When you place your dough in the fridge to chill, add your marble rolling pin as well, allowing it to chill.
Add you pie dough to a pie pan and press into shape, removing any excess. Add the filling.
Roll out the second disk of pie dough and add to the top of your pie. Press the top crust and the bottom crust together at the edges, cut holes to vent steam.
Brush with 2 tbs melted butter.
Bake at 350 for 35-40 minutes or until lightly golden brown. Cover the edges with foil of the edge starts to brown too quickly.
https://domesticfits.com/brownie-waffles/
Copyright �© TheBeeroness.com