Brown Ale And Cheddar Grits With Pancetta And Crispy Sage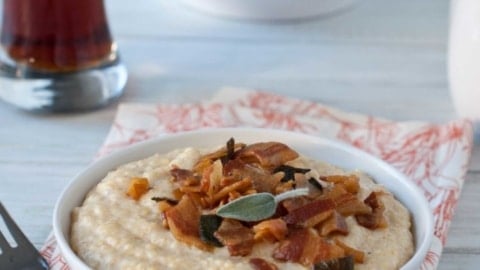 I like homebrewers. Mostly because they give me beer, but also because there is this fascination with flavors and a "What Would This Taste Like?!" attitude that is at the core of every food bloggers culinary soul. I feel like they get me. They have an understanding of why I write down crazy ideas, unexplored flavor combinations that may be doomed to fail, just to see if it can be done.
I'm not a homebrewer, its actually a little intimidating to me. Someday, when my life is a little less hectic, I want to take the Mash Tun Plunge. But for now, I'll setting for drinking the concoctions of others. I did learn recently that the more recent rise in popularity of brown ales has been credited to the massive increase in homebrewing and the popularity of the style with the homebrewer. I'd never though of it, but it seems to be true. Most of the brown ale I've had in the past few months has come from someones closet. I do love a great brown ale, to drink with as well as to add to my cheese grits. I guess saving the Brown Ale from extinction is another reason I can love the homebrewer.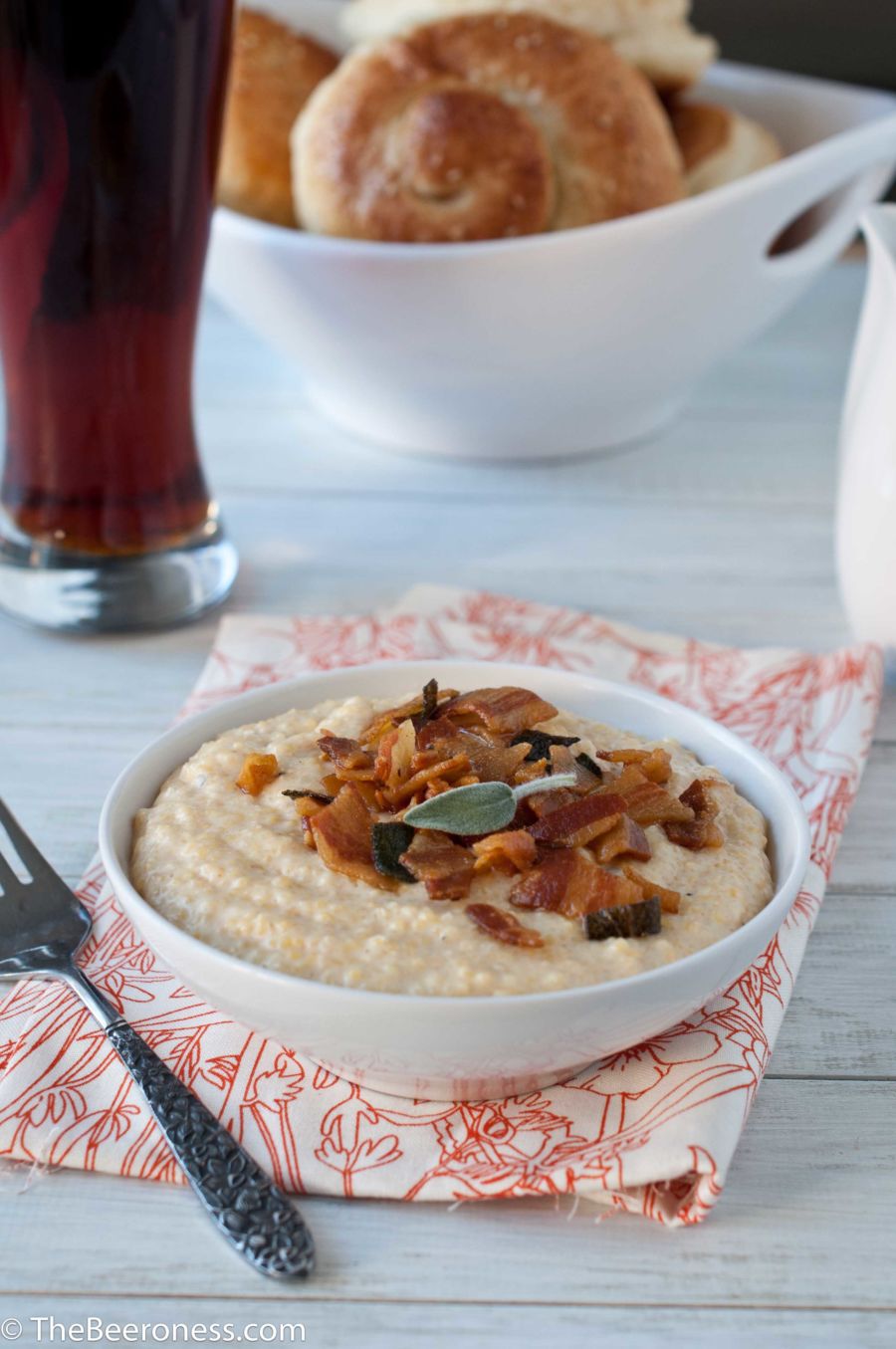 Brown Ale And Cheddar Grits With Pancetta And Crispy Sage
Ingredients
2 ½

cups

whole milk

¾

cups

brown ale

1

cup

regular corn grits

not instant

1

cup

smoked cheddar

½

cup

whole milk

1

tsp

salt

1

tsp

black pepper

1

tsp

onion powder

pinch

cayenne

3

tbs

butter

diced

3

oz

diced pancetta

5

Sage leaves

chopped (about 2 tbs)
Instructions
Add the milk and beer to a large pot, bring to a gently simmer, slowly whisk in the grits. Allow to simmer gently, stirring occasionally, until tender, about 20 minutes.

Slowly whisk in the cheese, milk, salt, pepper, onion powder and butter, stir until completely combined.

In a separate pan add the pancetta and cook until browned and most of the fat has been rendered, do not burn. Add the sage and cook for about 30 seconds or until crispy. Drain.

Serve grits topped with pancetta and sage.