Broccomole: Broccoli Guacamole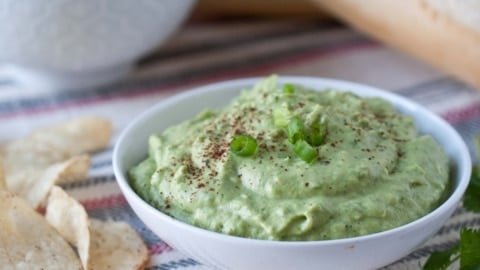 It's broccoli guacamole. You're skeptical, I can tell. But this is really great, and with a creaminess that was slightly shocking, I will be making this again.
And, if you set a serving size at an ounce, as Livestrong is telling me to do, it's only 22 calories a serving. And only about 250 calories if I eat the entire bowl, which I am prone to doing.
I love guacamole. I profess honest culinary devotion to avocados and guacamole. It is chocked full of healthy fats, vitamins, and protein. A great food that can not be improve upon. This recipe isn't about improving guacamole. It's a new food, a lower calorie creamy green dip that is about 1/3 the calories of that guacamole I love. But with twice the protein and less fat.
And broccoli is known cancer fighter, bone strengthener, cardiovascular health champion, bone-fide superfood and one of the most nutrient dense foods on the planet. We could all stand to be a wee bit addicted to a bowl of this stuff.
And it was so tasty, I ate it for lunch. And dinner. It's like a dip with a mission, you don't even have to feel bad about it. You are preventing heart disease and stroke one bite at a time. Really, it's like medicine.
This recipe was inspired by Ludo Lefebvre. While giving an interview about his book, Ludo Bites, he spoke about a Broccomole he made. This is my version.
Broccomole
Ingredients
3 cups chopped broccoli
1 jalapeno, chopped, seeds removed
2 tbs green onions
1 tsp olive oil
2 ounces fat free cream cheese (or silken tofu, goat cheese, sour cream, cashew cream, something creamy)
1/4 tsp chili powder
1 tbs cilantro
1/4 tsp salt
1/4 tsp black pepper
1/4 tsp garlic powder
Instructions
Cook the broccoli in lightly salted water until very soft. Overcook the broccoli in comparison to the al dente cooking that most recipes recommend.
Drain broccoli very well.
Transfer to a food processor. Add the remaining ingredients and process until smooth, add additional olive oil for a smoother texture.
Serve warm