Bourbon County Beer Marshmallows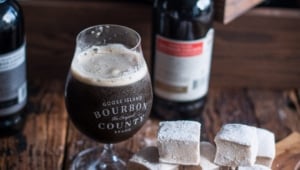 Bourbon County Beer Marshmallows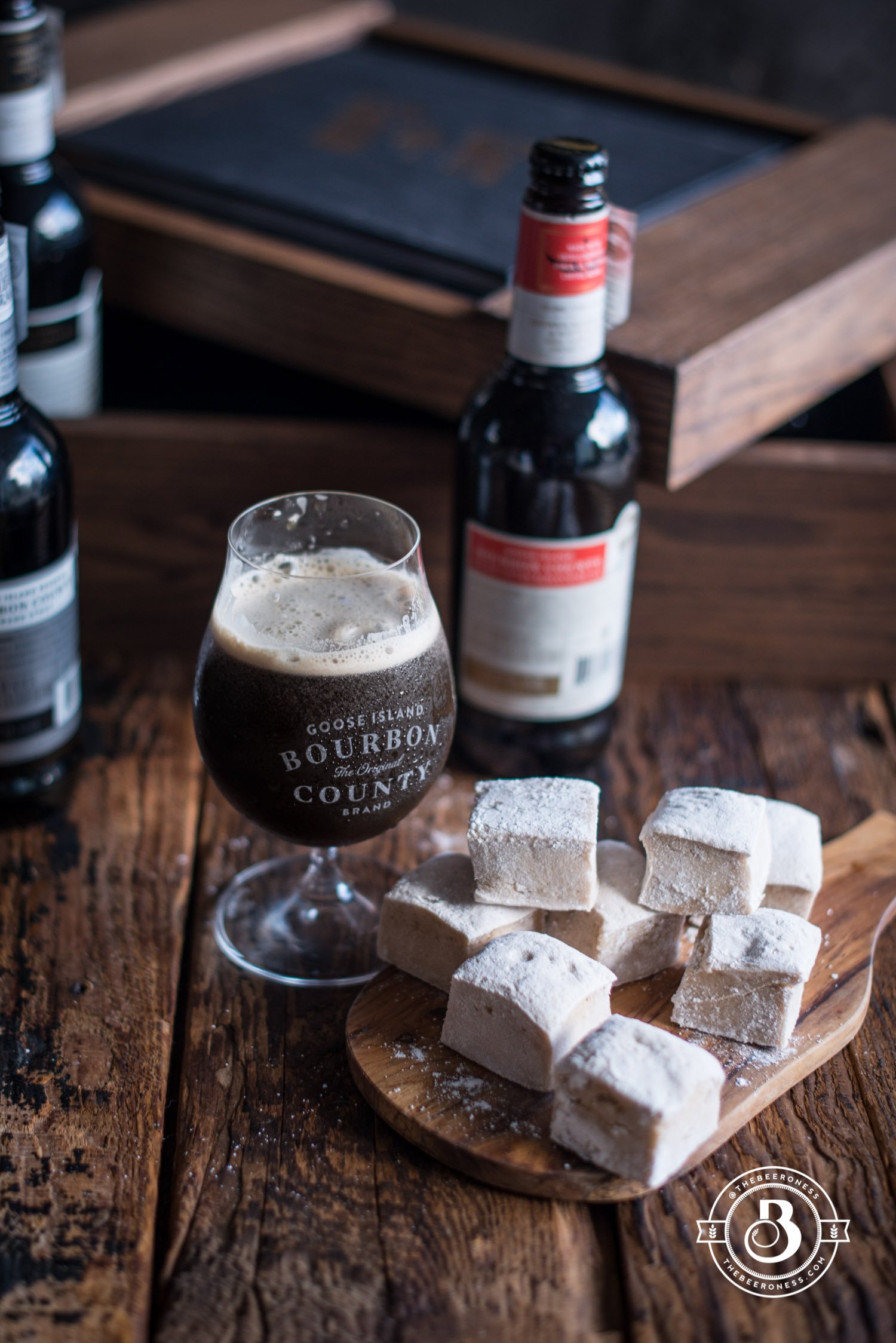 When you count the seasons by what's available in the bottle shops, you see the months pass in a different way. Right now we're just leaving Fresh Hop Season and moving into Barrel Aged Beer season, one of the best beer seasons of the year.
It's also the time of year when beer releases hit a fevered pitch and people wait in line for hours hoping to score a bottle or two of a beer that's been aging in a wooden barrel that formerly housed liquor. It's worth it, even if just for the bragging rights and the perfect cellarable beer. Beers that you always want two of, one for now and one to save for later. Stored properly they can be even better years later.
Bourbon County is the Godfather of the bourbon barrel aged beer. Goose Island is widely credited as being the first people to take a discarded bourbon barrel, load it up with stout, store it for nearly a year and then drink it just to see what would happen. This, more than anything, is a commentary on the heart of true brewer.  Curious, courageously experimental, and unafraid to think outside the bottle.
It was a move that would have cultural repercussions beyond their wildest dreams. Starting a movement so strong and widely adopted it caused spent liquor barrels to go from a nuisance that distilleries had to deal with to a sought-after commodity that caused a shortage.
The face of beer is undeniably altered for the better because of the curiosity that caused Greg Hall to fill 6 bourbon barrels with stout in the early 1990s. In the name of that experimentation and curiosity, I decided that I'd like to figure out what would happen if you put a beer — one that had spent time cohabitating in a wooden barrel with the remnants of bourbon — into a marshmallow. Turns out, it's pretty fantastic.
Bourbon County Beer Marshmallows
Ingredients
Powdered sugar

3

envelopes unflavored gelatin

such as Knox

½

cup

beer of choice

flat and cold*

½

cup

water

or beer

2

cups

plus 2 tablespoons granulated sugar

½

cup

light corn syrup

2

large egg whites

1

tablespoon

vanilla extract
Instructions
Grease a 9x13 baking pan, sprinkle with powdered sugar until well coated, set aside.

In the bowl of a stand mixer add ½ cup cold, flat beer. Sprinkle with gelatin. Allow to stand while the sugar is being prepared.

In a large saucepan (mixture will bubble up) over medium heat, add the water, 2 cups sugar and corn syrup. Stir until the sugar has dissolved.

Raise heat to high and allow to boil until the mixture reads 240F on a candy thermometer (about 6-8 minutes).

Once the temperature has been reached, turn off heat.

Turn the mixer on low and slowly pour the hot sugar mixture into the gelatin. Once all the sugar has been added turn the mixer on high until light and fluffy and tripled in volume, this can take up to 10 minutes.

While the mixer is running, prepare the egg whites. Add the egg whites to a bowl with the salt. Beat on high with a hand mixer until stiff peaks form. Sprinkle with remaining 2 tablespoons sugar, beat until stiff peaks return.

Gently fold the egg whites and vanilla extract into the stand mixer ingredients until just combined.

Pour the marshmallows into the prepared pan. Sprinkle with powdered sugar. Allow to set at room temperature until set, about 2 hours. Remove from pan, cut into squares. Toss with additional powdered sugar to prevent from sticking together.
Notes
*Open the beer at least two hours before you plan to make the marshmallows, and up to several days in advance. Pour ½ cup into an open container. Loosely cover and refrigerate. Enjoy the reaming beer, since you HAD to open the beer it's your job to finish the rest.