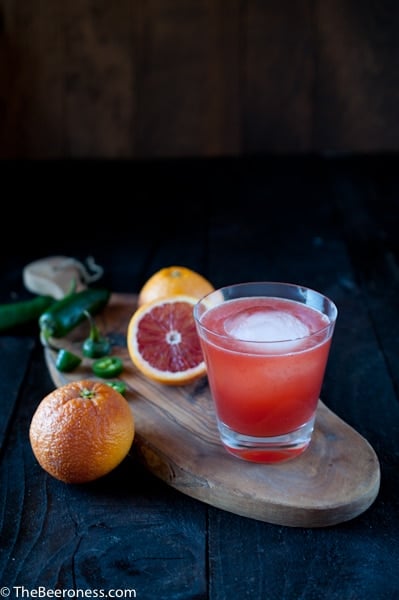 If there is anything that can lure me away from ordering a good beer, it's a spicy cocktail.
The heat in a fresh pepper and some whiskey will get me every time. Once blood orange season rolls around, I'm powerless. Blood oranges have a great flavor, part naval orange, part raspberry and the color is incredible. The season has just started and ends far too soon. During the few peak weeks that I'm able to find these beauties that make my cutting board look like an episode of Dexter, I juice and freeze as much as I can for later.
Because before too long the only orange I'll be able to find will be the boring orange ones.
Bloody Hell: Blood Oranges, Jalapeno, Whiskey and Beer Cocktail
Ingredients
2 oz blood orange juice
1 ½ oz bourbon
1 tbs agave
1 jalapeno, sliced
2 oz IPA beer
Directions
In a shaker filled with ice add the blood orange juice, bourbon, agave, and jalapeno sliced. Shake well, pour through a strainer into a highball glass with ice.
Add beer, stir.
https://domesticfits.com/bloody-hell-blood-oranges-jalapeno-whisky-beer-cocktail/
Copyright �© TheBeeroness.com