Black Pepper Flank Steak Sandwich with Brie and Beer Caramelized Onion Jam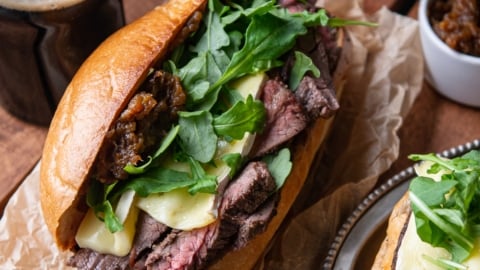 Black Pepper Flank Steak Sandwich with Brie and Beer Caramelized Onion Jam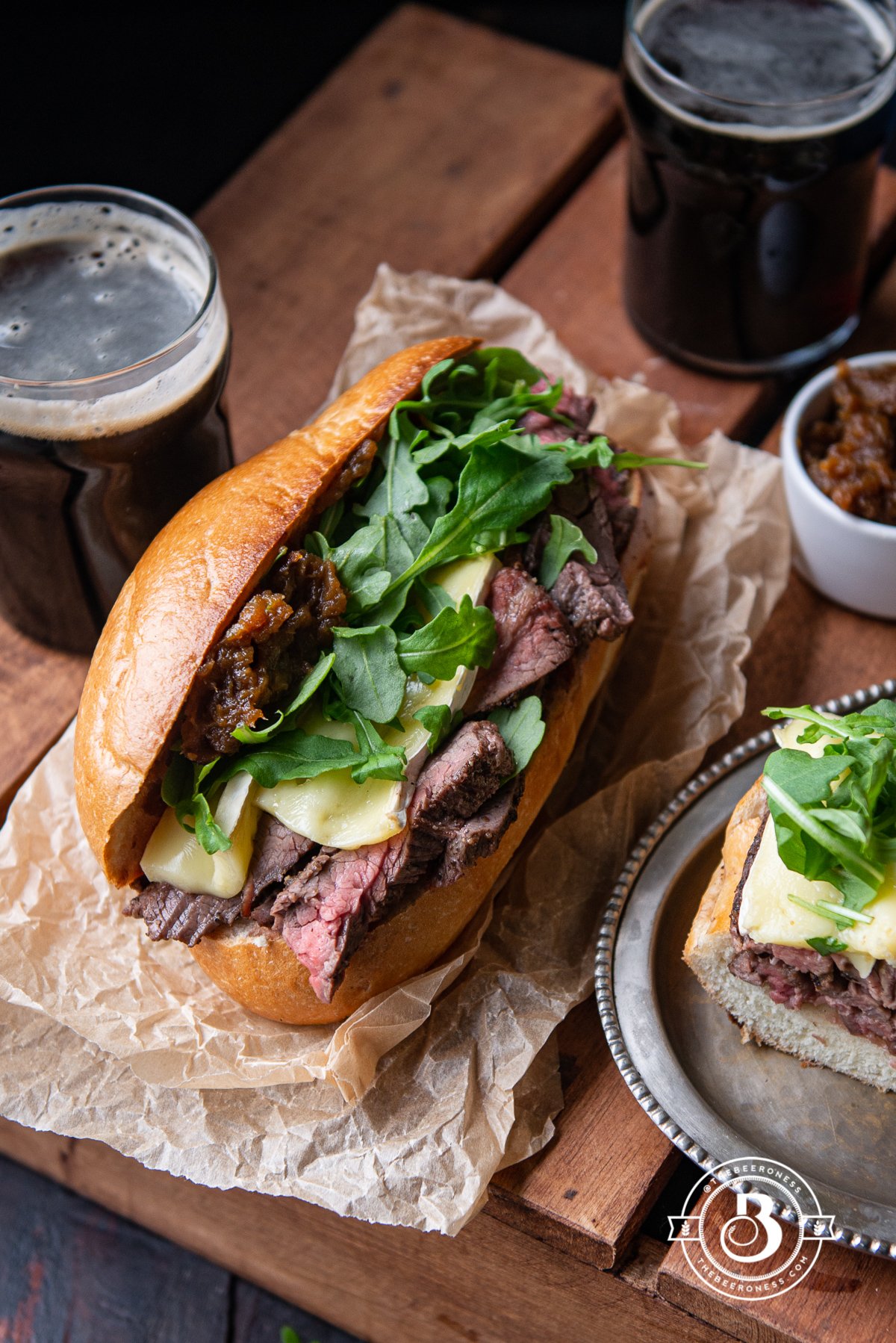 The times has come to make fancy sandwiches. Because we are SO sick of the same rotation of food and take out that we've been consuming this year and it's time to make something we are genuinly excited to eat. The only part of these Fancy Sandwiches that take any amount of time is the onion jam but, trust me, it's worth it.
Remember when I was on that terrible reality TV show making bacon jam? They asked me to come up with a tag line for the jam on the spot, and my mind went blank. I blurted out, "It's the jam!" and then an entire group of producers looked at me with a mix of disgust and pity. At least the jam was good. Onion jam is just as amazing, and once you make it and smear it on your sandwich you will wonder why you don't have more savory jam in your life. And I also secretly hope when you make and taste how great it is, you think to yourself, "Damn, that is the jam."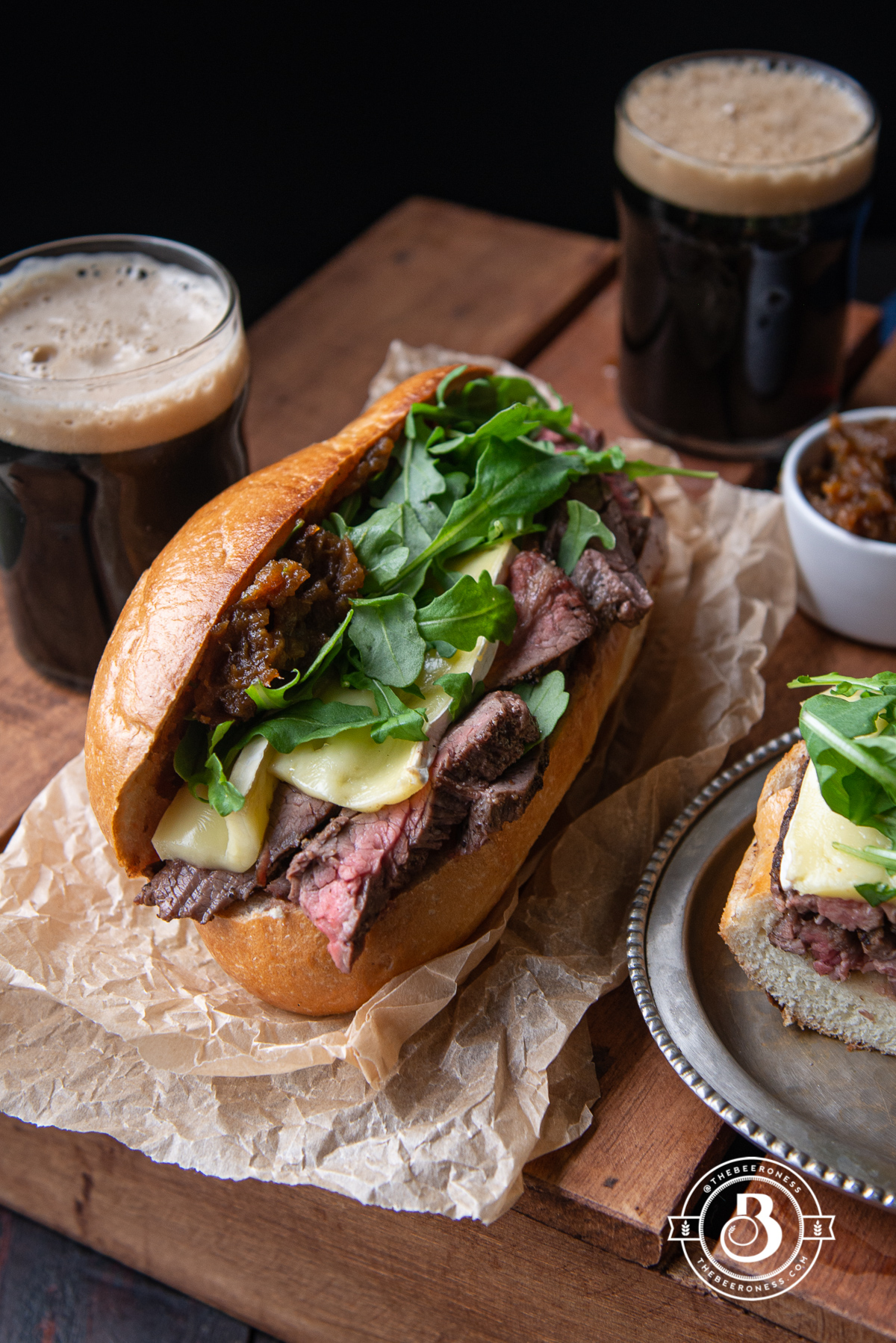 Black Pepper Flank Steak Sandwich with Brie and Beer Caramelized Onion Jam
Ingredients
For the Jam:
2

tablespoons

olive oil

2

large sweet white onion

chopped

½

teaspoon

salt

2

teaspoons

sugar

½

teaspoon

baking soda

1

cup

stout or porter beer
For the sandwich:
1.5

lbs

flank steak

2

teaspoons

salt

2

tablespoons

fresh cracked black pepper

1

tablespoon

olive oil

6

ounces

of triple cream brie

cut into thin slices

1

cup

arugula

4

hoagie rolls
Instructions
Make the jam:
Heat the olive oil in a pot over medium-high heat until shimmery.

Add the chopped onions, salt, sugar, and baking soda, toss to combine.

Reduce heat to medium-low, allowing to cook until the onions soften, about 10 minutes.

Stir in the beer.

Cook until the onions are soft and dark brown, adding more beer if the pan is too dry.

Pulse in a food processor to achieve a smoother texture, if desired.
Cook the steak:
Pat the steak dry. Allow to sit at room temperature for 15 to 20 minutes.

Preheat the oven to 350°F.

Pat the steak dry again, if needed, sprinkle on both sides with salt and pepper.

Heat the olive oil in a cast-iron skillet over high heat.

Add the steak, cook for two minutes, flip and cook on the other side for one minute.

Transfer to the oven and cook for 7 minutes or until the thickest part of the steak reads 120 on a meat thermometer.

Remove from the pan and allow to rest for ten minutes. Thinly slice.
Assemble the sandwiches:
Raise oven temperature to 450°F.

Slice the rolls, fill with steak, top the steak with brie slices. Add to a baking sheet and return to the oven until the cheese is warmed and starting to melt.

Remove from oven, add to a serving plate. Spread the inside with onion jam and arugula.

Serve.