Beeramisu: Tiramisu Made with Beer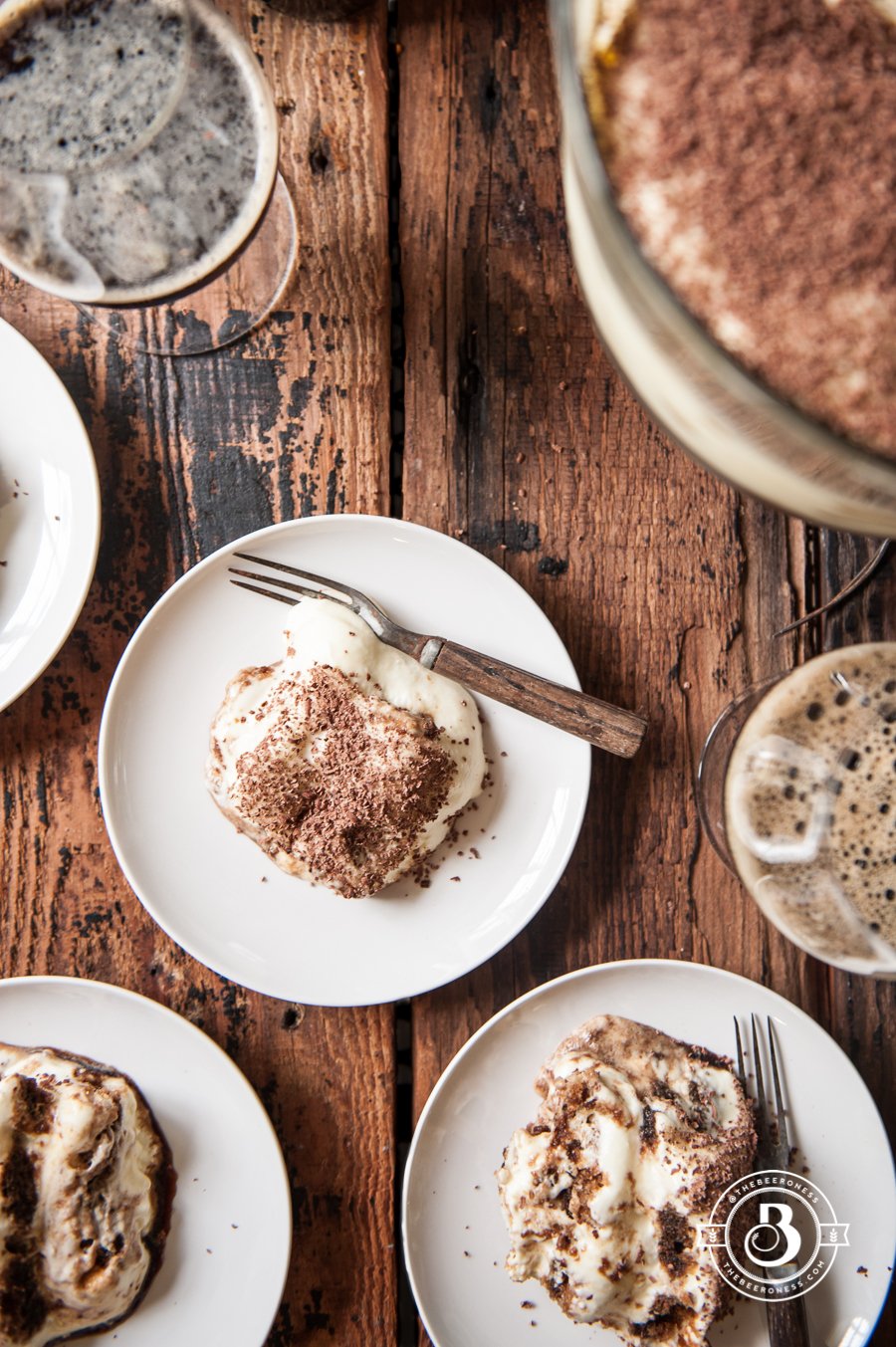 Beer people, we have our own language. Our own accepted set of standards. In most settings, with most normal humans, it's unacceptable and off putting to ask a stranger if you can sample the beverage in their hands. Try it, go to a random Starbucks and ask the guy who waited in line behind you if you can try his latte. The response, if you're lucky, will be somewhere along the lines of, "Wait…what?"
Try it in a brewery, you'll get a completely different response. Every beverage is just a polite comment away from a communion chalice. "Can I try your beer?" is nearly always met with, "Yes! It's awesome, give it a try."
It's a sacred tradition, it's the wrist band of admission into the world of mild beer worship. We want to share, we want you to understand why we ordered what we did. We also understand that some beers are limited, the experience is fading as the keg empties and we don't want to deny you a small place at the table.
I've been on both the giving and receiving end of the pass-the-beer-take-a-sip ritual. It's a small example of how much heart there is in the world of craft beer, how excited we are about what's being made. Just like if you see a musician listening to headphones and ask if you can listen, he'll pass them over so you can hear too. Or if you ask a runner if you can join on the trail, he'll happily pace to you. People want to share their passions, show even strangers what all the fuss is about. Our's just happen to be shared in proper glassware.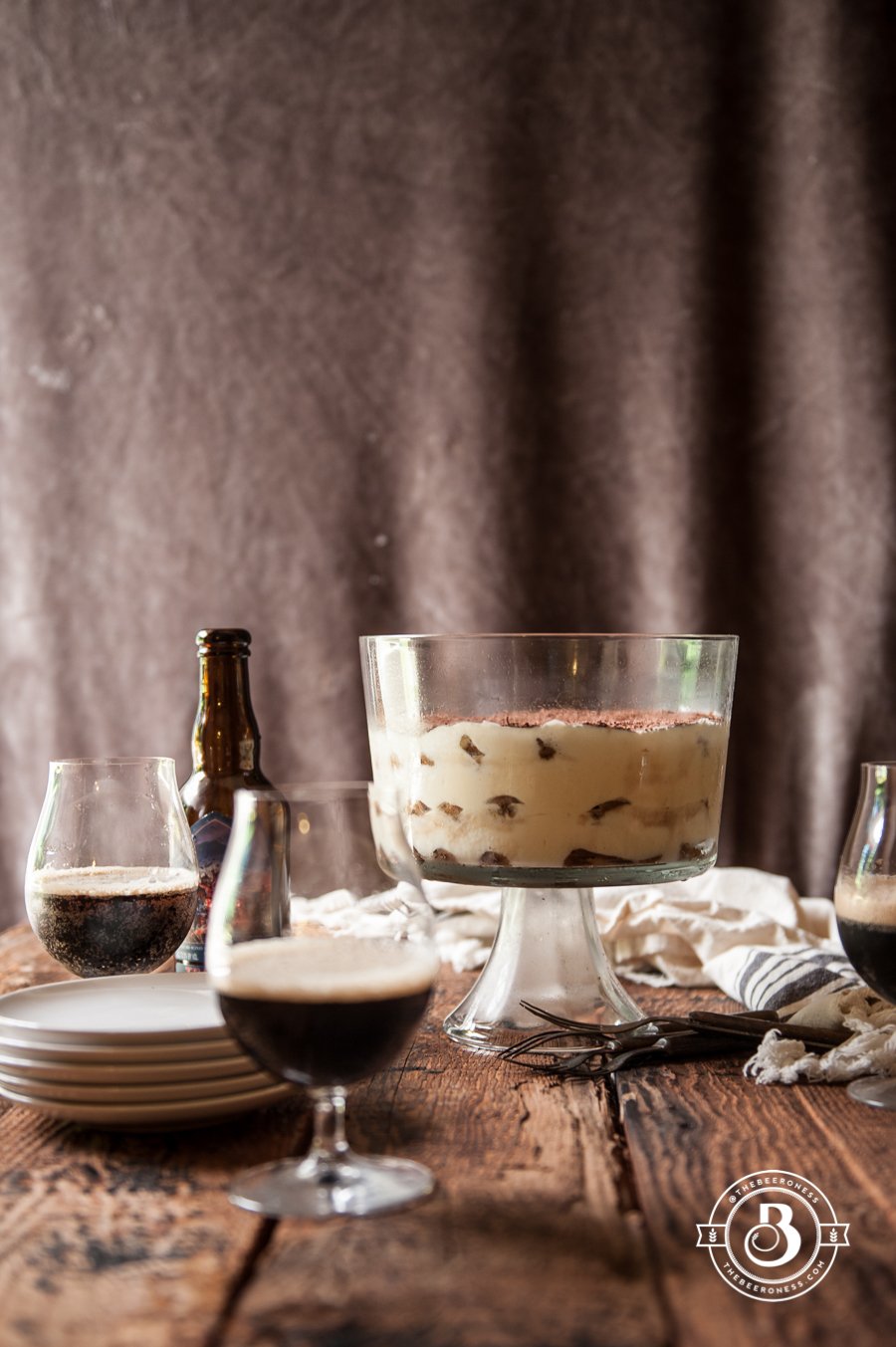 Beeramisu: Tiramisu Made with Beer
Ingredients
3 large eggs
pinch salt
3/4 cup sugar, divided
8-oz mascarpone cheese
1/2 cup chilled heavy cream
¼ cup powdered sugar
12 ounces bourbon barrel aged stout (I used Track #10 from Lost Abbey)
1 tbs espresso powder
24 savoiardi (crisp Italian ladyfingers)
3 oz bar dark chocolate, shaved (or crated with a cheese grater)
Instructions
Set out two medium bowls and one large bowl.
Separate the eggs adding the yolks to the large bowl and the whites to a medium bowl.
Add a pinch of salt to the whites, beat the until stiff peaks form. Add ¼ cup white sugar, beat until well combined.
Add ½ cup white sugar to the yolks, beat until light in color and ribbony. Beat in the mascarpone.
Add the cream and ¼ cup powdered to the remaining medium bowl, beat until soft peaks form. Stir the whipped cream into the mascarpone then gently fold in the egg whites until just combined.
Stir the beer and espresso powder together in a shallow bowl. One at a time dip the ladyfingers into the beer and then lay in a tight layer in the bottom of a 2 qt serving dish (8x8 baking dish works well).
Top with a layer of cream, repeat two more times until you have three layers of tightly packed ladyfingers and three layers of mascarpone cream.
Chill for at least six hours and up to overnight.
Sprinkle with chocolate shavings just prior to serving.
Notes
Adapted from Gourmet Magazine, March 2003
https://domesticfits.com/beeramisu-tiramisu-made-with-beer/
Let's talk about raw eggs for a second. According to the CDC only 1 in every 20,000 eggs is contaminated. Meaning if you ate an egg a day your entire life, it would take you 55 years to find a bad one, and it may not even make you sick. You are somewhere around 1000 times more likely to get sick off raw spinach. But if those are are still too dicy for you, there is always in-shell pasteurized eggs you can buy, but then you have to drive to the store to get them and your odds of dying in a car accident on the way to the store are way higher. But it's your call.