Beeramisu Doughnuts
Beeramisu Doughnuts
This ended Taco Wednesday.
Backdropping a conversation about what holds up. Movies. What movie holds up? Ferris Bueller's Day off, Wizard of Oz, Pulp Fiction, Back to the Future? What's the movie that always seems to be great no mater how much time has elapsed since the first time you saw it?
Maybe it just made sense because doughnuts and tacos hold up. No matter how much food you eat, what flavors you discover between that first one and the most recent, it's always a welcomed plate of food. Tacos. Doughnuts. Burgers. Cake. Timeless, unlike those firework fads that burst bright and then fade away, leaving us wondering why we ever liked them in the first place. Like the Terminator movies, and Crystal Pepsi.
Through the rise and fall of popular foods, the foam, the infusions, and the fads, doughnuts will always be there reminding us why they were always our favorite. Why they're just as good for dessert as they are for breakfast. Why they are the best cheat meal and perfect hangover food.
Especially when you include beer.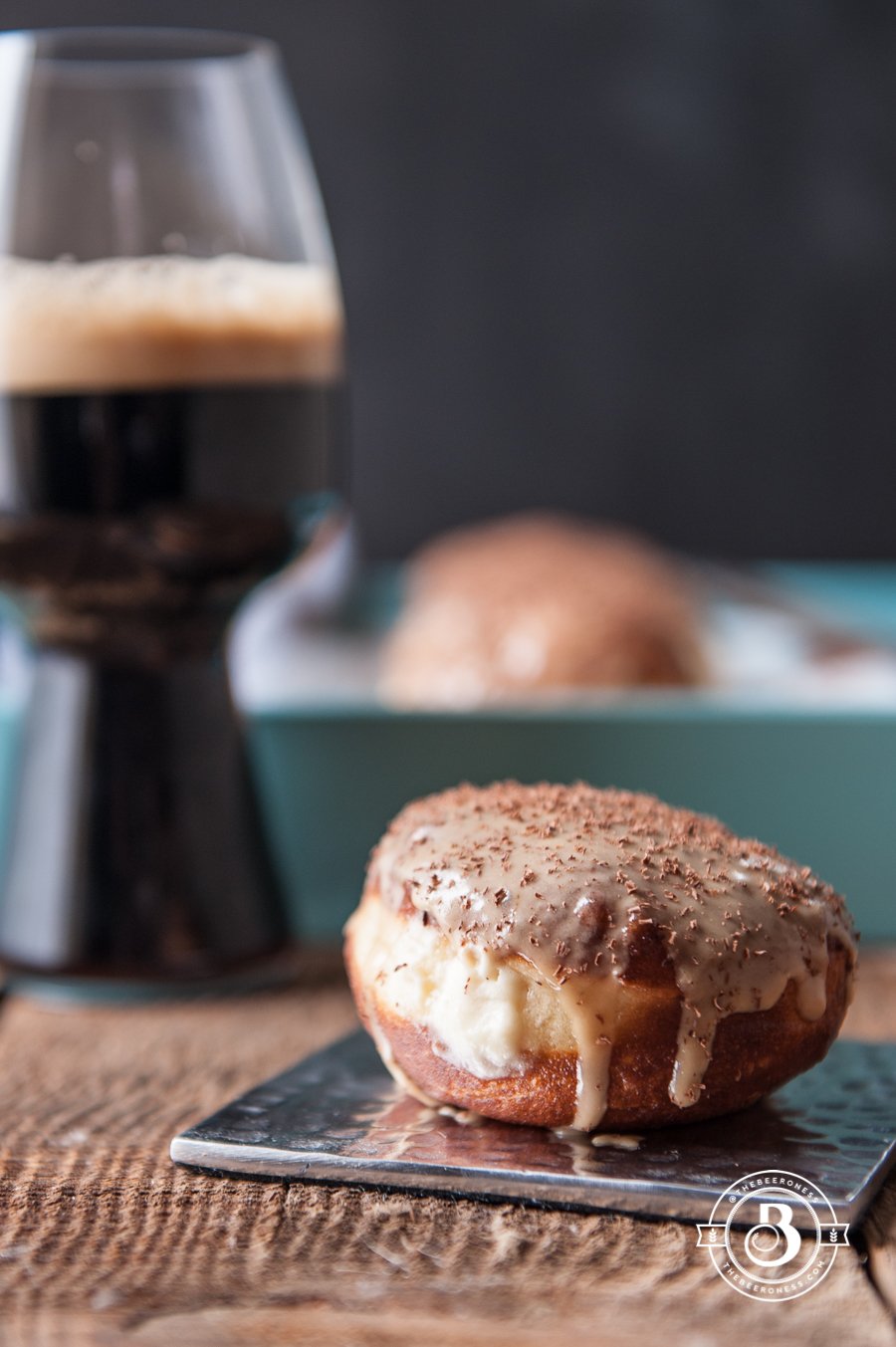 Beeramisu Doughnuts
Ingredients
For the Doughnuts:
3

cups

360g flour

¼

cup

58g granulated sugar

1

packet

2 ¼ teaspoon or 7g rapid rise yeast

¾

cup

6oz wheat beer

1

teaspoon

4mL vanilla

2

large egg yolk

room temperature

¼

cup

62mL heavy cream (room temperature)

1

teaspoon

6g salt

oil for frying
For the Filling
2

large eggs

pinch

salt

¼

cup

50g sugar, divided

8

wt oz mascarpone cheese

2

tablespoon

28mL stout beer

1/3

cup

chilled

75g heavy cream

¼

cup

32g powdered sugar
Top Glaze
1 ½

cups

188g powdered sugar

¼

teaspoon

espresso powder

1

tablespoon

14mL stout beer

Shaved dark chocolate
Instructions
In the bowl of a stand mixer fitted with a dough hook add the flour, sugar and yeast.

Add the beer to a microwave safe bowl, microwave on high for 30 seconds, test temperate and repeat until beer reaches between 120F and 130F.

Add the beer to the stand mixer, mix until most of the flour has been moistened.

Add the vanilla then the yolks, one at a time. Add the cream, and salt.

Building up speed, beat on high until the dough comes together and gathers around the blade.

The dough will be very soft.

Add dough to a lightly oiled bowl, cover and allow to sit at room temperature for 1 hour or until doubles in size.

Punch down the dough and knead lightly to remove any air bubbles.

Add the dough to a lightly floured surface. Pull into a large rectangle about ½ inch thick. Use a 3-inch round cutter to cut out 12 cricles. Allow to rest until doubled in size, about 30 minutes.

Heat 4-inches of oil in a pot over high heat until the oil reaches 350F on a deep fry thermometer. Adjust heat to maintain that temperature. A few at a time, fry the circles until golden brown on both sides, about 2 minutes.

Remove and add to a wire rack.

Set out three medium sized bowls.

Separate the eggs, adding the yolks to one bowl and the whites to another bowl.

Add a pinch of salt to the whites, beat until stiff peaks form. Add 2 tablespoons white sugar, beat until well combined.

Add the remaining 2 tablespoons white sugar to the yolks, beat until light in color and ribbony. Beat in the mascarpone then 2 tablespoons stout beer to the yolks.

Add the cream and ¼ cup powdered to the remaining bowl, beat until soft peaks form. Stir the whipped cream into the mascarpone then gently fold in the egg whites until just combined.

Add cream to a large piping bag with a metal tip and a pea-sized opening.

One at a time make a small slit in the side of the doughnuts.

Press the metal tip into the side of the doughnuts, pipe the filling into each doughnut adding about 2 tablespoons of cream to the center of each dough nut.

In a shallow bowl combine the remaining powdered sugar, espresso powder and beer, stir until well combined and thick.

One at a time gently dip the doughnuts into the glaze, sprinkle with chocolate and return to the wire rack until set. Serve immediately.