How to Throw a Beer Tasting Party + Soft Pretzel Rods with Beer Mustard Recipe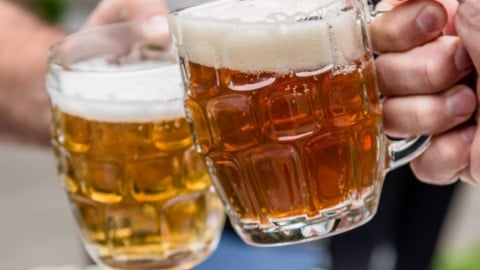 I've teamed up with World Market to bring you an easy guide to throwing your own craft beer tasting party. Complete with recipes, printable beer tasting sheets, and beer recommendations. I was able to get everything I needed, from the table side cooler, to the glassware, to the meats and cheeses at my local World Market in Woodinville, Washington.
This is a sponsored post, all ideas, words, and opinions are my own.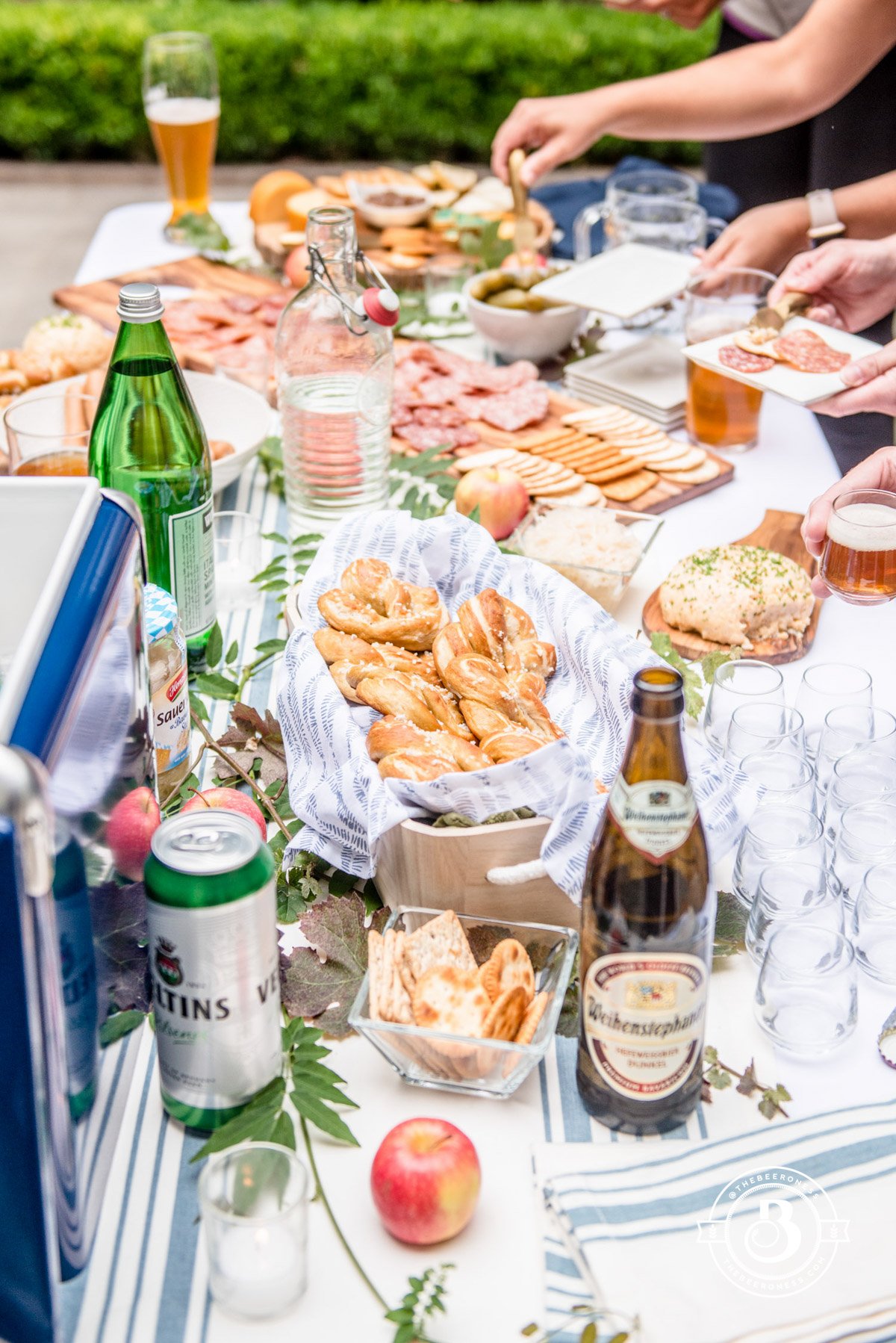 How to Throw a Beer Tasting Party
Invitations: Choose a diverse mix of people, but keep it on the small side, too many guests and the party isn't manageable. Eight to ten people seem to work best. Don't let the "doesn't drink beer" designation deter you from inviting anyone. Tell all guests to keep an open mind, sample everything that's poured and reserve judgments for after sampling, not before. Most likely, your guests will like something, and it will surprise them.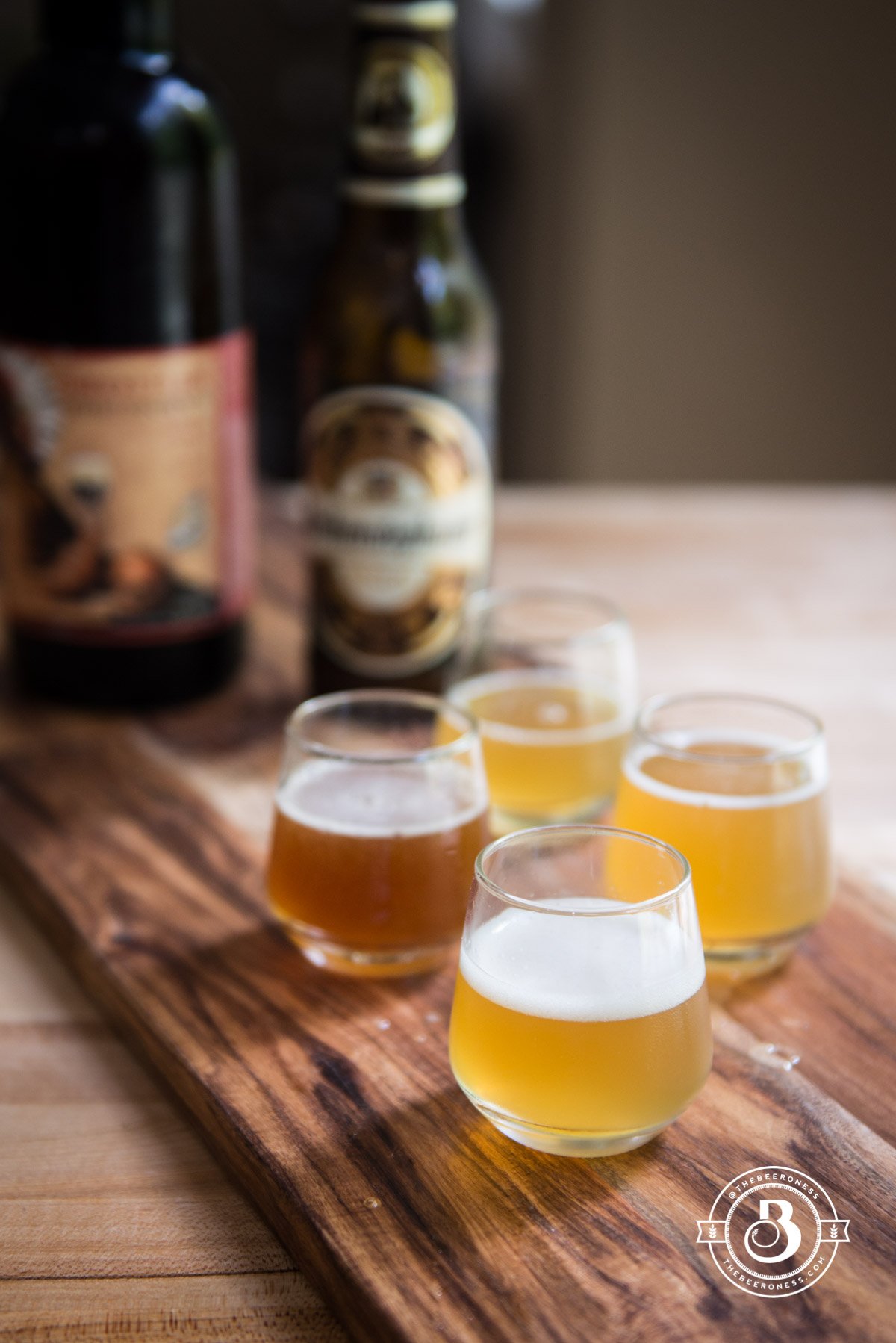 Teardrop tasting glasses, Wood Charcuterie Board
Beer selection. Choose a theme, pick beers that correspond. There are more beer styles in the world (over 100) than are manageable in one tasting, having a variety is important but don't try to offer every style in existence. For instance, if you have an Oktoberfest theme, choose beers that are brewed in Germany, or in a German style and try to be diverse in what you choose to serve. Try to grab at least one beer in each of these categories that fit your theme: malty, hoppy, wild fermented, barrel aged, clean (pale lagers, pilsners, cream ale, Kolsch).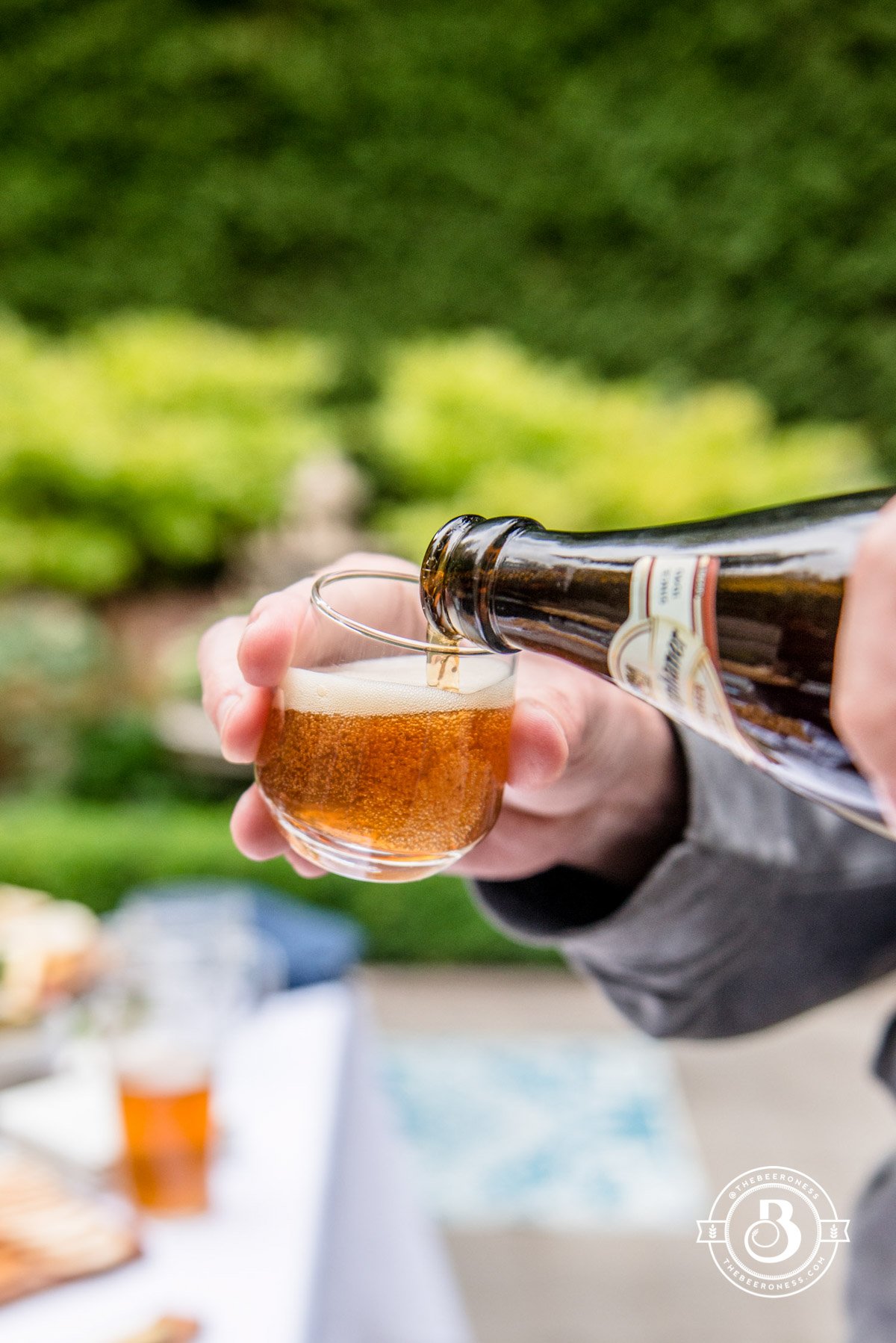 Glassware. A small but massively important detail that shouldn't be overlooked, glassware can make a monumental difference when serving beer. Choose small glasses that offer just enough beer for each guest to sample the beer. Your goal is for each beer to be sipped, savored and considered, not chugged. I use these Teardrop tasting glasses from World Market, the shape is perfect for beer and the size works well for sampling.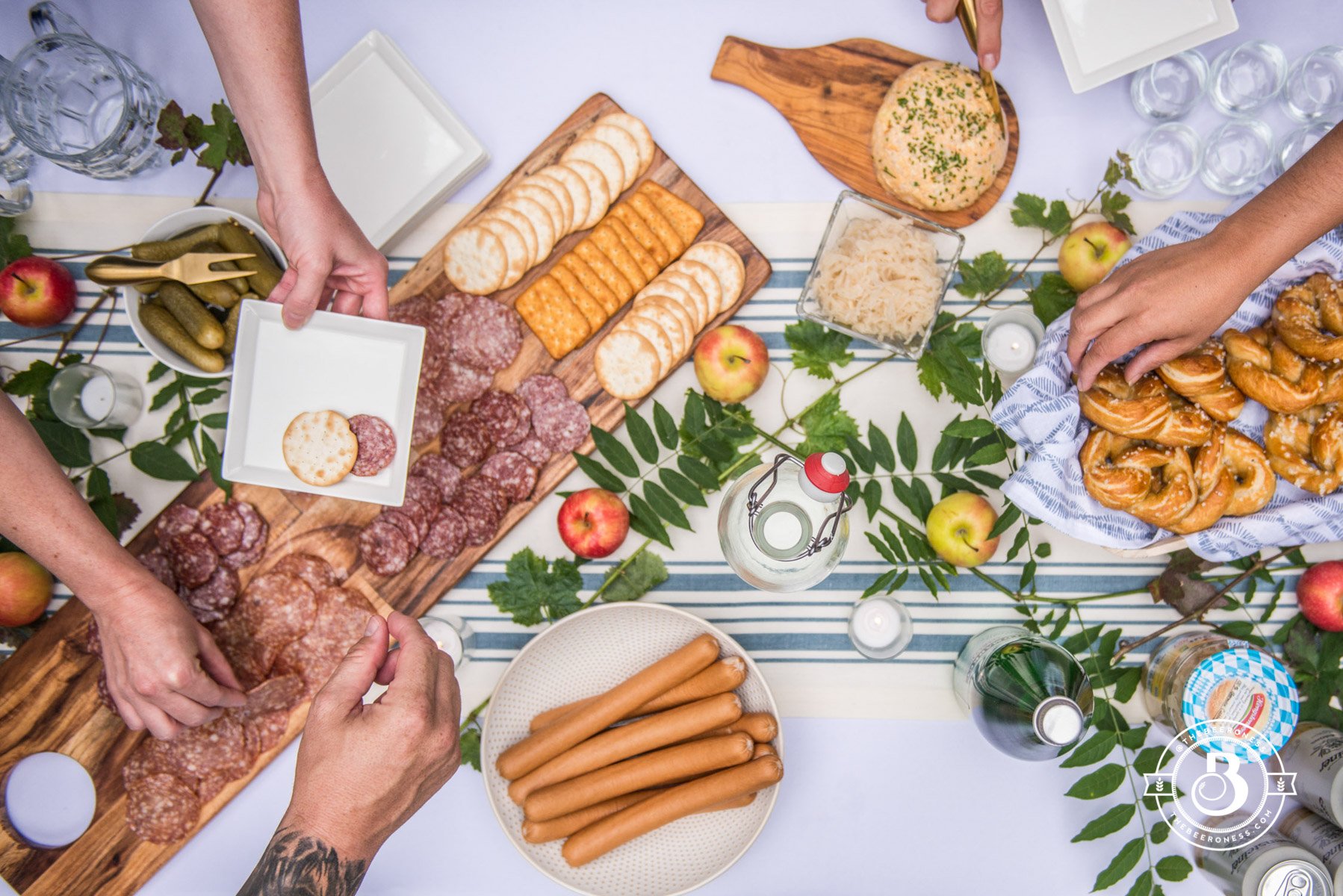 Assorted Crackers, Cheddar Wheel , Brie Wheel, Smoked Gouda, Charcuterie Sampler,  Cheese Knives, Wood Charcuterie Board,  Blue Villa Table runner,  Appetizer Plates
Food. It's incredibly important to any party, but essential with a beer tasting. It's a way to balance the flavors and explore pairings. More importantly, eating is essential when drinking as a way to stay in control. You want to serve a few things that pair well with a variety of beers and that can sit at room temperate for a while. Cheese, crackers, charcuterie, and pretzels are simple staples to add to your table. Instead of trying to make everything yourself, strive to just make one or two dips or dishes to serve and plan to buy everything else. It'll ease the stress of the party considerably.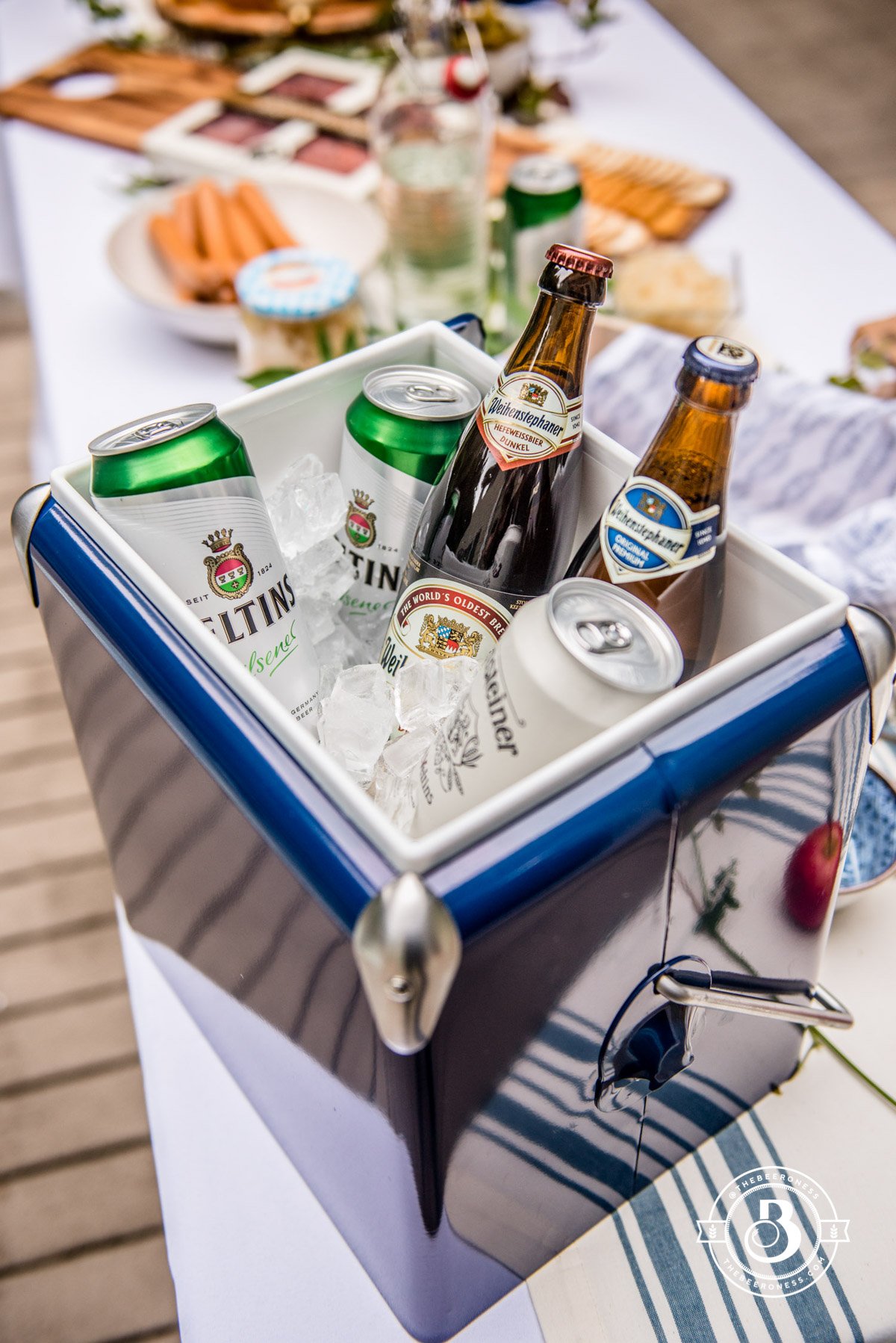 Retro Cooler, Blue Villa Table runner
Serve. Give each guest a glass, a notes sheet, and pour the beers one at a time. Allow the guest to sip, record notes (like with this PRINTABLE SHEET!), nibble on food and enjoy before moving on to the next beer. Have each guest pour any unfinished beer and rinse the glasses (a large bottle of water and an ice bucket will do the trick) before moving on to the next beer.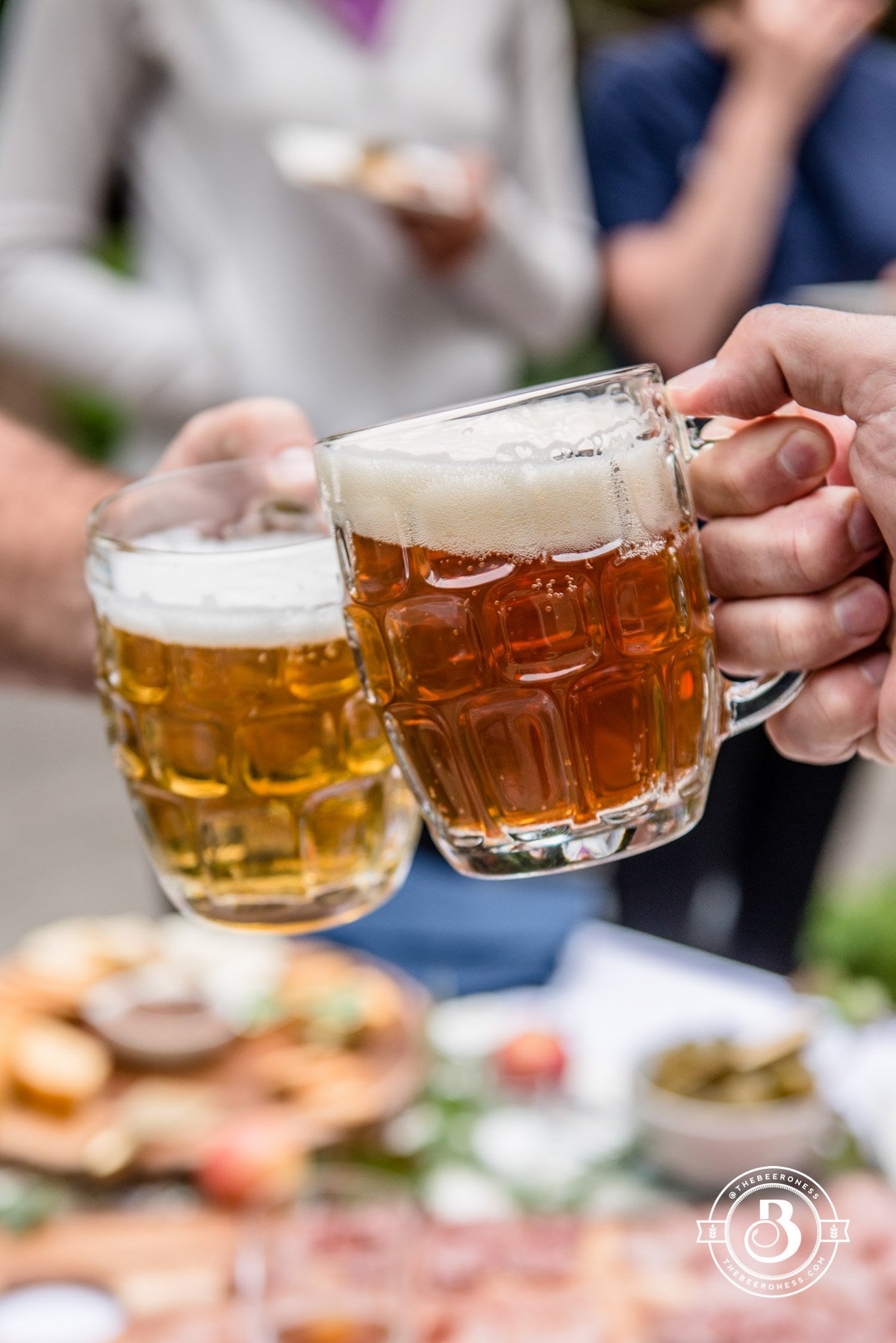 Pints. Once all the beers have been samples, pass out larger pint glasses for your guest to pour a larger amount of their favorite brew. Compare notes, linger over food, and enjoy the rest of the evening.
Weck Jar,  Charcuterie Board,  Leaf Napkin
Throwing an Oktoberfest party? Check out my Oktoberfest Party Post on the World Market blog!
Beer Soft Pretzels Rods
Ingredients
2 ½

cups

flour

1

tablespoon

sugar

1

envelope

2 ¼ teaspoons rapid rise yeast

1

cup

beer

1

teaspoon

kosher salt

2

tablespoon

oil

1

tablespoon

unsalted butter

10

cups

water

¼

cup

baking soda

1

tablespoon

coarse salt

2

tablespoons

melted butter
Instructions
Add the flour, sugar and yeast to a stand mixer. Mix until just combined. Heat the beer to 120°F (always defer to the liquid temperature listed on the package of yeast, regardless of what the recipe says. Your yeast package says 105°F? Heat the liquid to that temperature) add the beer to the stand mixer, mixing until all the flour has been moistened.

Add the salt and oil, beat until the dough comes together and gathers around the blade. Transfer to a lightly oiled bowl, cover and allow to rise until doubled in size.

Add the dough to a lightly floured surface, cut into 12 equal sized portions.

Roll each portion into an 8-inch log, add the pretzel rods to a large baking sheet that has been covered with parchment paper.

Preheat the oven to 425°F.

Add the water to a large pot, bring to a boil. Stir in the baking soda.

A few at a time carefully add the pretzels to the boiling water for 30 seconds, place back onto the baking sheet.

Brush with melted butter, sprinkle with salt.

Bake for 10-12 minutes or until dark golden brown.
I used: World Market Brown Mustard Seeds, World Market Ground Mustard, De Nigris Organic Apple Cider Vinegar With Honey, Coarse Sea Salt, WeihenstephanBeer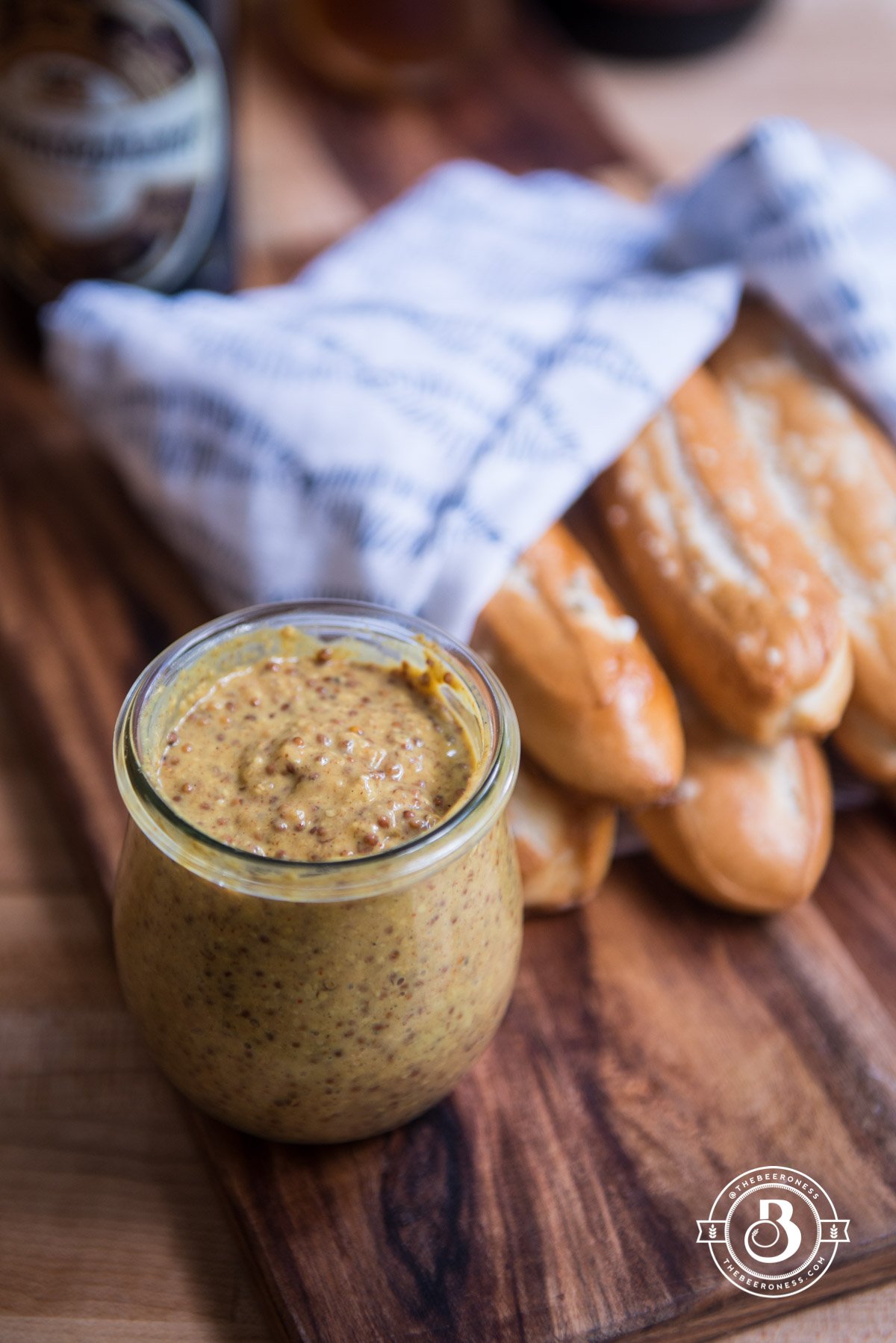 Weck Jar,  Charcuterie Board,  Leaf Napkin
Beer Mustard Recipe
Ingredients
½

cup

brown mustard seeds

¼

cup

yellow mustard seeds

¼

cup

yellow mustard powder

½

cups

apple cider vinegar

½

cups

malty

low hop beer such as a Belgian ale or brown ale

1

teaspoon

ground turmeric

2

tablespoons

honey

3

tablespoons

dark brown sugar
Instructions
In a small bowl stir together both types of mustard seeds, mustard powder, vinegar, and beer. Cover and set in a cool, dry place for 12 to 24 hours or until all the liquid has been absorbed.

Stir in the remaining ingredients. Add to a blender, pulse until blended but some whole grains are still intact.

Transfer to an airtight container, refrigerate until ready to use.
Shop the Post: Retro Cooler | Appetizer Plates| Cheese Knives| Napkins| Leaf Napkin| Wood Basket| Wood Charcuterie Board| German Sausages| Sea Salt| Assorted Crackers| Cheddar Wheel  | Brie Wheel| Blue Villa Napkin| Smoked Gouda| Weck Jar| Honey Apple Cider| Gherkins| Teardrop tasting glasses| Mustard Seeds| Sauerkraut| Blue Villa Table runner| White serving bowl| Bottle| Charcuterie Sampler| Dimpled stein