Beer Soft Pretzels with Guinness Cheese Sauce
Beer Soft Pretzels with Guinness Cheese Sauce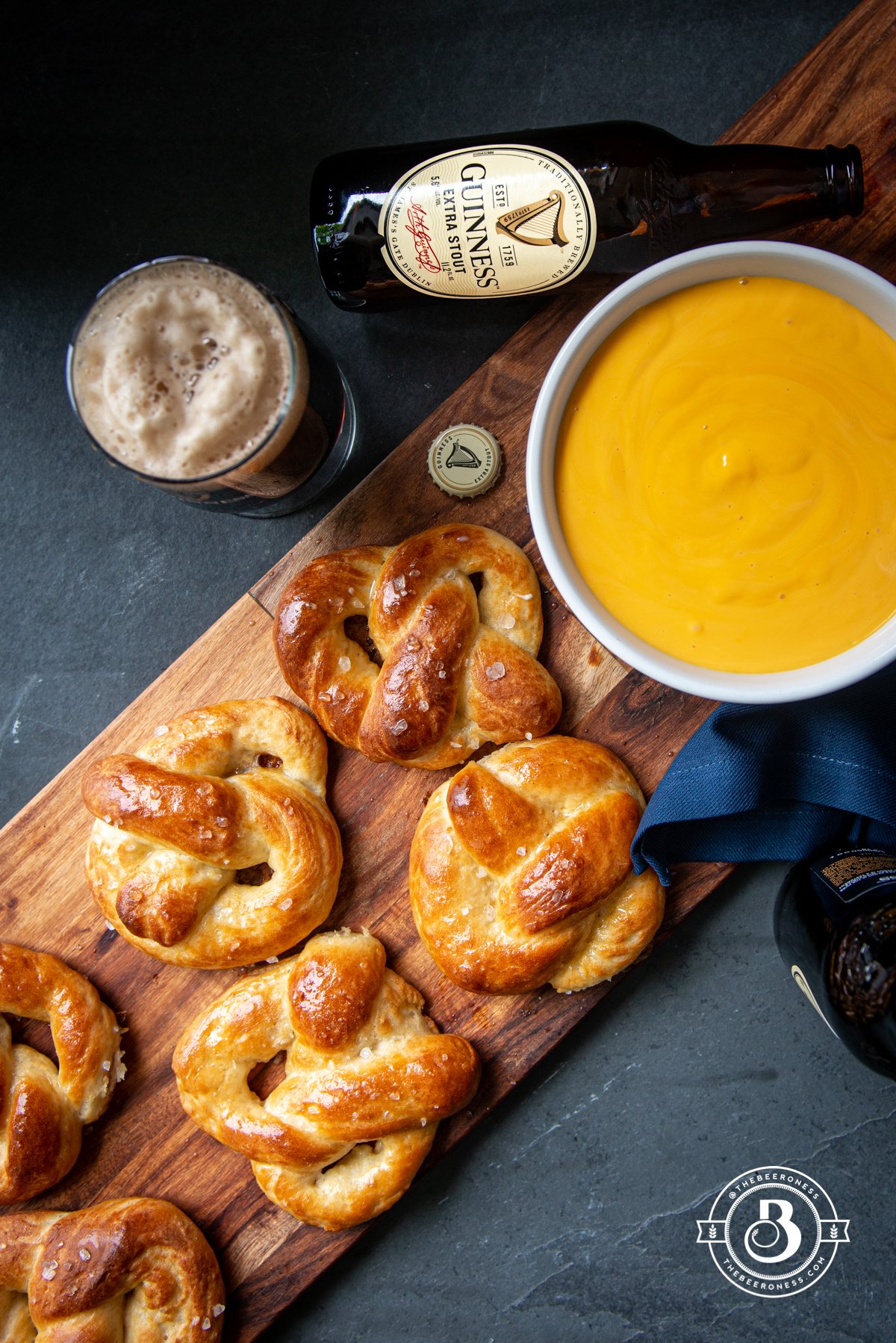 I miss pubs. I miss dive bars in strange cities, strangers in crowded bars, crowds at beer festivals. But until the world is back to normal, and until my pint doesn't come with a side of deadly virus threats, I'll begrudgingly stay home. And do my best to pub-food from home.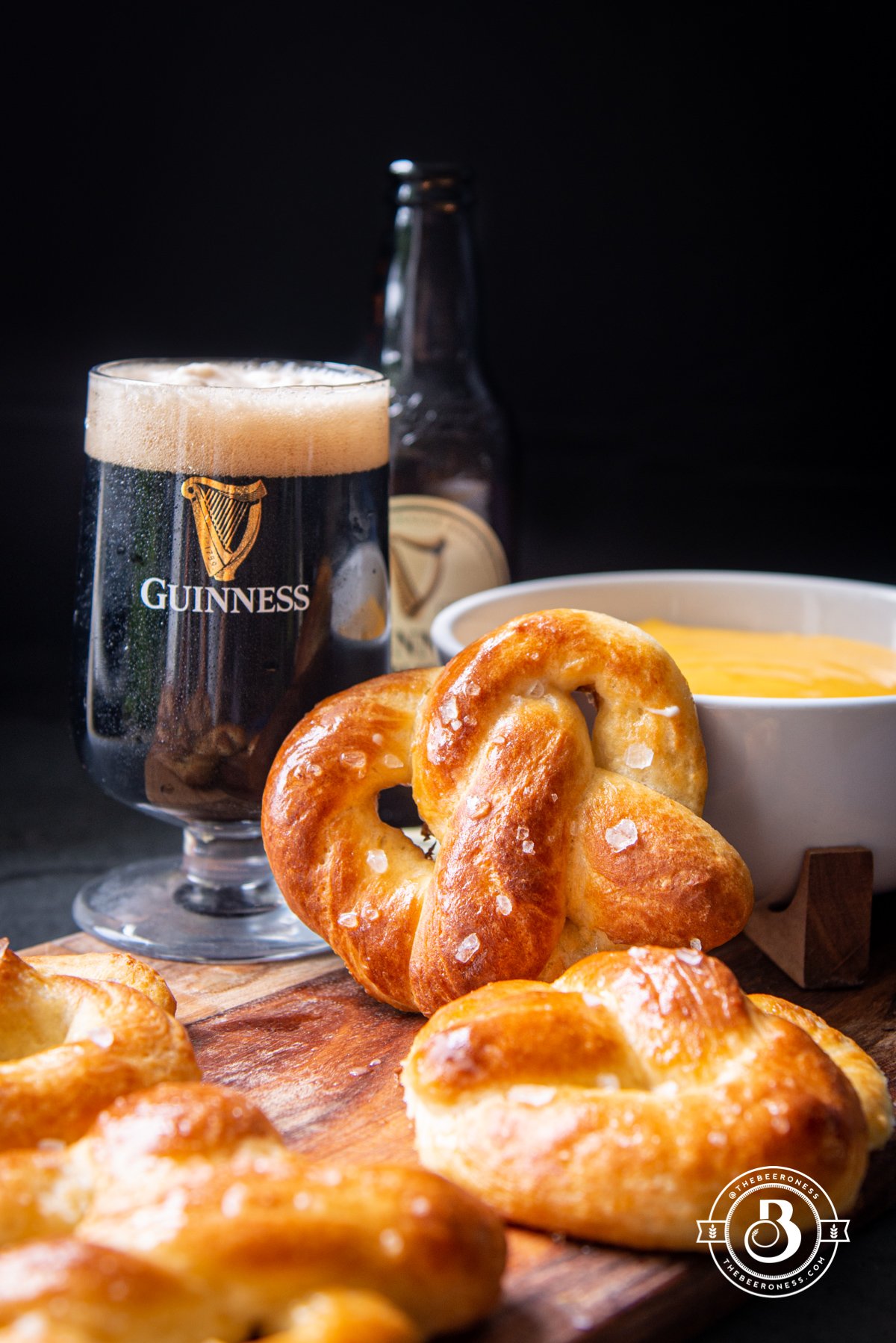 Guinness was one of the first beers I ever had at a bar, in an Irish pub in Los Angeles. I've been to Ireland, back when air travel felt safe, and Guinness will always have a place in the most nostalgic part of my beer heart. Soft pretzels and beer cheese sauce are right there with it, it's always a good day when I have Guinness, soft pretzels, and cheese sauce. Until I can bump up against strangers in a bar, making friends and asking them if they want to try my beer, I'll be doing this from home. It's a great way to pass the time until the day we are out of the woods.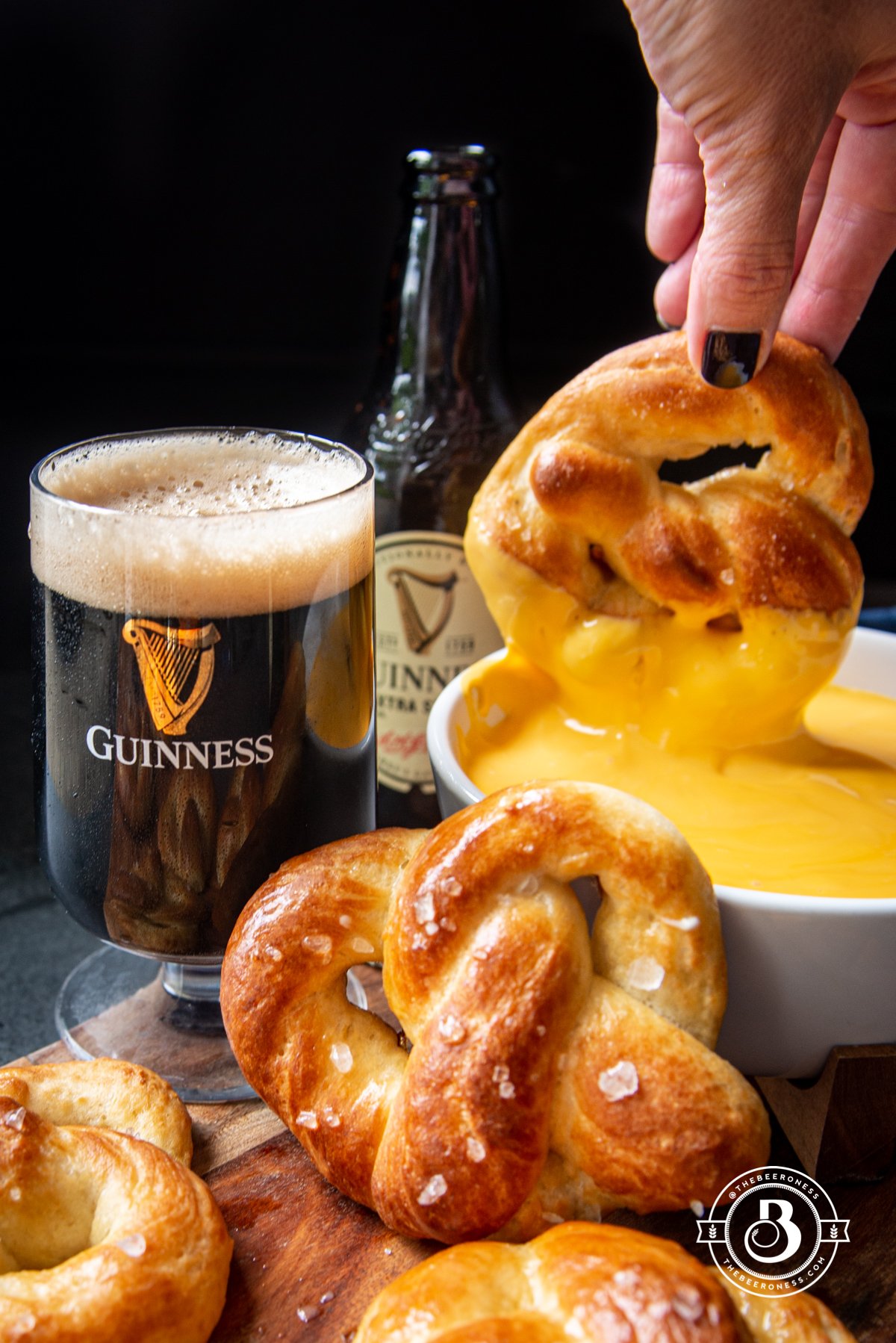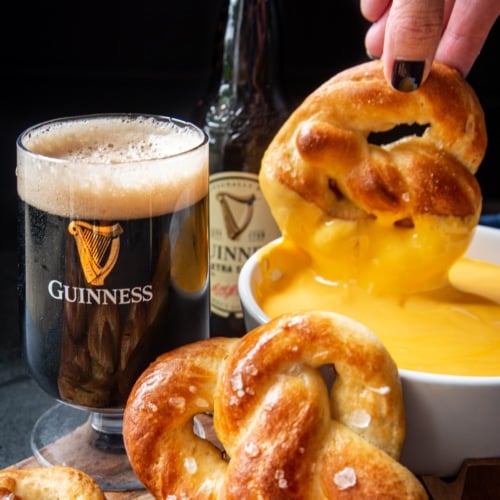 Beer Soft Pretzels with Guinness Cheese Sauce
Ingredients
For the Pretzels:
2 ½

cups

flour

1

tablespoon

sugar

1

envelope

(2 ¼ teaspoons) rapid rise yeast

1

cup

Guinness beer

1

teaspoon

kosher salt

2

tablespoon

oil

1

tablespoon

unsalted butter

softened

10

cups

water

¼

cup

baking soda

1

tablespoon

coarse salt

2

tablespoons

melted butter
For the Cheese Sauce:
2 ½

cups

(300g) shredded cheddar cheese

1

tablespoon

cornstarch

½

teaspoon

garlic powder

½

teaspoon

salt

1

(12 ounce) can

evaporated milk

½

cup

(4oz) Guinness beer
Instructions
Make the pretzels:
Add the flour, sugar and yeast to a stand mixer. Mix until just combined. Heat the beer to 120°F (always defer to the liquid temperature listed on the package of yeast, regardless of what the recipe says. Your yeast package says 105°F? Heat the liquid to that temperature) add the beer to the stand mixer, mixing until all the flour has been moistened.

Add the salt and 1 tablespoon softened butter, beat until the dough comes together and gathers around the blade. Transfer to a lightly oiled bowl, cover, and allow to rise until doubled in size.

Add the dough to a lightly floured surface, cut into 8 equal sized portions.

Roll each portion into an 8-inch log, shape into a pretzel, add to a baking sheet.

Preheat the oven to 450°F.

Add the water to a large pot, bring to a boil. Stir in the baking soda.

A few at a time carefully add the pretzels to the boiling water for 30 seconds, place back onto the baking sheet.

Brush with melted butter, sprinkle with salt.

Bake for 10-12 minutes or until dark golden brown.
Make the cheese sauce:
Add all ingredients to a blender, blend until smooth.

Add to a saucepan over medium heat, heat to the desired temperature.

Store in an airtight container in the fridge until ready to use, heat to serve. Can be made up to 3 days in advance.

Serve the pretzels with the cheese sauce.