Beer Pickled Deviled Eggs with Goat Cheese and Coppa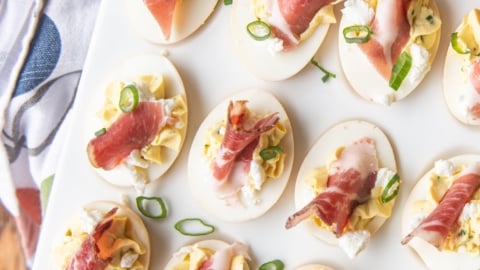 Beer Pickled Deviled Eggs with Goat Cheese and Coppa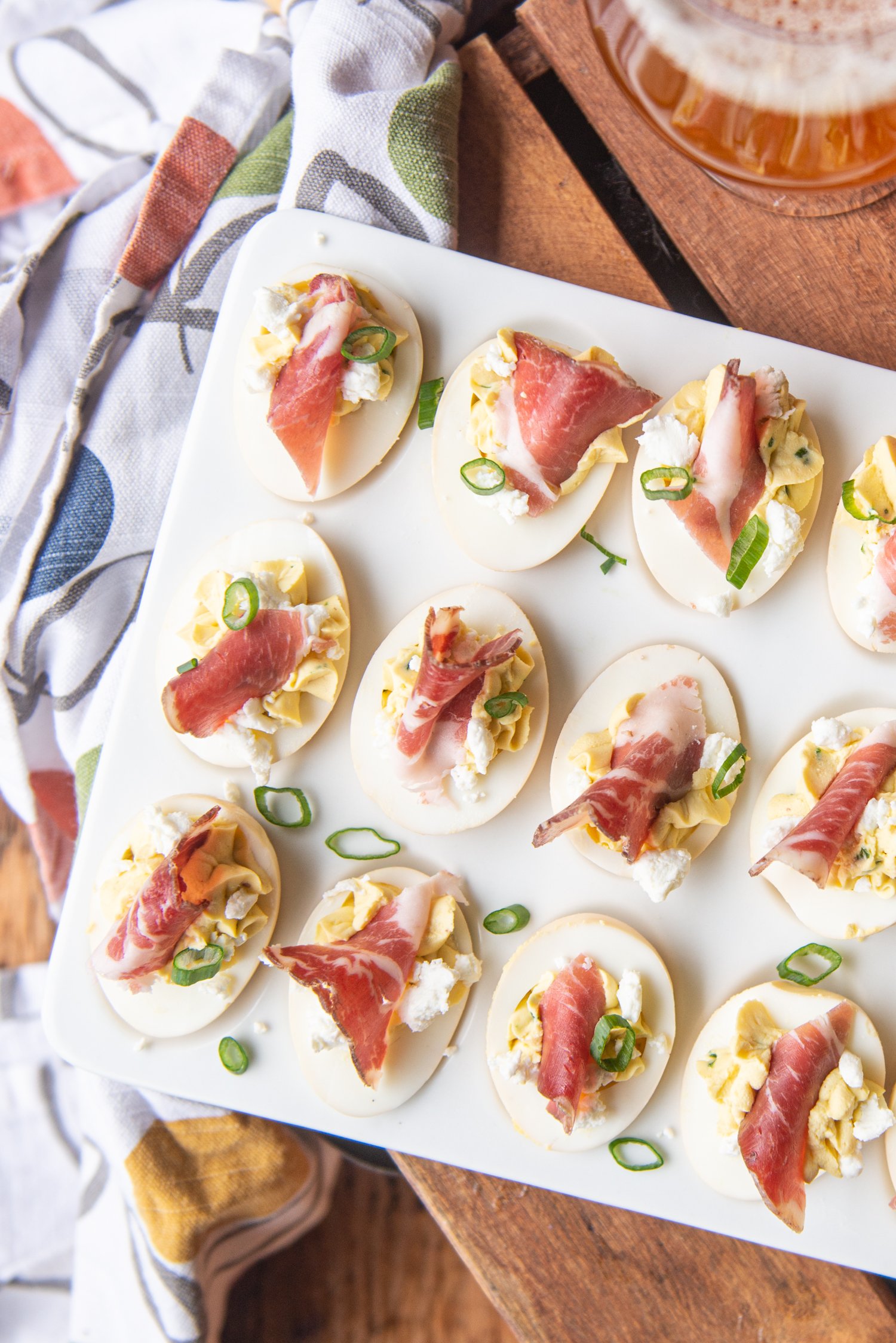 Do you like pickled things? And deviled eggs? Please say yes. I know, the idea of pickled eggs might be a little cringy at first, but just trust me, I'd never lead you astray. Pickled eggs with a rich filling and some gorgeously fatty meat are exactly what you want to eat as an appetizer. Or for dinner. Whatever.
Deviled eggs are this rare beast in the food world. They are things from Grandmas, and church potlucks, and our less than culinarily advantageous childhood, but they hold up. They've aged well, and everyone will eat them.
However, they don't math well. Let me explain this. Let's do some egg math, shall we? It'll be fun. If someone asks you how many scrambled eggs you can eat, it would probably be 3, maybe 4. Reason and logic will tell you that if this is the case, you could only eat 3 or 4 Deviled eggs, but as we all know you can eat about one thousand, maybe more. The limit does not exist. This is a math black hole that even NASA can't explain.
Basically what I'm saying is make a double batch. Or a triple if you plan to share.
Beer Pickled Deviled Eggs with Goat Cheese and Coppa
Ingredients
8-10

hardboiled eggs

1

cup

rice wine vinegar

1

cup

pale ale or IPA

1

tablespoon

sugar

1

tablespoons

salt

2

oz

goat cheese

plus additional for garnish

1

teaspoon

Dijon mustard

2

teaspoons

lemon juice

3

tablespoons

mayonnaise

½

teaspoon

salt

1

tablespoon

finely chopped green onions or chives

plus additional for garnish

1

oz

Coppa

thinly sliced and cut into quarters
Instructions
Peel the hardboiled eggs, add to a large bowl.

Combine the vinegar, beer, sugar, and salt, heat until the salt and sugar have dissolved (this can be done in the microwave or on the stovetop).

Add the beer mixture to the egg bowl, place a heavy plate on top of the eggs to submerge them. Chill for 2 to 12 hours.

Remove from pickle brine, cut in half vertically.

Add the yolk to a bowl, add the whites to a serving plate.

In the yolks, bowl add 2 oz goat cheese, mustard, lemon juice, mayo, salt, and green onions. Stir or beat with a hand mixer, until very well combined. Add to a piping bag if desired.

Fill the holes in the egg whites with the yolks mixture.

Top with a slice of Coppa, then sprinkle with remaining crumbled goat cheese and green onions.

Serve cold or room temperature.