Beer Marshmallows with Chocolate Mint Beer Sauce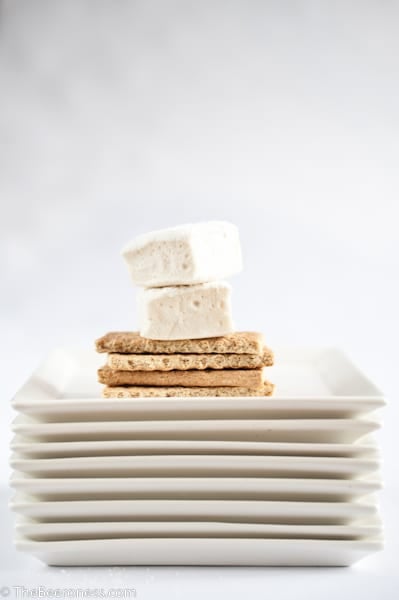 I told you last year that I wouldn't further assault you with tales of my trip to Ireland for Saint Patrick's day, until it was close to Saint Patrick's Day.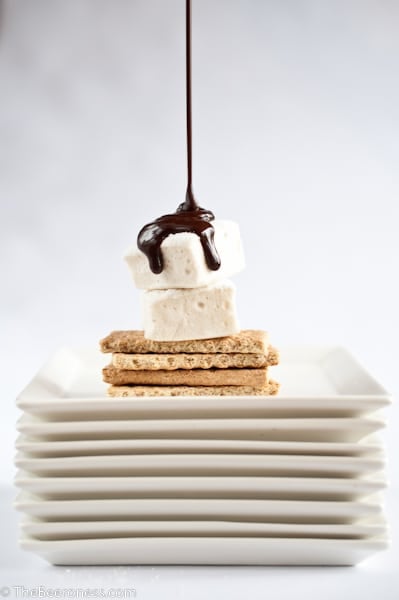 But here we are, just a week away. So I'll force another story of Ireland down your throat. But I made you some beer marshmallows so I hope we can call it even.
The night after I arrived in Dublin, still jet-lagged and a bit shaky, I found myself at a table in the back of an old Irish pub with a couple of Irish farmers in their early twenties. A scrawny, fair-haired, Irish boy, who admitted that he'd never left the mossy soil of Mother Ireland, asked me about life in the famed Los Angeles. "So…you've, like, met famous people. Like movie stars? and people in bands?"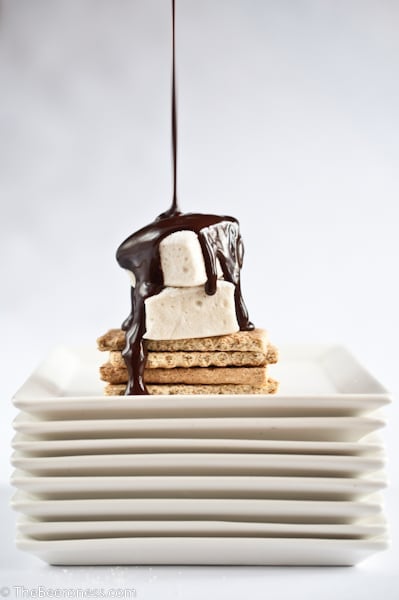 I said that I had. Just part of living in LA and having friends who work in music. It wasn't a big deal. His eyes widened, he bought the next round and pressed me for details, "WHO HAVE YOU MET?!"
I was felt slightly pushed back and delved into the database of my past celebrity meetings. I wasn't sure who he'd like to hear about so I started to go with my favorites, "Ummm. I met James Brown once. He told me I was pretty and did a spin for me."
He was confused. "Who's that? Who else have you met? Do you know Madonna"
"No. But I did go to Elton Johns birthday party. It was small, only a handful of people but I was too nervous to talk to him. But I did spend the night talking with-"
"Let me cut to the chase." He turned serious, he wanted to get right to the information he was looking for, "I want to know if you've met THE GUY."
I was blank. Who was the GUY? Which guy?
"You know!" The dozen Guinnesses he'd had since he'd left the sheep farm were starting to settle into his demeanor.
"I really don't know. Who's THE GUY in Hollywood?" I was more curious than confused.
Exasperated he finally spit it out, "EDDIE MURPHY!"
"Oh. No." If I'd had one million guesses I wouldn't have pulled that name, "I haven't met him."
"That's too bad. But you know, he lives in LA. So, you might. Right? At some point, like at Starbucks or something?"
"Ummm, yeah. I guess there's still hope."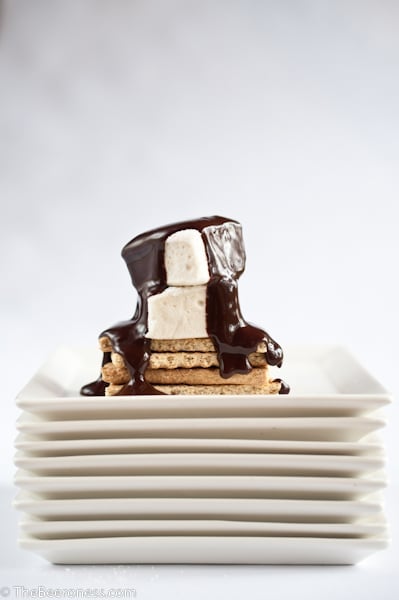 But, sadly I did leave LA  never having met Eddie Murphy. So unless he's a Seahawks fan, we may never meet. But I do suspect that if he's a beer drinker, he might like beer marshmallows. With stout chocolate sauce. And if he doesn't, then it's probably a good thing we never met.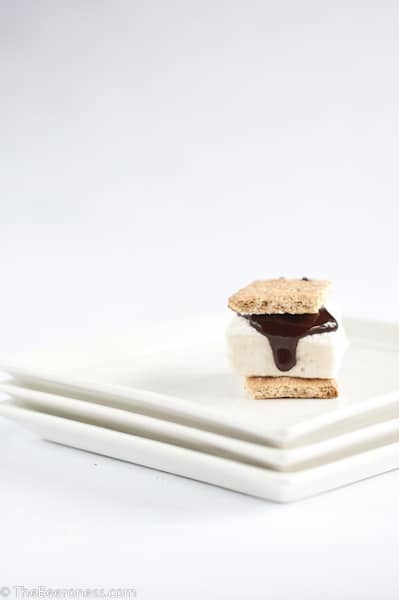 Beer Marshmallows with Chocolate Mint Beer Sauce
Ingredients
For The Marshmallows

Powdered sugar
3 ½ envelopes unflavored gelatin (such as Knox)
1 cup beer (flat and cold)*
2 cups granulated sugar
½ cup light corn syrup
2 large egg whites
½ tsp salt
3 tsp vanilla extract

For the Chocolate Sauce

10 wt oz dark mint chocolate (I used Green & Blacks)
1/3 cup chocolate stout
Directions
Grease a 9x13 baking pan, sprinkle with powdered sugar until well coated, set aside.
In the bowl of a stand mixer add ½ cup cold flat beer. Sprinkle with gelatin. Allow to stand while the sugar is being prepared.
In a large saucepan (mixture will bubble up considerably) over medium heat, add the remaining ½ cup beer, sugar and corn syrup. Stir until the sugar has dissolved.
Raise heat to high and allow to boil until the mixture reads 240F on a candy thermometer (about 6-8 minutes).
Once the temperature has been reached, turn off heat.
Turn the mixer on low and slowly pour the hot sugar mixture into the gelatin. Once all the sugar has been added turn the mixer on high until light and fluffy and tripled in volume, about 6 minutes.
While the mixer is running, prepare the egg whites. Add the egg whites to a bowl with the salt. Beat on high with a hand mixer until stiff peaks form.
Gently fold the egg whites and vanilla extract into the stand mixer ingredients until just combined.
Pour the marshmallows into the prepared pan. Sprinkle with powdered sugar. Allow to set at room temperature until set, about 2 hours. Remove from pan, cut into squares.
To make the chocolate sauce, add all chocolate sauce ingredients to a microwave safe bowl. Microwave on high for 30 seconds, stir and repeat until melted.
Dip the marshmallows into the chocolate, remove with a fork, set on wax paper until set. Or just pour it on in a ridiculous but photogenic stream to make a delicious mess.
Notes
*The beer in these marshmallows can be very present. Pick a beer you like. Try to avoid really high hop beers, they can get really bitter. If you want a low beer flavor, pick a pilsner, pale lager, or wheat beer. You can also use a malty belgian or a brown ale. If you LOVE hops, you can use an IPA but take note that the beer bitterness will be very present.
https://domesticfits.com/beer-marshmallows-chocolate-mint-beer-sauce/
Copyright �© TheBeeroness.com