Beer Focaccia Bread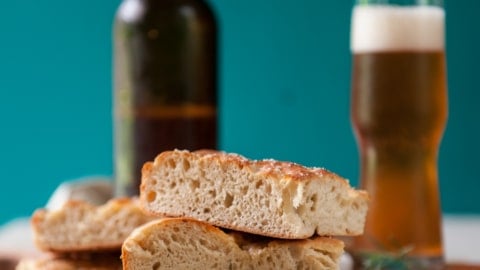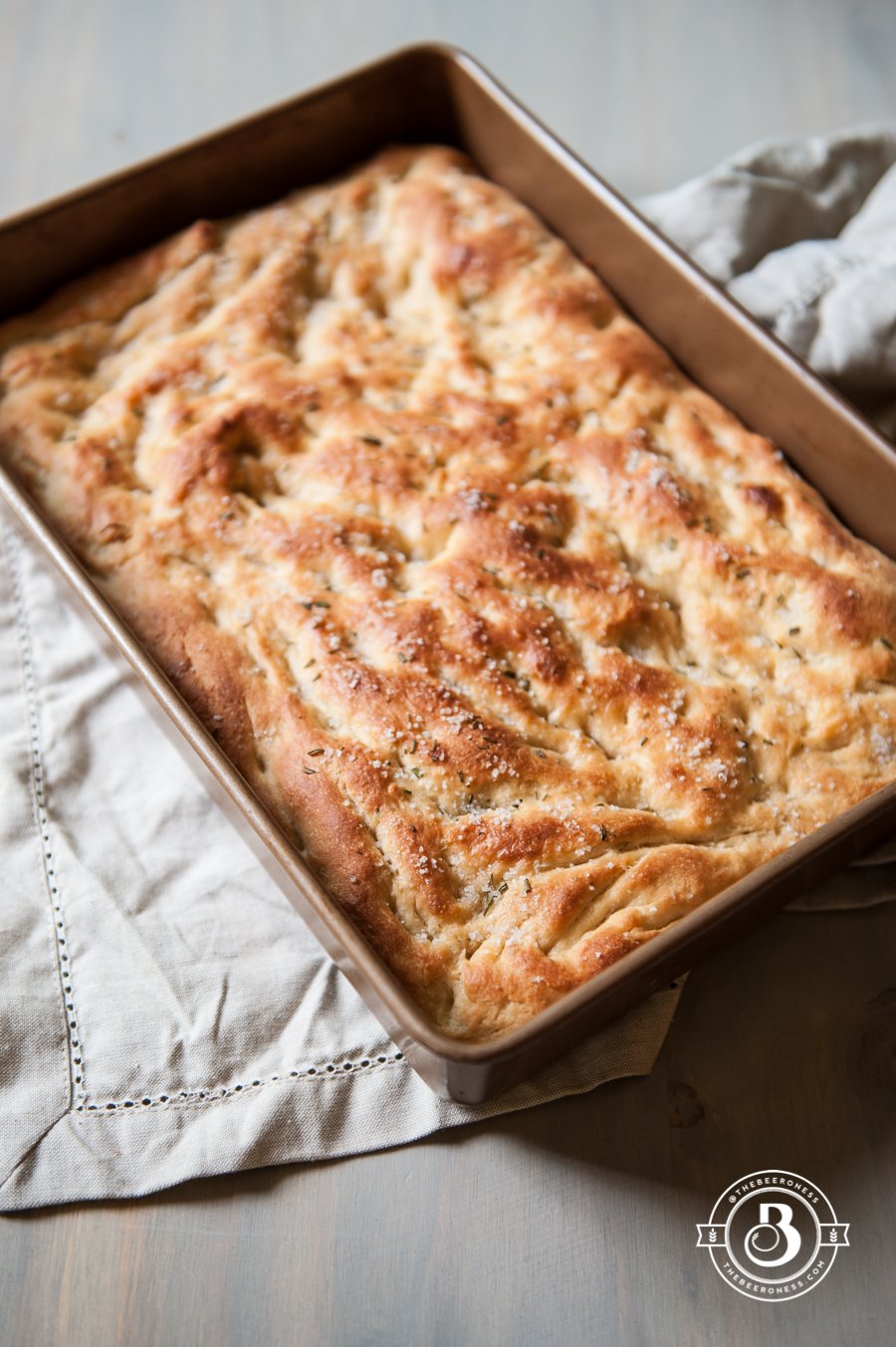 Think for a second about how long we've been doing this.
How long people have stood in kitchens, mixed yeast with flour, warm liquid, sugar, salt. Watched it rise, smelled it as it baked. Even before anyone knew what yeast was, bakers had figured out how to use it. Centuries of bread baking and little has changed, this is proof of how perfect the process really is. How magical the end result, and accomplished we feel when it all comes together.
The first few times I tried making bread I failed. The bread didn't fail, I did. I failed to respect the process. To understand that "rapid rise" yeast wasn't the same as regular dry active yeast, that temperatures matter, that a rise might take two hours on a cold day instead of one, that the time spent with the bread is rather minimal in comparison to what you're given.
Then I started adding beer. The yeast already in the beer, the grains it was made with, it's like water on steroids when making bread. It's like Super Water when baking. I like a wheat beer, it just seems to make sense. I like a bottle conditioned beer that still has some rowdy yeast running around. I like a beer with a low hop profile. But most of all I love the moment when I check the dough and see the soft pillow rising in the bowl, and I know it's a small win for the day. These days, we could all use a few small wins. And serve it with a cold beer.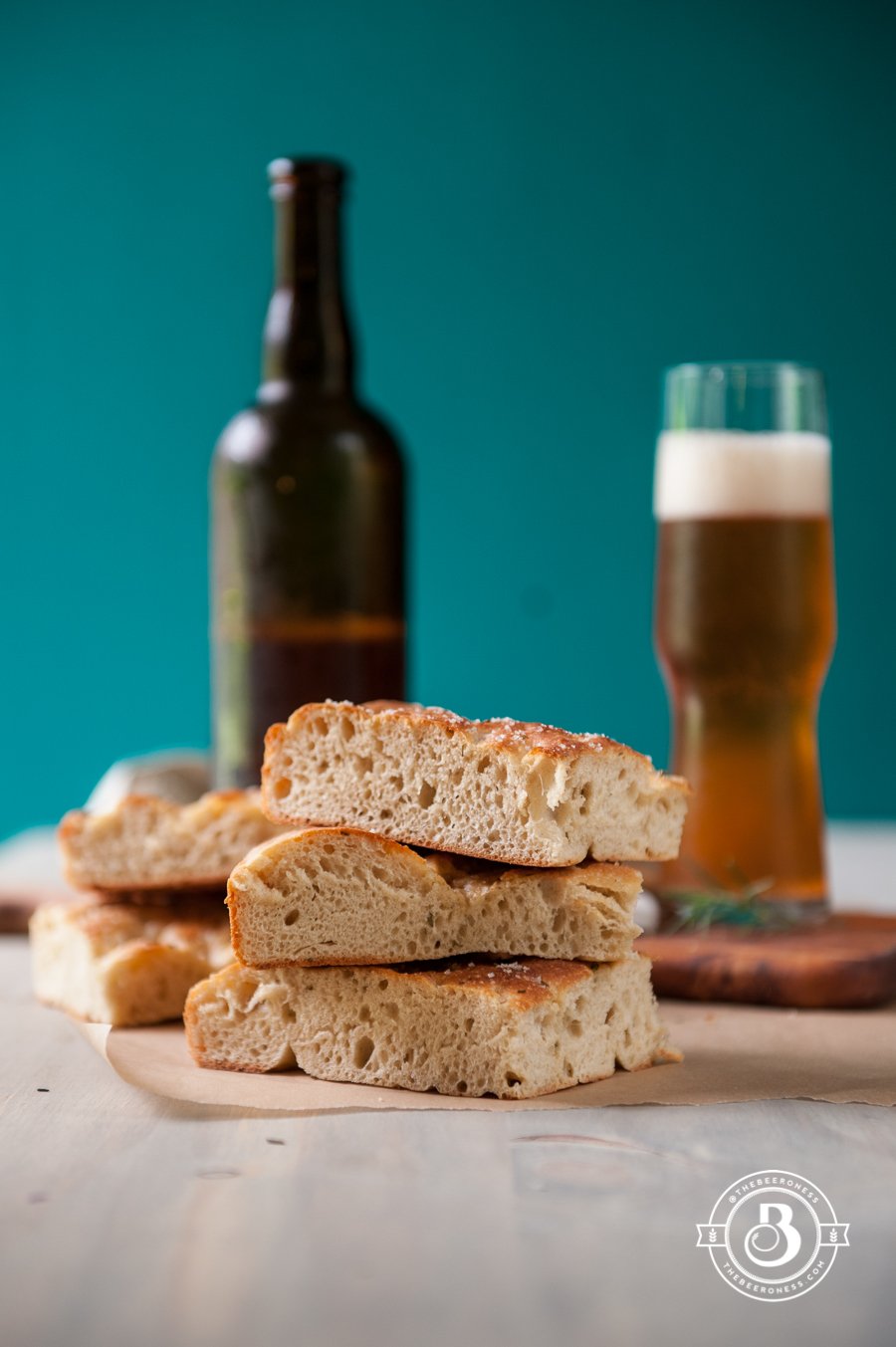 Beer Focaccia Bread
Ingredients
4

cups

King Arthur Unbleached All-Purpose Flour

1

tbs

sugar

1

tbs

fresh rosemary

chopped

1

package rapid rise yeast

1 1/2

cups

beer

pale ale, pilsner, wheat beer

¼

cup

olive oil

1

tsp

salt

for the top:

1

tbs

coarse salt

1

tbs

fresh rosemary

chopped

2

tbs

olive oil
Instructions
In a bowl of a stand mixer fitter with a dough hook, add 2 cups flour, sugar, 1 tablespoon rosemary, and yeast.

Heat the beer to 120 to 125 degrees F.

Add the beer to the stand mixer, turn the mixer to medium, mix until combined.

Add the remaining flour, ¼ cup olive oil and 1 teaspoon salt.

Turn the mixer to medium high, beat for 5 to 6 minutes.

Transfer to a lightly oiled bowl, cover and allow to rise in a warm room until doubled in size, about 1 hour.

Lightly oil a 9x13 pan. Transfer the dough to the pan, pulling to cover the entire pan. Press your fingers into the dough making holes across the entire loaf.

Cover and allow to rise for 30 minutes.

Preheat oven to 425.

Brush with remaining oil, sprinkle with remaining rosemary and salt.

Bake until golden brown, about 15 minutes.