Beer Doughnut Ice Cream Sandwiches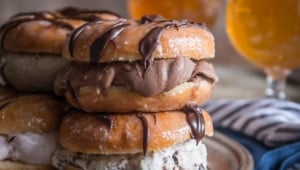 Beer Doughnut Ice Cream Sandwiches
Have you ever been interviewed by a kid? It's the best. They aren't like grown-ups, they don't care what your job is or where you went to college. They never ask you to detail the history of your current career trajectory, or how you plan to vote. They ask fun questions, like "what's your favorite cursive letter?" or "If you could be any dinosaur what would you be?" and "would you rather be able to fly or be able to turn invisible?"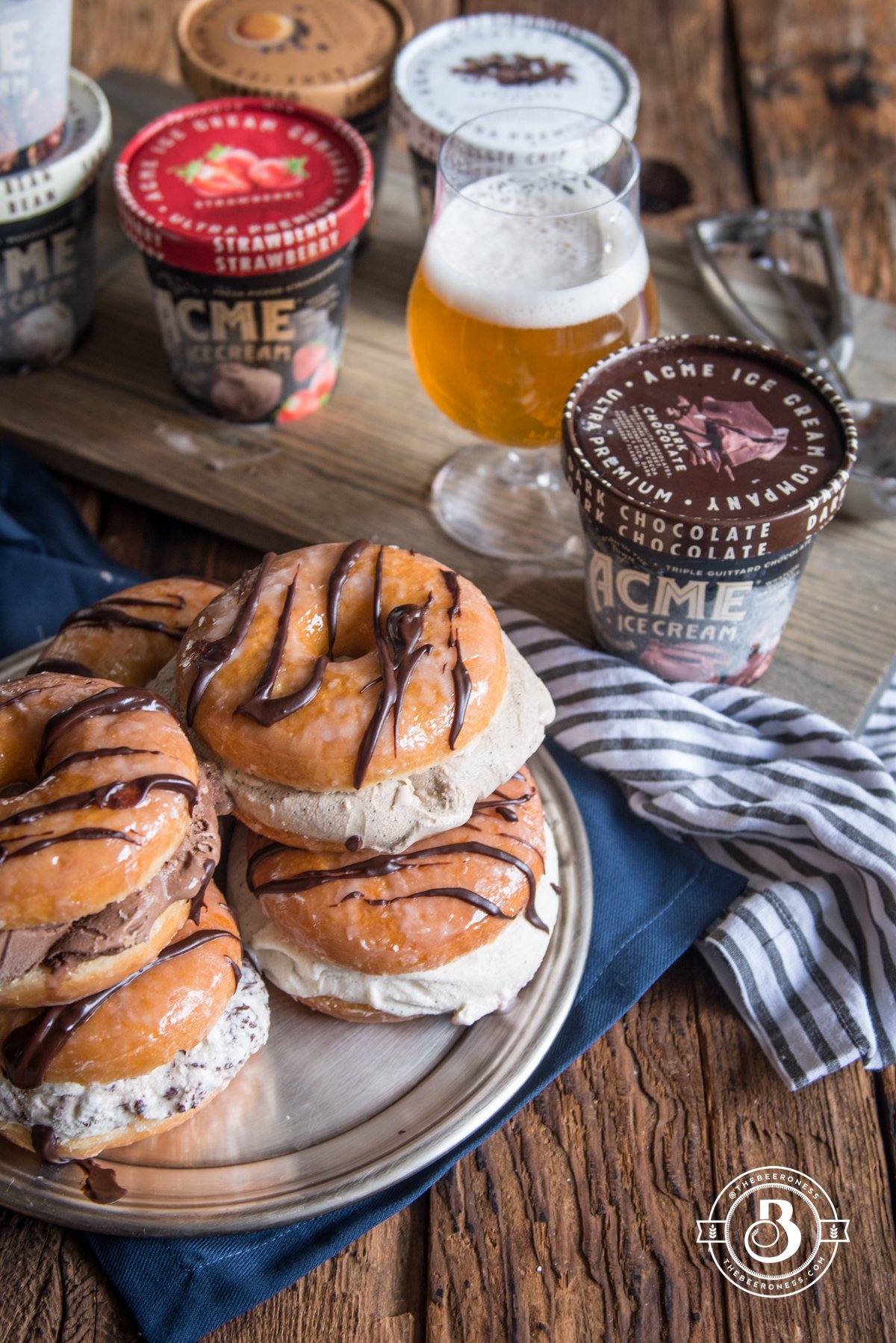 THESE are the important questions, the ones no one fights over. relationships are never lost over finding out your friend's favorite cursive letter is Q and they would rather fly than be invisible. The other great thing about kid-interviewers is that they get really excited when your answers match theirs.
Recently I was fortunate enough to get to hang out with a room full of 3rd graders to teach an art lesson. After they interviewed me, asking all the aforementioned questions (answers: J, Triceratops, invisible) we all decided that the best food in the world is doughnuts, followed closely by ice cream.
They, of course, are way too young to understand why beer is also magical, but I'm sure in 13 years they will have realized the error of their ways. At which point they will surely understand that Beer Doughnut Ice Cream Sandwiches are superior to all other foods. Until then, these are all mine.
I used Acme Ultra Premium Ice Cream
But if you want to make that yourself, I suggest No Churn Shandy Gelato or Chocolate Porter Bacon Ice Cream. 
Beer Doughnut Ice Cream Sandwiches
Ingredients
For the Doughnuts:
3

cups

(360g) flour

¼

cup

(58g) granulated sugar

1

packet

2 ¼ teaspoon or 7g rapid rise yeast

¾

cup

(6oz) wheat beer (pilsner or pale ale will also work)

1

teaspoon

(5g) vanilla

2

large egg yolks

room temperature

¼

cup

(62mL) heavy cream (room temperature)

1

teaspoon

(6g) salt

1

tablespoon

(15g) heavy cream

oil for frying
For the glaze:
1 ½

cups

(180g) confectioners sugar

¼

cup

(2oz) beer
For the Sandwiches:
4-6

cups

ice cream

slightly softened

1

cup

(185g) dark chocolate chips

2

tablespoons

(30g) beer
Instructions
In the bowl of a stand mixer fitted with a dough hook add the flour, sugar and yeast.

Add the beer to a microwave safe bowl, microwave on high for 30 seconds, test temperate and repeat until beer reaches between 120F and 130F.

Add the beer to the stand mixer, mix until most of the flour has been moistened.

Add the vanilla then the yolks, one at a time. Add the cream, and salt.

Building up speed, beat on high until the dough comes together and gathers around the blade.

The dough will be very soft.

Add dough to a lightly oiled bowl, cover and allow to sit at room temperature for 1 hour or until doubles in size.

Punch down the dough and knead lightly to remove any air bubbles.

Add the dough to a lightly floured surface. Pull into a large rectangle about ½ inch thick. Use a 3-inch round cutter to cut out 12 circles, cut smaller circles inside to make the doughnut hole (this is optional, but if you choose to do this a metal cocktail jigger works well).

Allow to rest until doubled in size, about 30 minutes.

Heat 4-inches of oil in a pot over high heat until the oil reaches 350° F on a deep fry thermometer. Adjust heat to maintain that temperature. A few at a time, fry the doughnuts until golden brown on both sides, about 2 minutes per side.

Remove and allow to cool on a wire rack. Allow to cool completely before proceeding.

In a wide but shallow bowl mix together the confectioners sugar and remaining beer until well combined. Dip each doughnut in the glaze and return to the wire rack.

Slice the doughnuts in half lengthwise.

Spread desired amount of ice cream (between ¼ and ½ cup) inside each doughnut before replacing the top.

After assembling each sandwich, store in the freezer while you continue to prepare the remaining doughnut ice cream sandwiches.

Add the chocolate chips, beer and heavy cream to a microwave safe bowl. Microwave on high for 30 seconds, stir and repeat until the chocolate is melted.

Drizzle on the sandwiches prior to serving. Store in the freezer until ready to serve.
Notes
If preparing these ahead of time, make sure you allow 15 minutes for them to thaw before eating. Ideally served just after making, but if you need to make them in advance make sure they thaw enough for the doughnuts to be soft.