Beer Chicken Étouffée
Beer Chicken Étouffée (pandemic pantry version)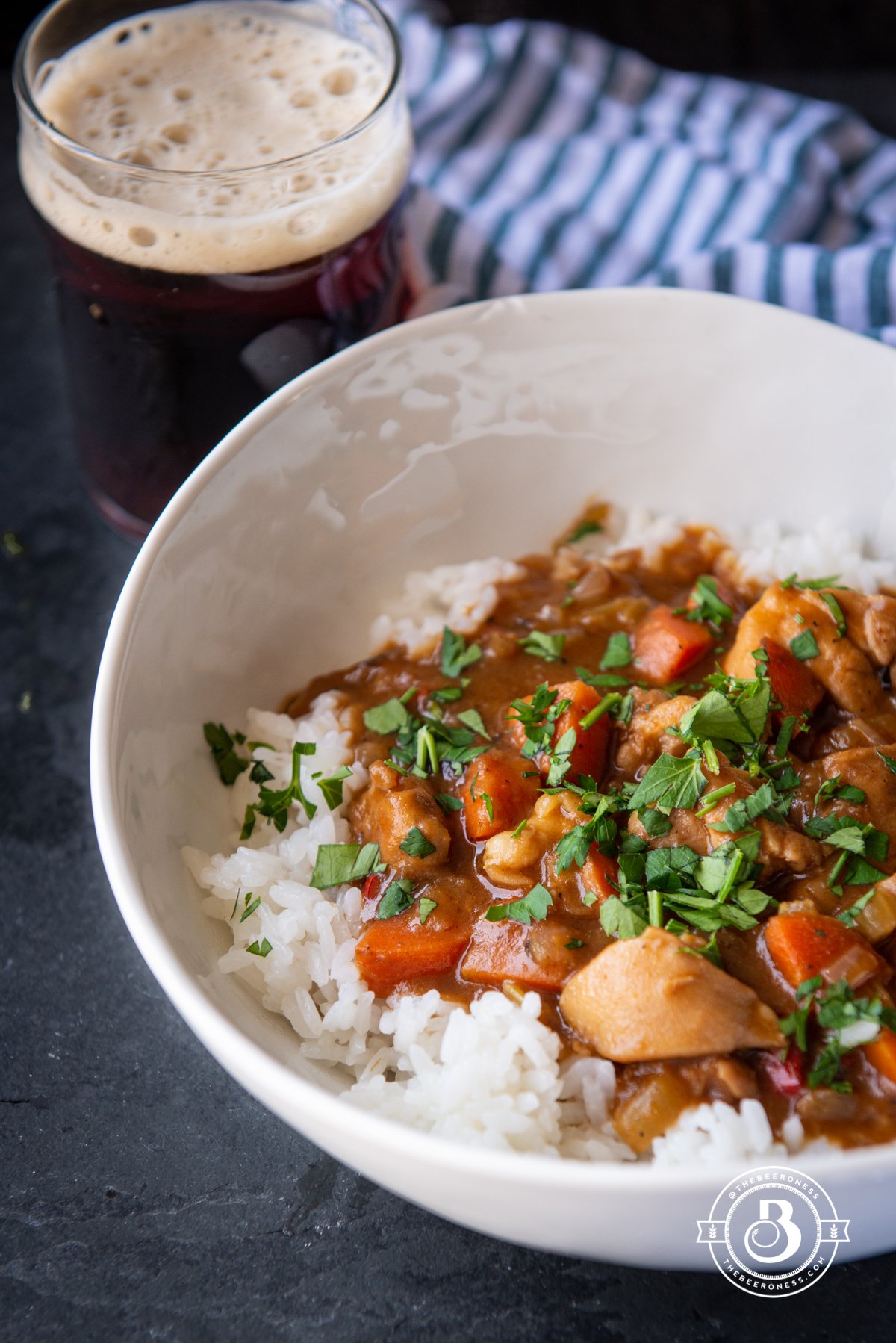 This is what happens when I can't decide if going to the grocery store is worth it. I wanted to make this with crawfish, but as you can assume, that's not exactly a pantry staple in Seattle. Then I did the thing where I debated with myself if it was worth going to the store to try to find what I wanted.
But as we've already discussed, I can be kinda lazy, but I'm good at tricking myself into thinking I'm not. So I didn't go to the store because "social distancing", and "public safety", blah blah. But really, it was because I got lazy and pants seemed like a hurdle I didn't want to tackle.
I did have chicken, so that was what I used, and it was amazing. This is authentic cooking, it's pandemic cooking, it's "use what you have to make something delicious" cooking. Which, honestly, was a bad thing because all it did was reinforce my laziness. I lazied and it worked for me, which makes me far more likely to do it that next time. Let's hope all future lazy decisions yield something as delicious as this beer chicken etouffée.
Beer Chicken Étouffée
Ingredients
3

tablespoons

olive oil

6

tablespoons

(85g) unsalted butter

½

cup

(60g) flour

½

of one yellow onion

chopped

2

ribs celery

chopped

1

large carrot

chopped

1

bell pepper

chopped (any color)

3

lbs

chicken

cut into cubes

2

teaspoons

salt

4

cloves

garlic

grated with a microplane

1

cup

(8oz) stout

2

cups

(16oz) low sodium chicken broth

2

tablespoons

hot sauce

1

tablespoon

creole seasoning

1

tablespoon

Worcestershire Sauce

1

tablespoon

molasses

not blackstrap

1

teaspoon

black pepper

Rice for serving

1/4

cup

chopped parsley
Instructions
Add the olive oil and butter to a large pan over medium heat until the butter is melted. Sprinkle with flour. Whisk over medium heat until the roux is the color of milk chocolate, about 15 minutes.

Add the onion, celery, carrot, and bell pepper, cook until the vegetables have softened.

Sprinkle the chicken on all sides with salt.

Add the chicken to the pan, cooking until browned.

Stir in the garlic.

Add the beer, scraping to deglaze the pan.

Add the broth, hot sauce, creole seasoning, Worcestershire sauce, molasses, and black pepper. Simmer until the sauce has thickened.

Add desired amount of rice to bowls, spoon the chicken over the rice, sprinkle with parsley.
Notes
Blackstrap molasses is what happens when you boil cane juice three times, removing nearly all the sugar resulting in a black, bitter sludge. Dark, light or unsulphured are all fairly interchangeable and pleasantly sweet. Make sure never to use Blackstrap when a recipe calls for molasses unless it's specifically called for.