Beer Cheese Skillet Potatoes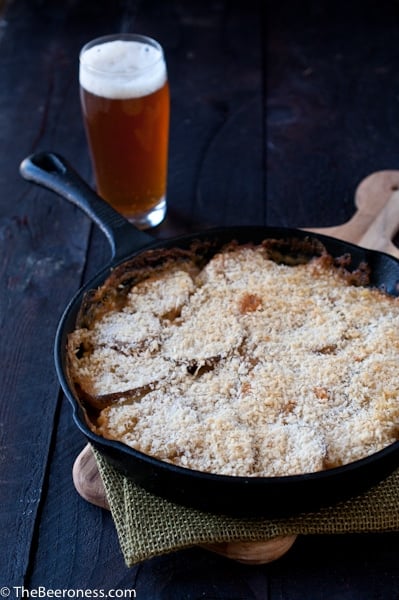 I'm on a book tour as I write this, traveling the West Coast somewhere between Mexico and Canada, hoping my way from brewery to brewery. Nothing like a good old fashion beer pilgrimage to inspired patriotism and re-ignite the wanderlust in my gypsy soul. From the backwoods of wine country, to small towns that defy identification from Google Mapping, to orchards in the Pacific Northwest, to the beer lovers whom I've shared pints with, this has been an incredible journey that is nowhere near over.
In the process of writing this blog, falling in love with craft beer and her people, I've had the incredible fortune to count some of the fine folks at Stone Brewing among my fans. In fact, Stone was the first supporter to share my posts with their fans when I started this blog, an incredible honor. And now, if that wasn't enough, they even want to host a stop on my book tour. Lucky for me, and for anyone who wants to grab a pint with me, Stone Brewing is an amazing place for some beer tasting with an incredible selection of beer that's hard to come by. Making those who are able to grab a pint on location all the more fortunate.
For this recipe, I grabbed two great Stone beers that will both work equally well. I've made it with both beers (although you only need to choose one) and both gave excellent results. Beer cheese can be made with any type of beer, but for that great big bold beer punch a high hopped beer works best. And no one knows there way around a hopped up beer like Stone Brewing. First I used the get-it-while-its-hot Enjoy By 11.12.13 IPA, a beer with a manic following and Must Drink Now warning label. Grab one if you see it in a beer store, they won't last. I also grabbed Stone Brewing's black IPA the Sublimely Self Righteous, a great beer for those of us that love when those roasted malt flavors make their way into a higher IBU beers. Either way, it's a recipe for those of us who love the bitterness that only a well made IPA can bring.
Beer Cheese Skillet Potatoes
Ingredients
2/3

cup

beer

IPA, hoppy pale ale, or black IPA

2

cups

6 wt oz shredded sharp cheddar, plus ¼ cup divided

½

cup

whole milk

1

tsp

salt

½

tsp

pepper

1

tsp

garlic powder

1

tbs

cornstarch

2

tbs

butter

1.5

lbs

russet potatoes

sliced

1

cup

panko bread crumbs
Instructions
Preheat oven to 350.

In a food processor add the beer, 2 cups cheese, milk, salt, pepper, garlic powder, and cornstarch. Process until very smooth, about 3 minutes. Set aside.

Melt the butter in a 9-inch cast iron skillet over medium high heat. Add the potato slices and cook until browned. Spread the potatoes out until farily evenly distributed around the pan.

Pour cheese sauce over the potatoes and allow to simmer for ten minutes.

Add the remaining 1.4 cup cheese and panko bread crumbs to the top. Transfer to the oven and allow to cook until the cheese is melted and the potatoes are fork tender, about 30 minutes.