Beer Cheese Ball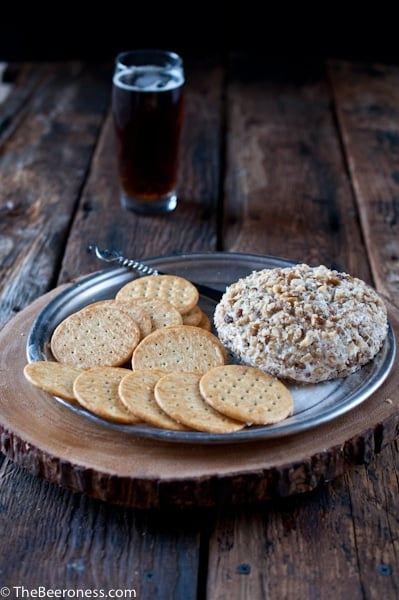 I was a lifeguard for three years in college. Mostly at summer camps, poorly run water slide parks and a bad summer on floating dock in the middle of a dirty lake.
Late one night at a summer camp in Western Canada the guys who ran the camp decided to let the pre-teen campers, hopped up on Sysco ice cream and fudge sauce, jump into the pool. For about two hours I watched as they seemed to instinctively go from one side of the pool to the other, cheering, waving their hands, jumping up and down. When that got boring, they just did it all on the other side of the pool.
The following week, after Ice Cream Social Night, the pool was opened again, and the same thing happened again with a completely different group of adolescents doped up on saccharine. Every week after was the same routine. "WE LOVE THIS SIDE OF THE POOL!" they all seemed to be cheering, and a few minutes later, "NO THIS SIDE OF THE POOL IS THE BEST!"
We don't grow out of that by the way, we just find more adult ways of shifting from one side of the pool to the other, "WE LIKE MINI SKIRTS!"  no, wait, "WE LOVE MAXI SKIRTS!" And as cool as we think we are in the beer community, we do it too. "WE LOVE HOPS A LOT!" but, wait, "MALTY BELGIANS ARE THE BEST EVER!" While hops and malt, opposing forces that could never live without each other, will always be held in equal regard when it comes to importance in the beer making process, the "in beer" seems to favor one or the other. We have made a bit of a shift in the past year, from the Hop The Crap Out Of This Quadruple IPA to the Malty Sweetness Deep And Roasty Belgian ales. To celebrate this shift, I used a red ale that has tons of malt but didn't forget the hops. A common ground in the middle of that Hops vs Malt pool.
I'm up for either, as long as you don't trash talk the other side of the pool, you know you're going to be back there in a few minutes.
Beer Cheese Ball
Ingredients
5

wt oz cream cheese

2

wt oz goat cheese

about ¼ cup

4

wt oz shredded Asiago cheese

about 1 cup

4

wt oz shredded parmesan cheese

about 1 cup

1/3

cup

red ale

½

tsp

garlic powder

½

cup

chopped chives

1

cup

chopped walnuts
Instructions
Add the cream cheese, goat cheese, Asiago cheese, parmesan cheese, beer, and garlic powder to the food processor, process until well combined. Add the chives and pulse until just combined.

Place on a sheet of plastic wrap, form into a ball, wrapping with plastic wrap. Refrigerate until firm, about 3 hours and up to 24 (flavors develop overnight, don't be afraid to make this a day ahead of time).

Remove from the plastic wrap, gently roll in chopped walnuts until coated.

Serve with pretzels or crackers.