Beer Carnitas Pizza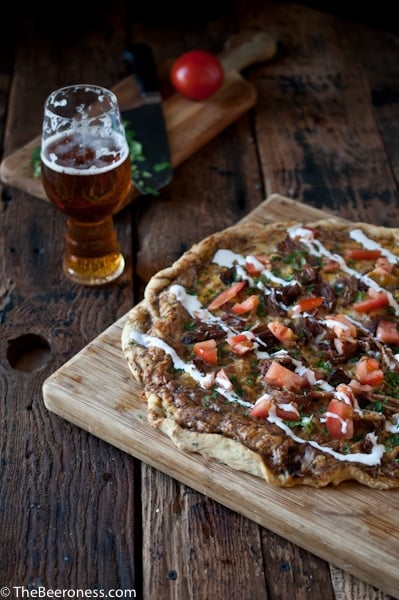 When I was kid Mexican Pizza involved ice burg lettuce and cheap ground beef. Possibly the perfect example of how neither Mexican food or pizza were given proper credit for the potential they had to compete in the Fine Food arena. They were both disregarded as low brow for far too long, but then again, so was beer. It took America awhile to see what Mozza did for pizza, what Rick Bayless did for Mexican food and what the craft beer industry as a whole did for beer.
It's good thing we all woke up to the fact that we need to up our pizza night game. It's a win for all of us.
Plus, it goes better with the good beer we're now drinking.
I use this Beer Pizza Dough recipe, unless I fail to plan ahead, then I use this One Hour Beer Pizza Dough recipe.
Beer Carnitas Pizza
Ingredients
4

lb

pork shoulder

trimmed and cut into 5 inches pieces

1

tbs

kosher salt

3

tbs

olive oil

1

cup

IPA

½

tsp

cumin

1

tsp

chili powder

pinch

cayenne

½

tsp

smoked paprika

2/3

cup

water

1

lb

pizza dough

1

cup

black beans

2

tbs

olive oil

1

chipotle pepper in adobo

½

cup

shredded cheddar

½

cup

shredded mozzarella

¼

cup

chopped cilantro

½

cup

chopped tomatoes

¼

cup

Mexican Crema
Instructions
Preheat oven to 325.

Sprinkle the meat all over with the salt. Add to a shallow dish, cover and refrigerate for 12 hours and up to 3 days (if you skip this step make sure to salt the meat well before proceeding).

In a large Dutch oven, or roasting pan over two burners, heat the olive oil until hot but not smoking. Add the meat and cook on all sides until very well browned, working in batches if necessary. Remove the meat and allow to drain on a stack of paper towels.

Pour the beer into the pan, scraping to deglaze the bottom, turn off heat. Add the water, cumin, chili powder, cayenne, and smoked paprika. Add the meat back in the pot.

Bake uncovered at 325 until falling apart, about 3-4 hours. Pull into bite sized pieces using a fork.

Add a pizza stone to the oven, increase heat to 425.

In a food processor add the black beans, olive oil and chipotle pepper, process until well combined.

On a lightly floured surface roll out the pizza dough, transfer to a pizza peel that has been well covered with corn meal.

Spread the black bean puree over the pizza in an even layer.

Top with cheese, then carnitas (you will have more than enough, save the remaining meat). Transfer to the pizza stone, bake at 425 until the crust is golden brown, about 12-15 minutes.

Remove from oven, top with tomatoes, cilantro and crema.
Adapted from David Leovitz Carnitas, and Spike Mendelsohn Mexican Pizza