Beer Candied Bacon Bark and Craft Beer Lovers Holiday Gift Guide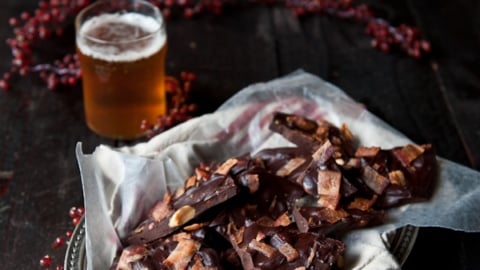 Beer Candied Bacon Dark Chocolate Bark plus Holiday Gifts for Beer Lovers 
If you were to ask me about the best gift I've ever been given it'd take me a while to come up with the answer. I'm always uncomfortable getting gifts, awkwardly opening them as the giver waits for the expected reaction. Giving them, that's where I excel. I can give a gift like a champ, and I love it. Figuring out what will make the person I care about wonder how I did it, how I found that perfect gift. Those stories I can tell you all day, the times I found the perfect present for someone I care about.
So take my gift giving advice if you have a beer lover on your list, skip the can cozies, and the kitschy pint glasses, and those weird tin signs that they won't hang in their dens, and buy them things that will make them think you're brilliant. Because you are. And if all else fails, make some bacon studded chocolate treats, those are always a hit.
State Beer Shirts: Not from California? It's cool, they have other states. Maybe even yours, and if not, California is a pretty great one.

Homebrew recipe journal

: For the homebrewer in your life that has a drawer full of spiral notebooks that are hard to decipher. Their future batches will thank you.
Sierra Nevada Lip Balm: The perfect stocking stuffer. And at only $1, you can fill the entire stocking.
The Craft Beer Cookbook (affiliate link).: Don't look so shocked. Of course I'd add my book to this list. I'm pretty proud of it. Plus, it's a great gift for the craft beer loving cook in your life.

Oatmeal Stout Soap

: Because for a true craft beer lover drinking it isn't enough, bathing in it is imperative.
Beer Glassware: I love these. I have every one. You can't open a rare bomber of beer and expect to put it in Solo cups.
Beer Tote: Especially great for the beer lover who frequents the farmers market. It'll be her favorite, she can use it to haul around her growler or her produce.
Rogue Hop Salt: How can you possibly have homemade popcorn without it?! It's hops and salt!
Growler Tap: Growlers are great, if you can drink it all in one sitting. If you're a normal person, you can't. This allows you to take your time and enjoy it over time. It's amazing.
Hard to find beer, like: The Lost Abbey's Angels Share. Especially if you live in a different region than the person you're gifting, it's almost a guarantee that you can get a beer that they can't. Go to your local bottle shop and ask about it.
Beer Candied Bacon Bark and Craft Beer Lovers Holiday Gift Guide
Ingredients
For the Bacon
6

strips thick sliced bacon

½

cup

brown sugar

2

tbs

stout or porter

or pale ale

pinch

cayenne
For the Bark
10.5

wt oz dark chocolate

72% cacao content

¼

cup

stout or porter

or pale ale

1/3

cup

smoked almonds
Instructions
Preheat oven the 350.

In a sauce pan over medium high heat, bring the brown sugar, beer and cayenne to boil, boil for one minute.

Place the bacon on a wire rack over a baking sheet. Brush the bacon on each side with sugar mixture.

Bake at 350 for 10 minutes, flip, re-brush with sugar mixture, bake for ten more minutes until bacon is a dark brown. Remove from oven, allow to cool. Bacon will harden as it cools. Chop the bacon once it has cooled.

In the top of a double boiler over gently simmering water add half the chocolate and the 1/4 cup beer, make sure the heat isn't too high or the chocolate will seize. Stir constantly until chocolate is melted. Remove from heat. Stir in the remaining chocolate until melted and well combined. Stir in the smoked almonds.

Pour chocolate onto a baking sheet that has been covered with parchment paper or a silicone baking mat. Sprinkle with chopped bacon. Chill until set. Break into pieces.
Notes
A stout or porter will work well, especially a barrel aged version. For a more intense beer flavor use an IPA or a pale ale.