Beer Butter Garlic Knots
Beer Butter Garlic Knots, one hour and so delicious!
You know how the word "slather" is really gross but we say it anyway? And how it's really unfortunate that it goes so well with a phrase as gorgeous as "garlic butter"? I just have to apologize because both of those words are important to this recipe. But the end result is very close to the ravishing feeling of saying "garlic butter" and nowhere near "slather."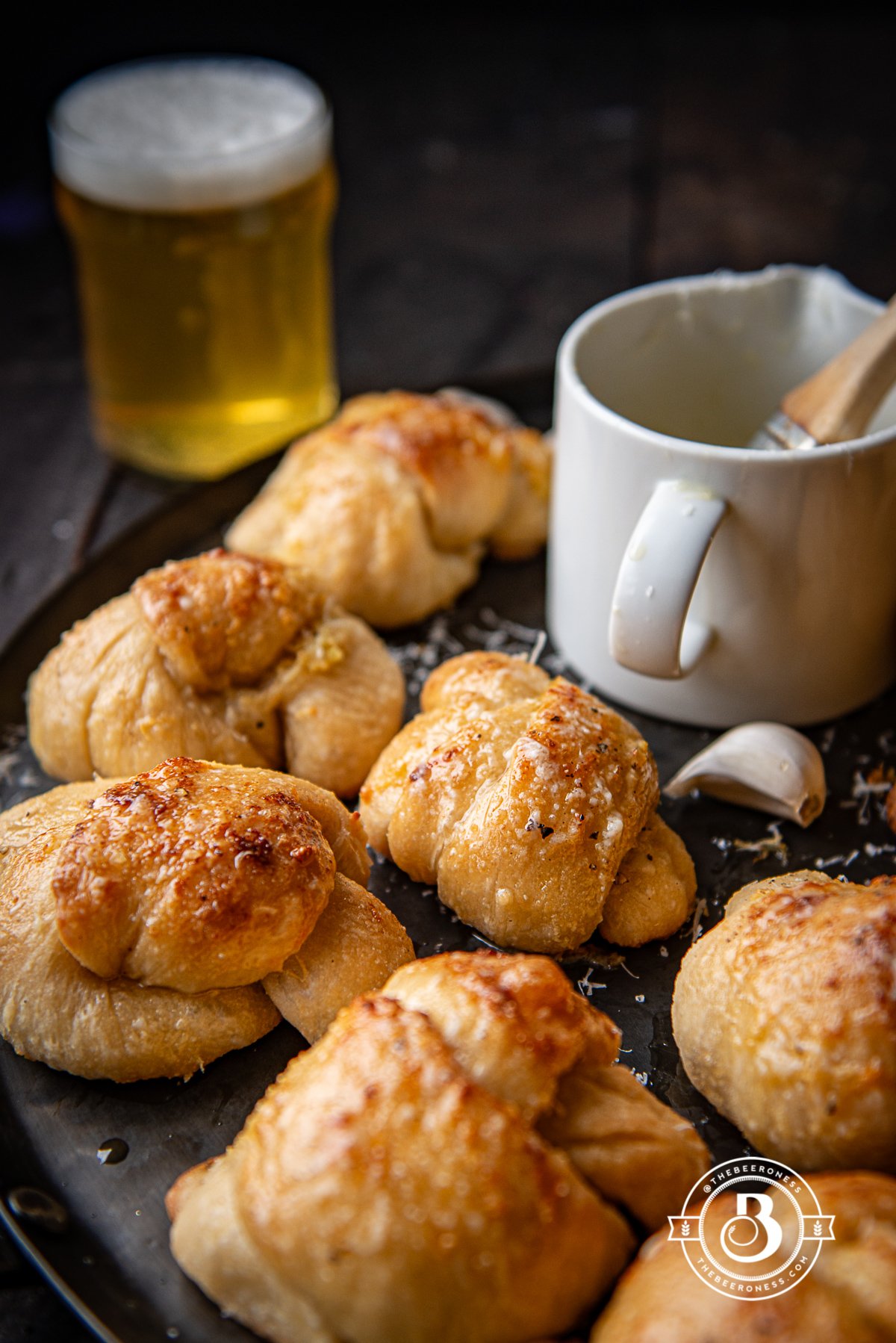 Did you know that garlic knots were once used as a form of currency in lower Manhattan during the Great Depression? They weren't, I lied. This is my reminder not to believe everything you read on the internet. You should do your own research. As in, don't believe me when I say these are delicious, I could totally be lying. Just make them and eat them all in one sitting, maybe with a little marinara dip, and then you'll know the real truth.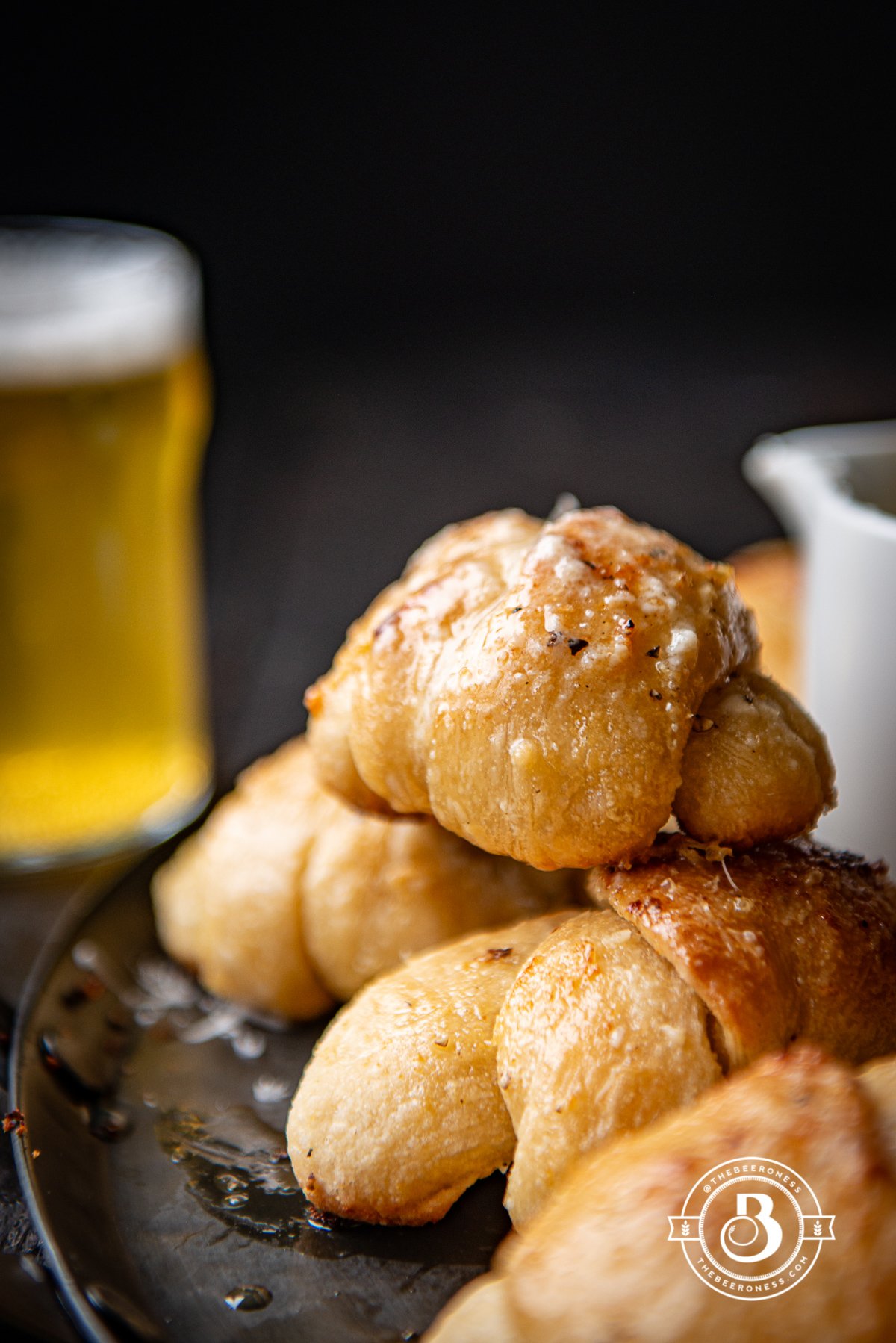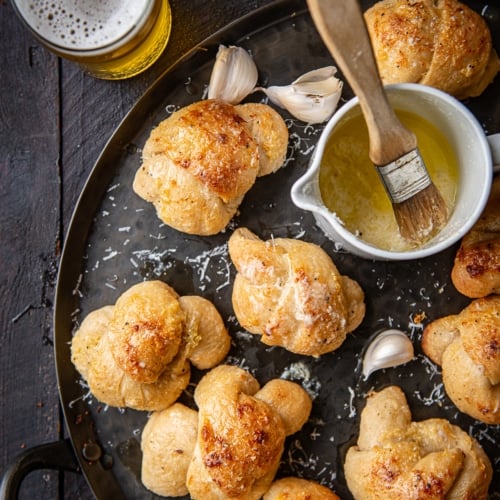 Beer Butter Garlic Knots
Ingredients
For the dough:
4

cups

(520g) bread flour

1

tablespoon

granulated sugar

1

envelope

2 ¼ teaspoons rapid rise yeast

1 ½

cups

(1, 12-ounce bottle) wheat beer

2

tablespoons

butter

room temperature

1

teaspoons

salt
For the butter top:
1

cup

(228g) unsalted butter, melted

6

cloves

garlic

grated with a microplane

2

teaspoons

garlic powder

2

teaspoons

salt

¼

cup

(22g) Parmesan cheese

freshly grated

1

teaspoon

black pepper
Instructions
Add the flour, sugar, and yeast to a stand mixer. Mix until just combined. Heat the beer to 120°F (always defer to the liquid temperature listed on the package of yeast, regardless of what the recipe says. Your yeast package says 105°F? Heat the liquid to that temperature) add the beer to the stand mixer, mixing until all the flour has been moistened.

Add the salt and butter, beat until the dough comes together and gathers around the blade. Transfer to a lightly oiled bowl, cover, and allow to rise until doubled in size.

Stir together the butter, garlic, garlic powder, salt, and parmesan.

Add the dough to a lightly floured surface, cut into 16 equal-sized portions.

Roll each portion into an 8-inch log.

Brush with butter.

Tie each strip of dough into a knot, add to a baking sheet covered with parchment paper.

Preheat the oven to 400°F. Allow dough to rise for about 20 minutes while the oven preheats.

Brush knots with butter, sprinkle with black pepper.

Bake until golden brown, about 15 minutes.

Remove from oven, brush with remaining butter. Serve warm