Beer Brined Pepper Lime Chicken with Gorgonzola and Blackberries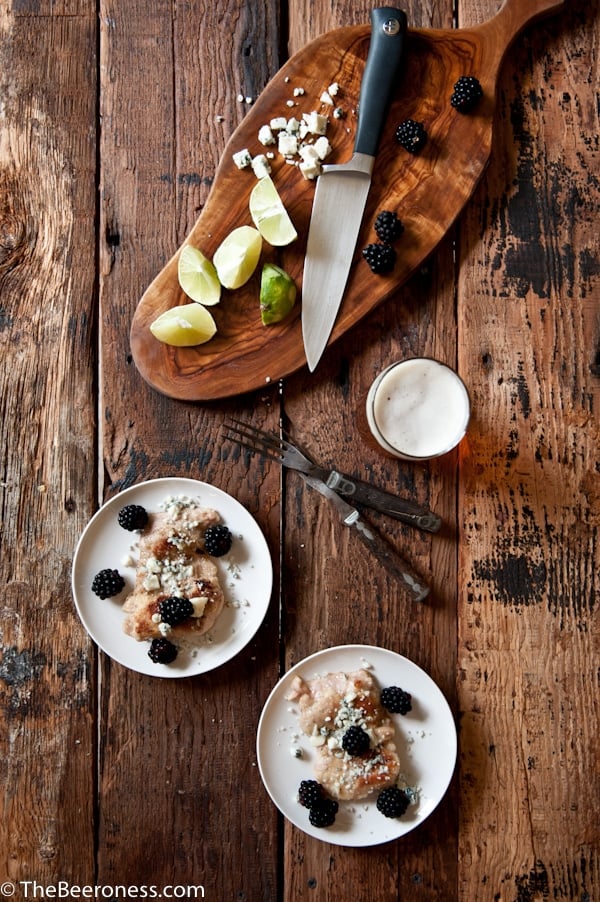 I was once asked to be in a porn movie. I was 21.
I was a social worker for gang members, working with a rough crowd of teenagers in an unsavory section of Los Angeles. On a particularly frustrating day of trying to convince a hot-tempered kid why punching his teacher wasn't a "dope idea," I decide to take a break and walk a few blocks to the nearby by mini-mart for a soda and some breathing room. As a way to exagerate the few small years that stood between my age and theirs, I always came to work a bit overdressed. As a way to look like I wasn't still at the tail-end of my teens, I was wearing black pants, red heels and a crisp white button down. Which wasn't the usual wardrobe choice for this particular area of the Southland.
On the way back, sucking down a Diet Coke and trying to formulate a response to angry-teen-guy logic, a brand new BMW pulled up beside me. The overly tinted window rolled down and I hear a voice asking for my attention. I was completely unsurprised to see an overly tan, overly hair gelled guy in an undersized tank top. He passed me his card and told me he was a producer. Now, we need to pause for a second to explain a little bit of the LA culture. While you should ALWAYS be skeptical of anyone who tries this line on you, and under no circumstances should you meet this person in an area that isn't highly public, it's not the strangest situation. I was cast as an extra in two TV shows and a movie that all started with similar conversations.
I keep a safe distance from Tan Hair Gel Baby Gap Tank Top Guy, while grabbing the business card he passed across his passenger's seat. "I need to let you know it is an adult film, we can negotiate the sex" he says with a smarmy wink.
"Ahhh, ok," I drop the card on the passenger seat, "I'm good, but thanks for the offer." I quickly make my way back to work as he yells dollar amounts at me. Which, in case you're wondering, isn't at ALL degrading.
Upon returning to the office I tell the office manager what happened. She was a 50-year-old former nun, and still in practice as far as the celibacy goes, and I was a little worried about her reaction to something so tawdry. "That's so offensive!" she yells. I knew it would disgust her and I was a little embarrassed to have told her, "I walk to that QuickMart every day and I've never been asked to be in a porno movie! What's wrong with me!? I'm offended."
Not the reaction I was expecting but somehow it make the entire interaction worth it.
Beer Brined Pepper Lime Chicken with Gorgonzola and Blackberries
Ingredients
4

boneless skinless chicken thigh fillets

12

ounces

pale ale

1

tbs

lime zest

1/3

cup

flour

1

tsp

pepper

½

tsp

salt

2

tbs

olive oil

2

wt oz gorgonzola

½

cup

fresh blackberries
Instructions
Add the chicken thighs to a large bowl or baking dish, pour beer over the chicken, cover and refrigerate for 30 minutes.

Remove from beer, pat dry.

In a small bowl stir together the lime zest, flour, pepper and salt.

Heat the olive oil in a pan over medium high heat until hot but not smoking.

Dredge the chicken in the flour mixture until well coated.

Cook the chicken until golden brown on each side and cooked through, about 4 minutes per side.

Plate the chicken, top with a sprinkle of gorgonzola cheese and blackberries.