Beer Brined Balsamic Glazed Scallops over Avocado Caprese Salad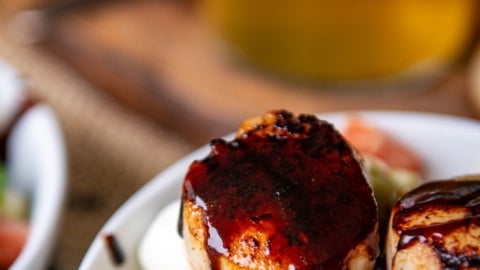 Beer Brined Balsamic Glazed Scallops over Avocado Caprese Salad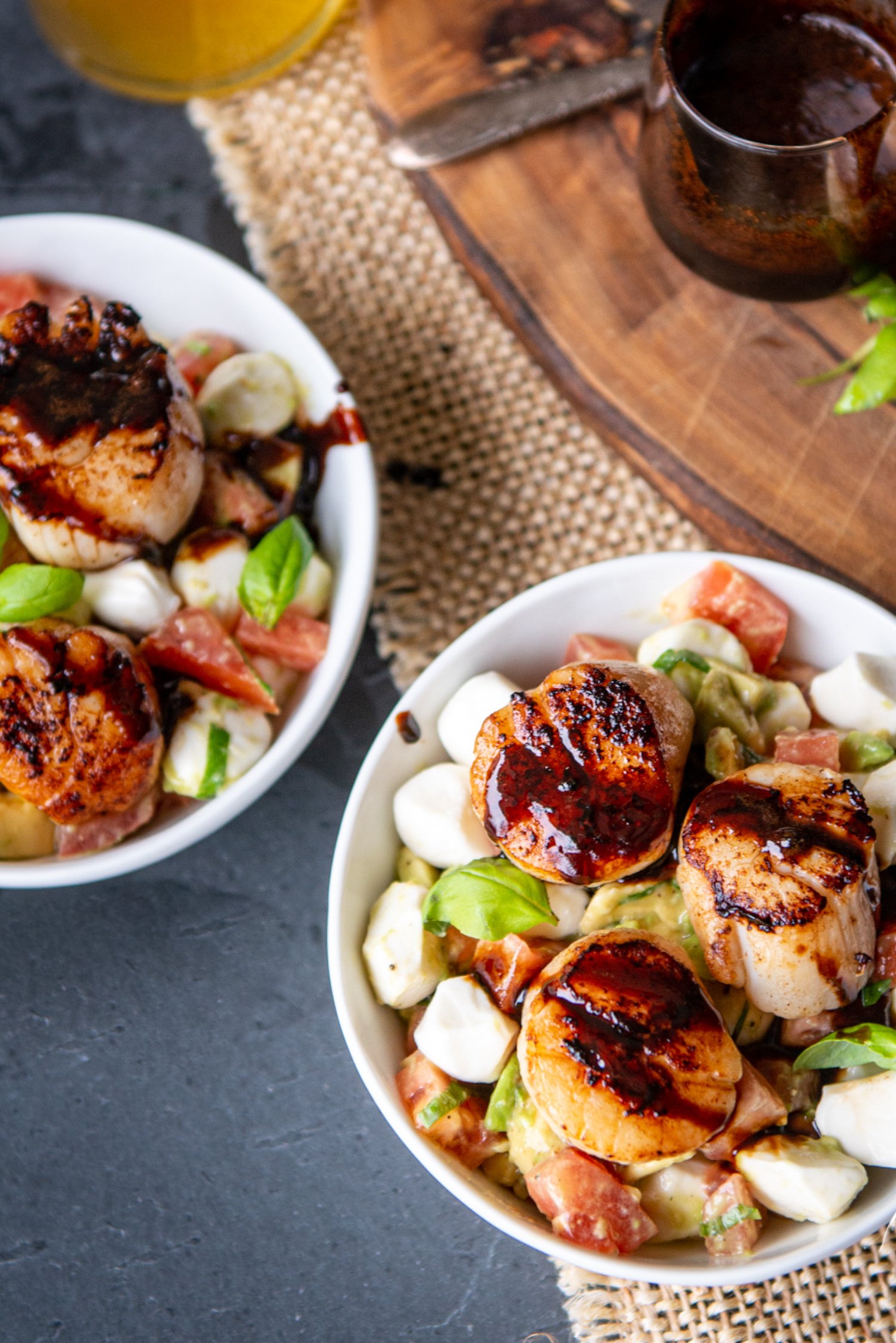 Send this to your date night person, we need to talk. I have something to tell them. Oh hey, Date Night Person! Glad you're here, I have a recipe for you. It's going to sound super fancy, but it's really easy. SO easy that it will make you look like a rockstar and as if you can just throw together an impressive meal in no time. Your person will love it, even be really grateful that you so thoughtfully set up a date night for them that they will do the dishes (it's only fair).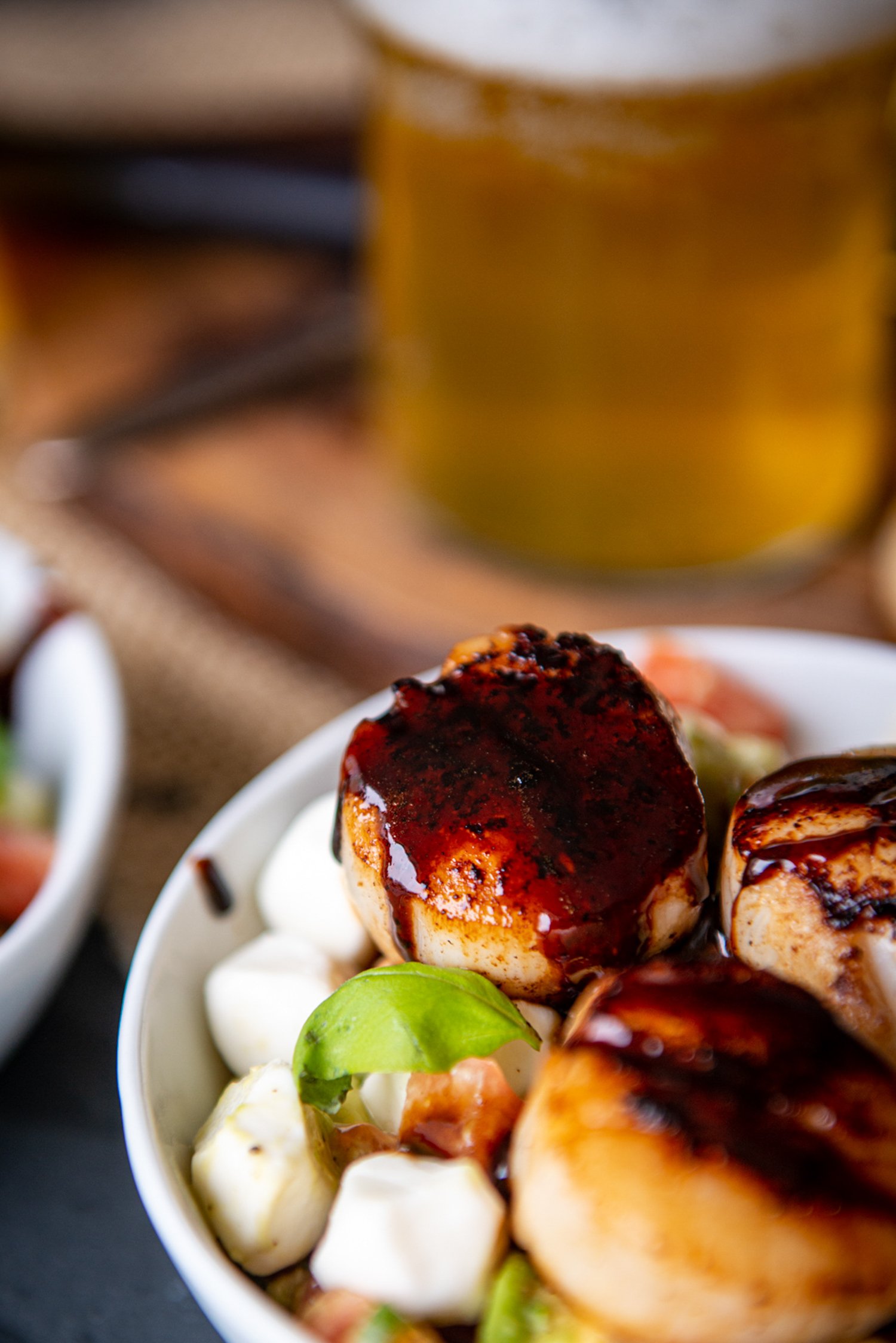 So circle a date on the calendar, add some stuff to your shopping list or delivery cart or whatever, and don't forget to stop by a local brewery for some beer. You'll want beer, not just for the recipe but also for the drinking. The drinking with the eating is important. And you now have something social distance approved to look forward to. Need a dessert? Yes, the answer is yes. Make these. Or this. Or both. Probably both, it's safest.
Beer Brined Balsamic Glazed Scallops over Avocado Caprese Salad
Ingredients
Scallops:
1

lb

jumbo scallops

2

tablespoons

salt

1

cup

wheat beer

pale lager, pilsner

1

cup

cold water

2

tablespoons

butter

2/3

cup

balsamic vinegar

1

teaspoon

brown sugar
Salad:
1

large avocado

diced

6

ounces

pearl mozzarella balls

2

large tomatoes

diced

5

leaves

fresh basil

Chiffonade (finely sliced)

1

teaspoon

salt

1

teaspoon

pepper
Instructions
Add the scallops to a bowl, sprinkle with salt, cover with beer and cold water. Refrigerate for one hour and up to 12. This will help flush out phosphates that will make scallops taste like soap and prevent a good sear.

Remove from brine, rinse well. Add to the top of a stack of paper towels, top with more paper towels. Allow to dry until very well dried.

Heat the butter in a skillet until very hot. Add the scallops, cooking on one flat side until seared, 1-3 minutes. Turnover and sear on the other side before removing.

Once the scallops are all cooked and set aside, lower heat to medium-low, stir in the balsamic vinegar and brown sugar. Stir and simmer until reduced and thickened. Add to a small container.

Add all the salad ingredients to a mixing bowl, toss to combine.

Divide evenly between 4 bowls. Top with scallops, drizzle with balsamic reduction.