Beer Braised Short Rib Sliders with Kettle Chip Crusted Onion Rings
Football season is about more than just the game. It's the communal cheering, the epic match-ups and the crowd of friends rooting for the home team. Of course, there is always that guy who's on the wrong side of the cheering, upsetting the game-day-chi with his sad-face reaction to what everyone else is rooting for. But it wouldn't be the same without him. Or without the people who are really just there for the food. It wouldn't be any fun if everyone was overly-intense-don't-talk-during-play-time guy, or at-least-that's-good-for-my-fantasy-team guy. Someone has to be overly-obsessed-with-winning-at-game-day-food guy (Me. Always me). We need a strong healthy mix of people to bring together the perfect game watching experience.
Healthy competition keeps it fun, and keeps the adrenaline pumping. Don't stop at the game that's going strong on the field, bring the action into your house.
I like to have a side bet, one that involves food and beer. One that pits pairings against pairings.
For the October 9th, 2016 NFL match-up of Washington vs Baltimore I recommend offering these pairings and having your guests decide which is the winner. Whatever team you're rooting for, there are no losers in the game of chips and beer. There are only winners, and bigger winners. I have a hands down favorite, but I'm not going to tell you which one. You're gonna have to try it out and let me know which one you picked.
For Baltimore I went with the spectacular Kettle Brand Korean Barbecue Chips, the chips come already rooting for the Ravens with their matching purple bag. I paired it with a Saison for the perfect balance of sweet and heat.
I'm pitting the Korean Barbecue and Saison for Baltimore against this:
For Washington I went red. Kettle Brand Sriracha Chips are a crowd pleaser and easy to pair with an IPA, the bold flavors are a perfect pairing. It's two big time flavor favorites that compliment each other beautifully.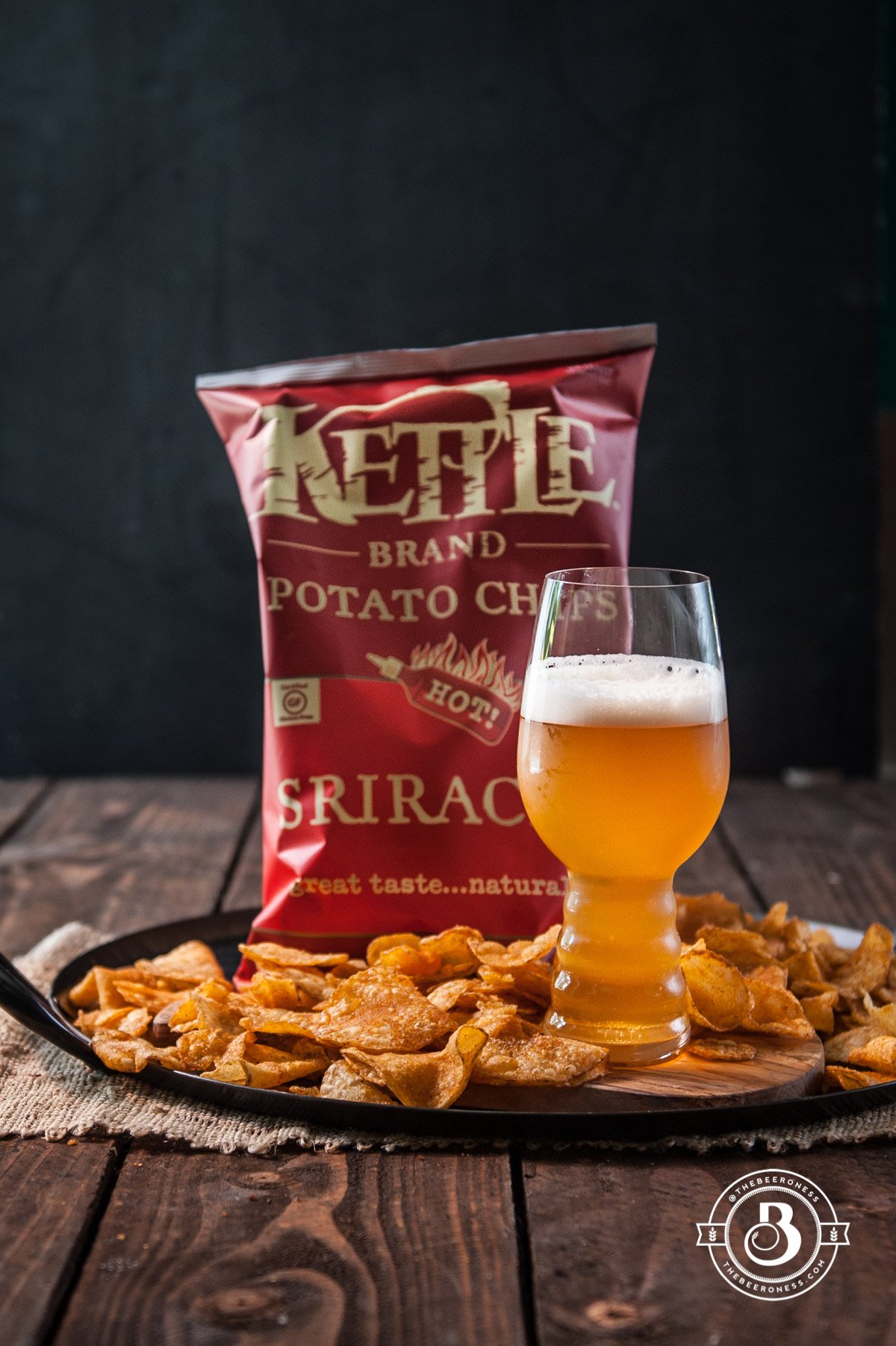 Pair them up, let your guests decide who the winner is, the refs have no say here.
This is a recipe that you can make with either chip, for football food that's already cheering along side you, unlike that one guy that you always sort of regret inviting over.
Beer Braised Short Rib Sliders with Kettle Chip Crusted Onion Rings
Ingredients
Short Ribs
1

teaspoon

salt

4

lbs

bone in beef short ribs

3

tablespoon

flour

½

teaspoon

chili powder

½

teaspoon

black pepper

½

teaspoon

garlic powder

½

teaspoon

cumin

1

tablespoon

brown sugar

2

tablespoon

olive oil

1 ½

cups

beef broth

12

oz

porter beer
Onion rings
1

large yellow sweet onions

Maui, Walla Walla, Vidalia sliced ½ inch thick

1

bag

8.5 wt oz Kettle Brand Chips (Sriracha or Korean BBQ)

3

tablespoon

melted butter

2

cups

flour

divided in half

1

teaspoon

salt

1

cup

IPA or pale ale beer

canola oil for baking
Sliders
12

slider buns

1

cup

sour cream

1

tablespoon

Gochujang or Sriracha
Instructions
Make the short ribs:
Sprinkle the salt on all sides of the short ribs. In a small bowl stir together the flour, chili powder, black pepper, garlic powder, cumin and brown sugar. Sprinkle the ribs on all sides with the flour mixture.

Heat the olive oil in a large pot or Dutch oven. Add the short ribs, browning on all sides.

Add the broth and beer, bring to a low simmer. Add the lid at a vent, cooking until short ribs are tender and falling off the bone, about 2 ½ hours, remove from heat. Using two forks, shred while still in the pot. Allow to sit in braising liquid for ten minutes, remove from braising liquid (This can be made a day ahead, stored in the fridge in the braising liquid and re-heated for sliders).
Make the onion rings:
Preheat oven to 450.

Slice the onion into ½ inch slices, separate the rings. Place in a large bowl of ice water. Allow to sit for at least 20 minutes (this will take the harsh "bite" out of the raw onion and help them cook better).

Add the Kettle chips to a food processor, process until only crumbs remain. Transfer crumbs to a bowl, drizzle with melted butter, toss to coat.

Drizzle a large baking sheet with about 1 tablespoon canola oil, set aside.

In a large bowl add 1 cup flour (reserve the other cup) and 1 teaspoon salt, stir to combine. Stir in the beer to make a smooth batter.

Add the remaining flour to a small bowl.

One at a time remove the onion slices from the water, dredge in flour until well coated, dip in the batter allowing excess batter to drip back into the bowl, then add to the Kettle chip crumbs to gently coat.

Add to prepared baking sheet in an even layer, making sure the onion rings aren't touching (smaller rings can be place inside large ones as long as they don't touch) drizzle with canola oil.

Bake at 450 for 10 minutes, gently flip, bake until golden brown on all sides, about 8 additional minutes.
Assemble the sliders:
In a small bowl stir together the sour cream and Gochujang or Sriracha.

Fill the slider buns with short ribs, then about 1 tablespoon sour cream, then an onion ring. Serve immediately.
This post was sponsored by Kettle Chips. Partnerships with The Beeroness and outside companies are rare and only occur when the company's products are ones I use and enjoy myself. All ideas and opinions are my own