Beer Braised Pulled Pork Sandwiches with IPA Jalapeno Slaw + $350 Giveaway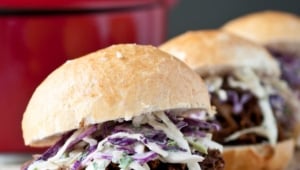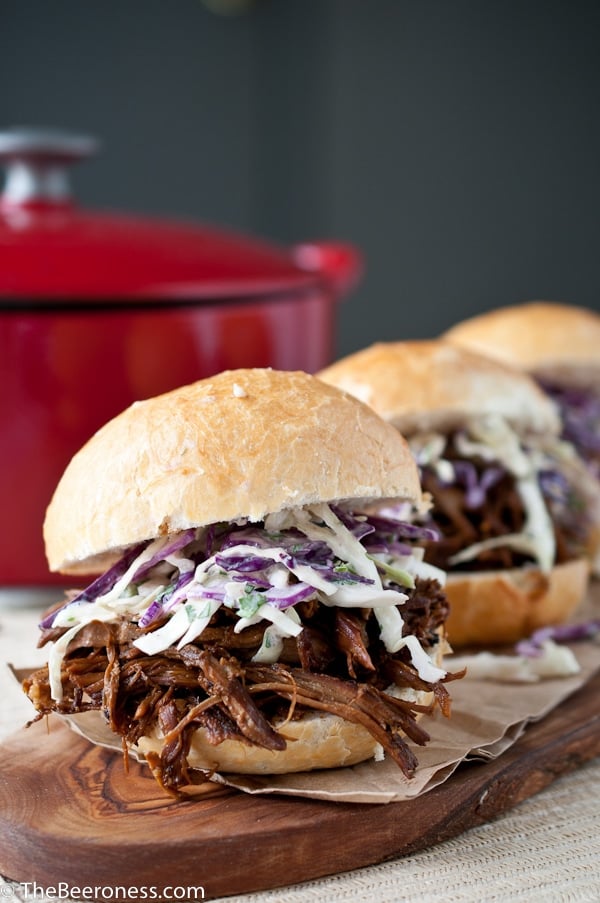 I'll cook anywhere if you ask me to. A dorm kitchen, a camp stove, a closet with a griddle. Just make sure that I have a few things on hand. One of the items that I'll always request, if you ask me to cook outside my comfort zone, is an enamel cast iron pot. These things are beast. If you treat them right, they'll do the same right back. You'll have this beautiful shiny pot for so long, your grandkids will fight over it once you're gone. When I wrote my first cookbook, The Craft Beer Cookbook. I wrote it with recipes that I want you make for the rest of your life, because these are recipes that I want to make for the rest of my life. I used a cast iron pan, a Dutch (or French) oven, lots of beer (clearly) and ingredients that I love.
It's the end of a long and difficult year for me, and as a way to celebrate the year, as well as my birthday, I'm giving you a gift. I'm giving you THREE of my favorite things. First, my book, The Craft Beer Cookbook. One of my proudest accomplishements. I'll be shipping it to you myself and I'll scribble whatever you want in it. You want me to profess my undying love for you? I'll do it. Of course, because you're the best.
Second, the amazing people at Le Creuset have agreed to send you one of my favorite cooking implements ever: the 5 1/2 qt French Oven. In red, which is my personal favorite color. This is a staple in my kitchen, a must for anyone who loves to cook.
Third, beer. Of your choice. BevMo is giving you a $50 gift card to grab the beer of your choice for general drinking purposes or perhaps to try your hand at cooking with beer. Or possibly both. If you'd like some recommendations for which beers to spend this windfall on, I'd be happy to provide those to you as an addendum to the prize. But really, there is no way to lose when you have yourself some money to spend at BevMo.
To enter, use the Raffle copter fields below (it may take a second to load), Like us all on Facebook, follow us on twitter, tell your friends about this and let me know what you make in your new pot, with your new beer and your scribbled on cookbook. And feel free to invite me over, even if you're just cooking on a camp stove. I'm down for that.
(this post includes affiliate links)
Beer Braised Pulled Pork Sandwiches with IPA Jalapeno Slaw
Ingredients
For the Pork:
3

lb

pork shoulder

6

cloves

garlic

peeled

2

tbs

kosher or sea salt

2

tbs

brown sugar

1

tsp

black pepper

1

tsp

smoked paprika

2

tsp

chili powder

2

tsp

onion powder

2

tbs

olive oil

24

ounces

stout beer

1

cup

beef broth

12

French roll sandwich buns
For the IPA Jalapeno Slaw:
1

large jalapeno

stem and seeds removed, chopped (about 1/3 cup)

2

cups

purple cabbage

thinly sliced

2

cups

green cabbage

thinly sliced

¼

cup

cilantro

chopped

½

cup

sour cream

½

cup

IPA

1

tbs

lemon juice

1

tbs

sugar

¼

tsp

chili powder

¼

tsp

salt
Instructions
Preheat oven 300.

Using a paring knife, create 6, 2-inch deep holes fairly evenly spaced through the meat. Push a peeled clove of garlic into each hole until no longer visible.

Sprinkle the pork evenly with salt.

In a small bowl mix together the brown sugar, pepper, paprika, chili powder, and onion powder. Rub the spiced all over the surface of the pork.

In a large oven safe pot or Dutch oven (with an oven safe lid) heat the oil until hot but not smoking. Sear the meat on all sides, about 3 minutes per side.

Add the beer and broth, bring to a simmer.

Cover and place in the oven. Turn the meat over every 30-45 minutes. If the pot begins to dry out, add extra broth or hot water. Allow to cook until meat is falling apart, about 3 to 4 hours.

Remove from oven, shred using two forks while still in the pot. Allow to sit in the pan juices for ten minutes while you prepare the jalapeno slaw. Remove meat from pan juices, draining off most of the liquid prior to serving.

To make the slaw, combine all the jalapeno slaw ingredients in a bowl, toss to coat. Fill each sandwich bun with pork topped with slaw.
Recipe from The Craft Beer Cookbook