Beer Braised Pork Ribs Tacos with IPA Pickled Jicama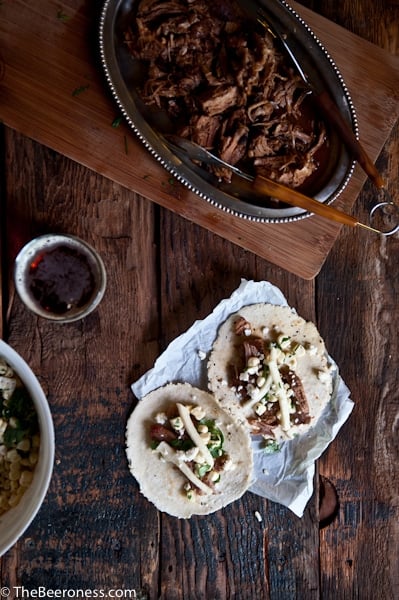 We need to talk for a second about the anatomy of a taco.
It's pretty simple when you break it down: homemade tortilla, a flavorful protein, and an acid, that's all. When you make something so simple, you need to make each building block well. Which will start with that tortilla. If there are just a few things that you make from scratch this year, tortillas should absolutely be one of them. Three simple ingredients and five minutes and you'll never look back. Besides, those cardboard disks labeled "Corn Tortillas" they sell at the grocery store are best used for sanding the paint of walls.
For the protein, you can use anything from your favorite meat, to a beer battered avocado, it's your call. But if you're feeding a diverse crowd of eaters, tacos are the way to go. Tortillas are gluten free, and east to stuff full of veggies, so you have two big food limitations covered.
Acid is important when you're trying to balance a rich meat. Salsa is obviously the go-to, but I'm adding in some pickled jicama to mix things up.
In my world, cilantro is a must on tacos, it balances heat really well. And if you're going to add cheese, back away from the grated cheddar. Grab a more traditional cheese like my current cheese obsession: cotija. It's salty and crumbly and approved by Mexican grandmas for use on your tacos. That's an important endorsement in my world.
My homemade tortilla recipe, do it. DO IT.
Beer Braised Pork Ribs Tacos with IPA Pickled Jicama
Ingredients
1 tsp onion powder
1 tsp garlic powder
½ tsp cumin
½ tsp smoked paprika
2 tsp kosher salt
½ tsp black pepper
½ tsp chili powder
¼ tsp cayenne pepper
1 tsp brown sugar
2 tbs canola oil
1 cup chopped white onions
2 lbs pork country style ribs
14.5 ounce can diced tomatoes
12 ounces stout
3 garlic cloves, smashed
1 cup rice wine vinegar
1 tbs salt
1 tbs white sugar
¼ cup ice water
½ cup IPA beer
1 cup jicama, peeled and cut into match stick sized strips
1 cup fresh corn kernels
2 wt oz cotija cheese
1 avocado, diced
½ cup cilantro, chopped
Tortillas for serving (homemade corn tortillas recommended)
Directions
In a small bowl stir together the spice rub (onion powder, garlic powder, cumin, smoked paprika, salt, pepper, chili powder, cayenne pepper and brown sugar).
Sprinkle the pork ribs on all sides with the spice mixture.
Heat the oil in a large Dutch oven until hot but not smoking. Add the pork, sear on all sides until browned. Add the onions, tomatoes stout and smashed garlic. Bring to a boil. Reduce heat to maintain a simmer, add lid at a vent.
Simmer, turning ribs occasionally until fork tender, 3 to 4 hours.
While the pork is cooking make the pickled jicama. In a pot over medium high heat add the vinegar, salt and sugar, cook just until the sugar and salt has dissolved, remove from heat. Stir in the beer and ice water, allow mixture to cool. Add the jicama to a bowl, pour pickling liquid over, cover and chill for at least 2 hours, drain.
Once pork is fork tender, turn off heat. Using two forks, shred meat and remove bones. Allow shredded pork to sit in the simmering liquid for ten minutes. Remove with a slotted spoon to drain.
Fill the tacos with pork, top with pickled jicama, corn, cotija, avocado and cilantro.
https://domesticfits.com/beer-braised-pork-ribs-tacos-ipa-pickled-jicama/
Copyright �© TheBeeroness.com