Beer Braised Meatball Banh Mi Sandwiches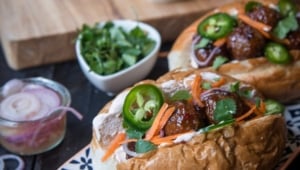 I'm not sure why I do these things. It's that part of me that leans toward obsessing, and it's a small but powerful part. Mini but mighty.
Food, in one form or another, often finds it's way into that space. Duck confit, pickling weird foods, doughnuts, bolognese, you really never know when something will settle into my major obsession zone.
When I do have things fall into the crack in my personality that sucks up obsessions, it doesn't let them go (see also: beer, early rock photography, serial killers, bulldogs. It's Ok to dislike me based solely on that list).
Right now, it's Banh Mi, or if I use it as a command: BANH ME! It should be a socially acceptable command that you're allowed to yell at people until they give you a Vietnamese-French fusion sandwich. But it's not, so don't try it.
After making a vegan Mushroom Bahn Mi sandwich for my book that's in the processing of being published, I want to Bahn Mi all the things. ALL THE THINGS. I'm going to try to keep this obsession in check, but it has leaked through today, onto you so I hope you're OK with that.
Beer Braised Meatball Banh Mi Sandwiches
Banh Mi and Meatballs in one sandwich with a sweet and spicy beer glaze!
Ingredients
For the pickled shallots:
1/4

cup

very hot water

1

tablespoon

sugar

1

tablespoon

salt

1/4

cup

beer

(lager, pilsner, pale ale)

1/3

cup

apple cider vinegar

1

large

shallot bulb

thinly sliced
For the meatballs
1/2

cup

Thai sweet chili sauce

3

tablespoons

low-sodium soy sauce

1

tablespoons

brown sugar

1

tablespoons

fish sauce

1.5

lbs

frozen mini meatballs

I used pork, but beef, chicken or vegetarian is fine

1/2

cup

beer

(lager, pilsner, pale ale)
For the sandwiches
1/4

cup

sour cream

2

tablespoons

sriracha

1

large

carrot

grated with a box grater

1/4

cup

chopped cilantro

1

large

jalapeno

4

crusty sandwich rolls
Instructions
1. Add the hot water, sugar and salt to a small bowl, stir until dissolved.

2. Stir in the beer and vinegar, add the shallots. Cover and refrigerate for one hour and up to 3 days.

3. In a small bowl stir together the chili sauce, brown sugar, and fish sauce, set aside.

4. Heat the oil in a large skillet over medium-high heat. Add the meatballs, pulling the pan back and forth until starting to sear.

5. Lower heat the medium, pour in the beer. Allow to simmer until most of the beer is gone, stirring occasionally.

6. Pour the sweet chili mixture over the meatballs, raising the heat slightly, adjusting to maintain a low boil.

7. Cook until the sauce has thickened and the meatballs are well coated.

8. In a small bowl stir together the sour cream and sriracha (can be done up to 3 days in advance).

9. Spread the sriracha sour cream inside the rolls, fill with meatballs, carrots, cilantro, pickled shallots and jalapenos.