Beer Battered Shrimp Tacos with Chipotle Lime Crema
There are a few things you don't realize you're giving up when you leave LA. You know you'll miss the weather, the sunny winter days spent sunbathing on the beach, the fact that every band always has a tour stop in your town, and the unlimited Girls Night Out options.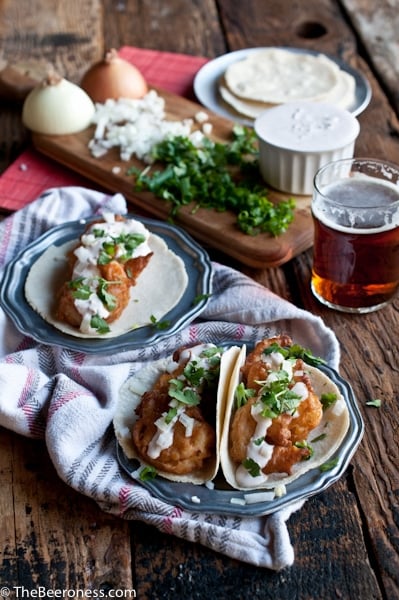 But no one tells you you're giving up tacos as you know them. And Horchata, for that matter. The brilliance of living in a town so chocked full of authentic Mexican food is really manifested in two ways: toppings and tortillas.
Whether it's a taco truck (the real kind), taqueria, or a backyard party thrown by the family of the girl you work with, real tacos come on homemade corn tortillas. No self-respecting Mexican grandma would have it any other way (think of asking an Italian grandmother to serve her pasta with Prego).
Homemade corn tortillas are a thing of beauty, soft, warm, and so easy to make. Once you start making them from scratch, you'll have drunk the Kool-aid too, there is no going back.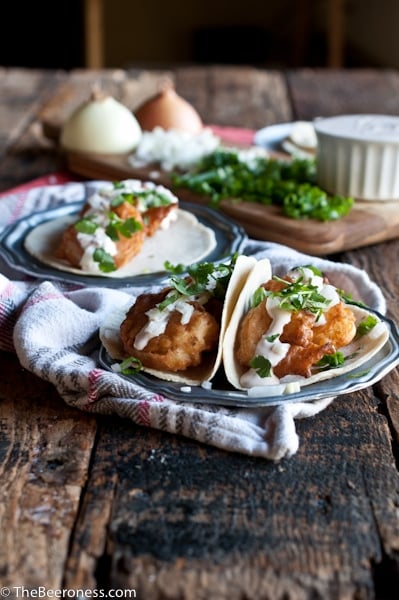 Which brings us to taco toppings: no one outside the USA puts iceberg lettuce and shredded cheese on their tacos. It's not a hamburger, it's a taco. If you like them that way, you should do it. It's a Tex-Mex part of our National culinary identity, but it's not authentic. In LA, you get onions and cilantro and the option to add a few dashes of hot sauce if you choose.
Crema is a Mexican staple, but not as often used on tacos. It's more of a mole or enchilada accessory. But in LA we have these surfers who open taco restaurants after surfing their way up the West Coast of South and Central America. They make fish tacos and serve them with a creamy sauce. Which may not be completely authentic, but it's still very LA.
So, what I'm trying to tell you is that these tacos are equal parts authentic and hypocritical. Which, let's be honest, that's pretty LA.
Beer Battered Shrimp Tacos with Chipotle Lime Crema
Ingredients
1

large egg

1

cup

flour

pinch

cayenne

¼

tsp

garlic powder

¼

tsp

salt

1

cup

pale ale

Oil for frying

1

lb

raw shrimp

deveined, shell and tail removed

1

cup

Mexican crema

1

chipotle chili in adobo

minced (plus additional to taste)

1

tbs

fresh lime juice

½

cup

diced onions

½

cup

chopped cilantro

12

beer tortillas
Instructions
In a large bowl stir together the flour, cayenne, garlic powder and salt.

Add the egg and the beer, stir with a fork until well combined.

Add about 2 inches of oil to a skillet over medium high heat (ideally you want to oil to stay around 350 degrees).

A few at a time, dip the shrimp into the batter, let the excess batter slide off, then add to the oil. Allow the shrimp to cook until golden brown, about 2 minutes on each side. Remove from pan and add to a stack of paper towels.

In a small bowl stir together the crema, chipotle chili and lime juice.

Add the shrimp to the tortillas, top with diced onions, cilantro and chipotle crema.
My recipe for beer corn tortillas.