Beer Battered Fried Green Tomato BLT Sliders with Chipotle Crema
Beer Battered Fried Green Tomato BLT Sliders with Chipotle Crema
It's that time of year again when I stop pretending. Stop pretending that the summer isn't almost over, that football season is back and, most importantly, that the over abundance of green tomatoes in my garden will actually ripen.
This is fine, all of this. Bring on fall, and the first frost that will kill all of those infantile tomatoes, and give me back my wellies and jeans because I'm about to need them. This overlap between garden and football season is the perfect time to use those tomatoes in their unripened state as if that was your intention all along.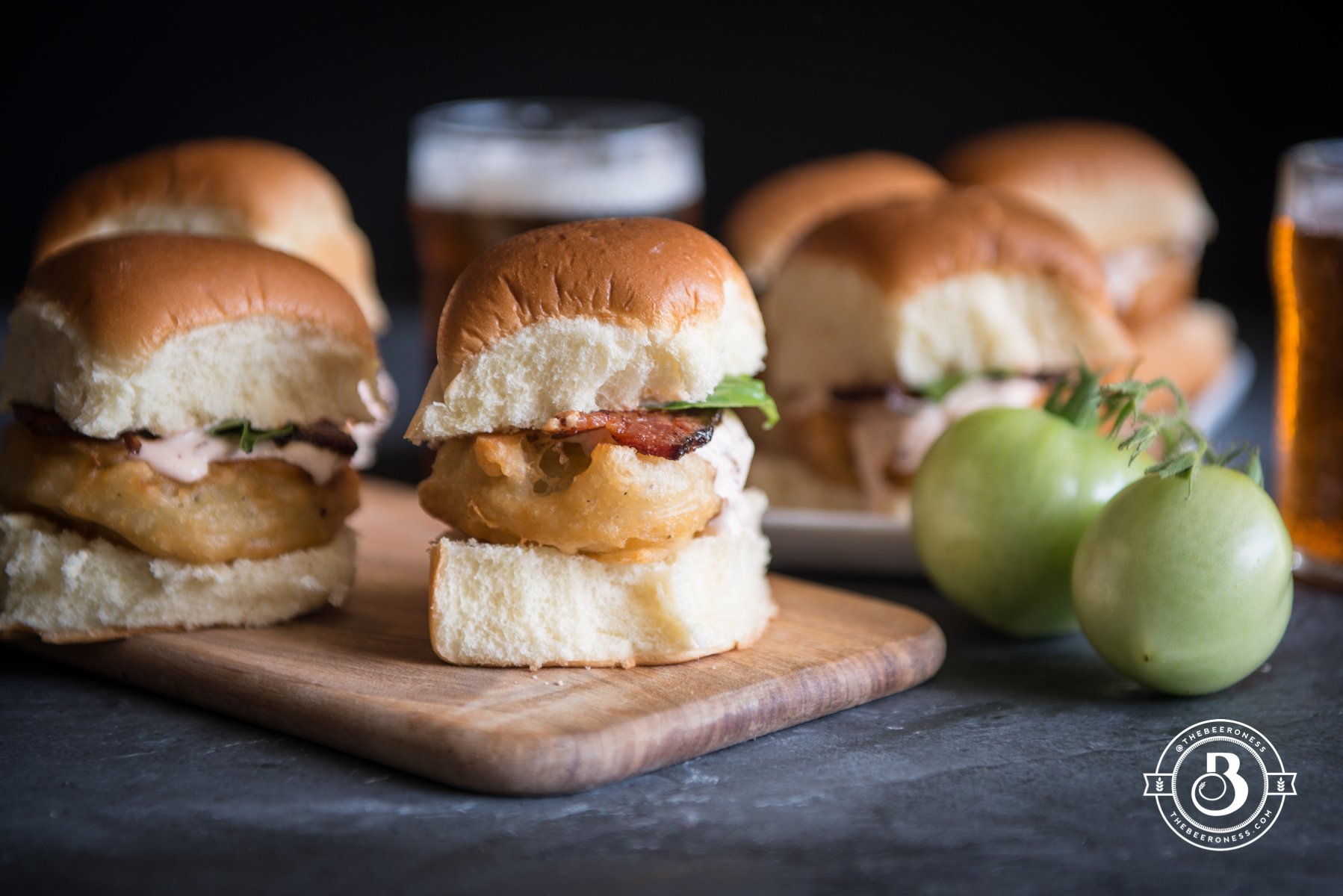 These are a great football party offering, but in case you (like me) have WAAAYYY more green tomatoes than you ever got red ones, you have some more options. Pickle them (pickle all the things!!!), salsa verde is an excelent choice, and I will also be making this Green Tomato Posole and pretending like I'm perfectly fine with the summer being over.
Beer Battered Fried Green Tomato BLT Sliders with Chipotle Crema
Ingredients
For the tomatoes:
Canola oil for frying

2

cups

(240g) all-purpose flour (plus more for dredge)

1

teaspoon

salt

1

teaspoon

garlic powder

1

teaspoon

chili powder

1

teaspoon

black pepper

1

teaspoon

cornstarch

12

ounces

beer

3

large green tomatoes

sliced in ½ inch slices
For the sliders:
12

Hawaiian rolls

cut in half to resemble buns

½

cup

(125g) Mexican crema (or sour cream or Crème fraîche)

1

chipotle pepper in adobo

minced

½

teaspoon

garlic powder

½

teaspoon

salt

12

slices

of bacon

cooked, cut in half

5

large basil leaves

chopped
Instructions
Heat 2 inches of canola oil in a pot over medium-high heat.

In a large bowl whisk together the flour, salt, garlic powder, chili powder, pepper, and cornstarch.

Pour beer into the bowl, stir with a fork until combined (this should be the thickness of pancake batter. If the batter is too thick, add a bit of water to thin but the batter should be very thick).

Place a wire rack over a baking sheet, set aside. Add some flour to a separate bowl, set aside.

One at a time add the tomato slices to the flour, dredge to coat. Then add into the batter until well coated, then add to the hot oil. Fry until golden brown on both sides, about 4 minutes per side, then transfer to the wire rack, allow to cool.

Stir together the crema, chipotle pepper, garlic powder, and salt.

Add the fried tomatoes to the buns, top with bacon, chipotle crema, and basil. Serve immediately.