Beer and Buttermilk Fried Chicken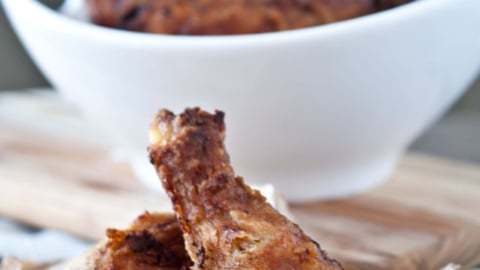 I've been wanting to make you some beer fried chicken for a while now, but it's a bit intimidating.
The best fried chicken comes from the south, it's a fact of sorts. As is the fact that, other than a few weeks in Atlanta, I haven't spent much time in the Southern states. And, let's be honest, a white girl from Washington State isn't exactly your go-to when you want the worlds best fried chicken.
But I have some confidence in this recipes because it isn't really mine. I've added a few things, but the heart and soul of it belongs to a woman who's chicken was so incredible, Ruth Reichl spent weeks, and copious amounts of beer, extracting the recipe from her. Even 40 years after plying Claritha with enough beer to obtain said recpe, Ruth not only remembers it, she writes about it in Tender at the Bone: Growing Up at the Table.
Like any great recipe, it travels. How I hope my recipes become your recipes. My Chocolate Stout Cake becomes your Chocolate Stout Cake, the one your boyfriend begs you to make him for his birthday and tells his friends, "My girl makes the best cake." Because once your hands have cut the butter, stirred the batter and frosted the cake, it's not my recipe any more, it's yours. As it should be.
So, from Claritha, to Ruth to Random House to me and finally to you, is the best fried chicken I've ever made. I hope it becomes your fried chicken too.
Beer and Buttermilk Fried Chicken
Adapted from Claritha's Fried Chicken, Ruth Reichl, Tender at the Bone
Ingredients
3

lbs

chicken drumsticks

1 to 2

cups

kosher salt

1

cup

buttermilk

2

cups

blonde ale

1

onion

sliced

1

cup

flour

2

tsp

kosher salt

1/2

tsp

cayenne

1/2

tsp

fresh cracked black pepper

2

tsp

packed dark brown sugar

1

cup

vegetable shortening

1/4

cup

butter
Instructions
Place chicken in a wide bowl. Cover with salt, place uncovered in the refrigerator for 2 hours. Remove chicken from the bowl.

Rinse the chicken well and clean the bowl to remove all the salt. Add buttermilk, beer and onion slices to the bowl, stir to combine. Add the chicken back in the bowl, cover and refrigerate overnight, 8 to 20 hours.

Add the flour, salt, cayenne, brown sugar, and pepper to a bag, shake to combine. Drain the chicken. add chicken to the bag, shake until the chicken is well coated. Place chicken on wax paper or parchment paper. Allow to sit at room temperature for 1/2 hour.

In a large skillet melt the vegetable shortening and butter over high heat. Add chicken (working in batches if necessary), cover and lower heat to just above medium. Cook for 8 to 10 minutes or until golden brown, turn and cook on the opposite side for about 8 additional minutes or until cooked through.