Baked Apples with Wild Ale Mascarpone and Beer Candied Pecans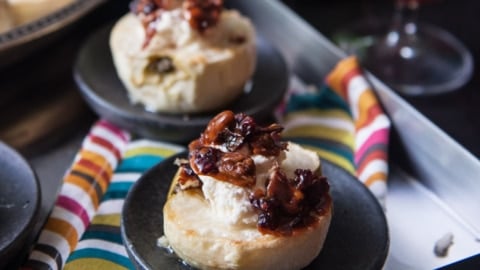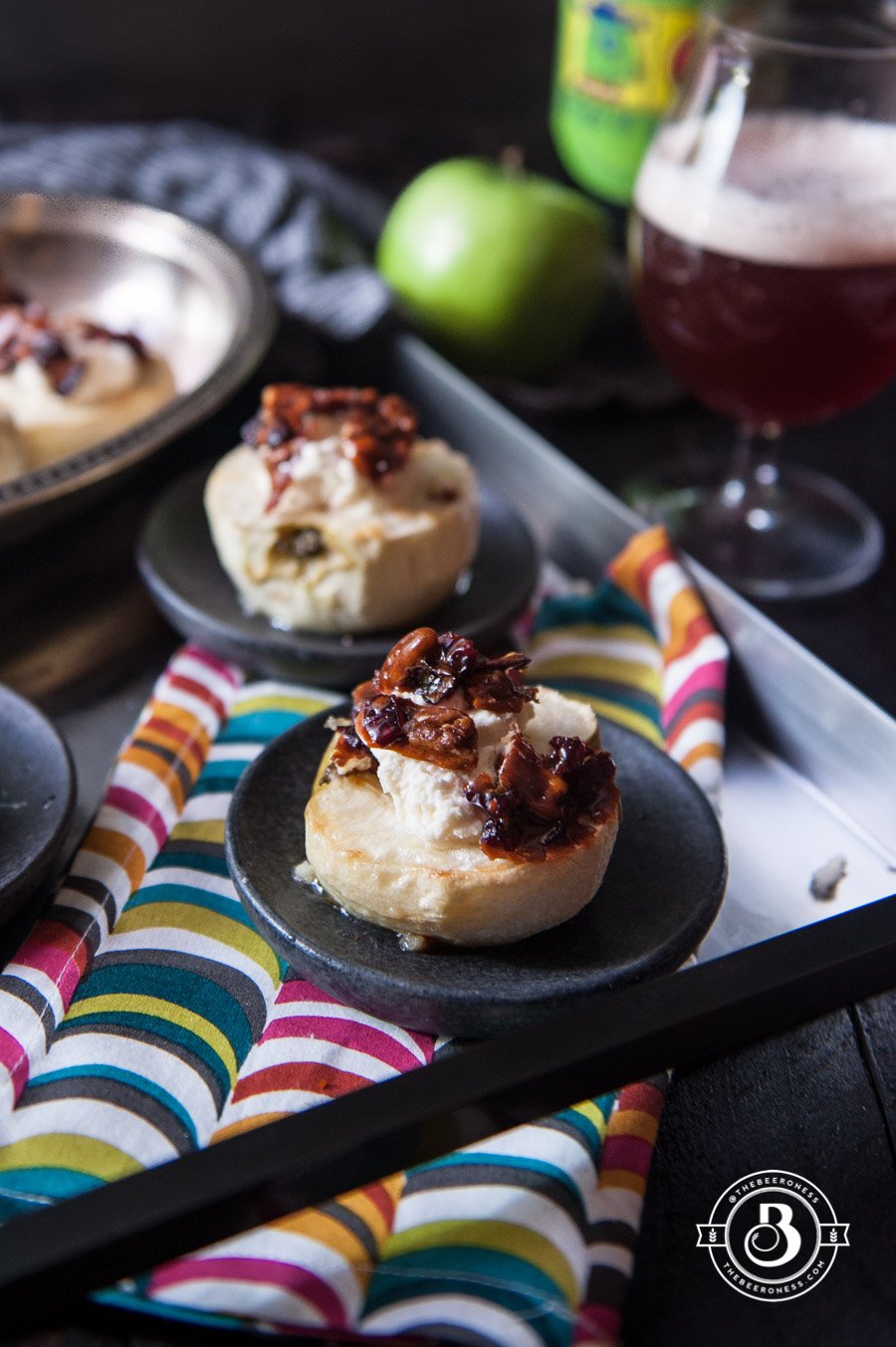 Collaborations are more than a partnership, more than a blending of ideas or a meeting of brewing minds. It's a handshake that says, "I trust you, I trust your ideas, and I'm putting my breweries name on the line to prove it."
More prevalent in the beer world than in nearly any other industry, collaborations yield beer that makes noise far beyond the distribution reach the resulting beer has.
Just yesterday one of these whispered about collaboration brews showed up on my door, three thousand miles from the closest distribution location, and half a world away from the origins of the collaboration. Sam Adams out of Boston, Massachusetts and Mikkeller from Denmark came together to produce a wild ale that merges more than just the ideas and experience of the two locations, but ingredients from both.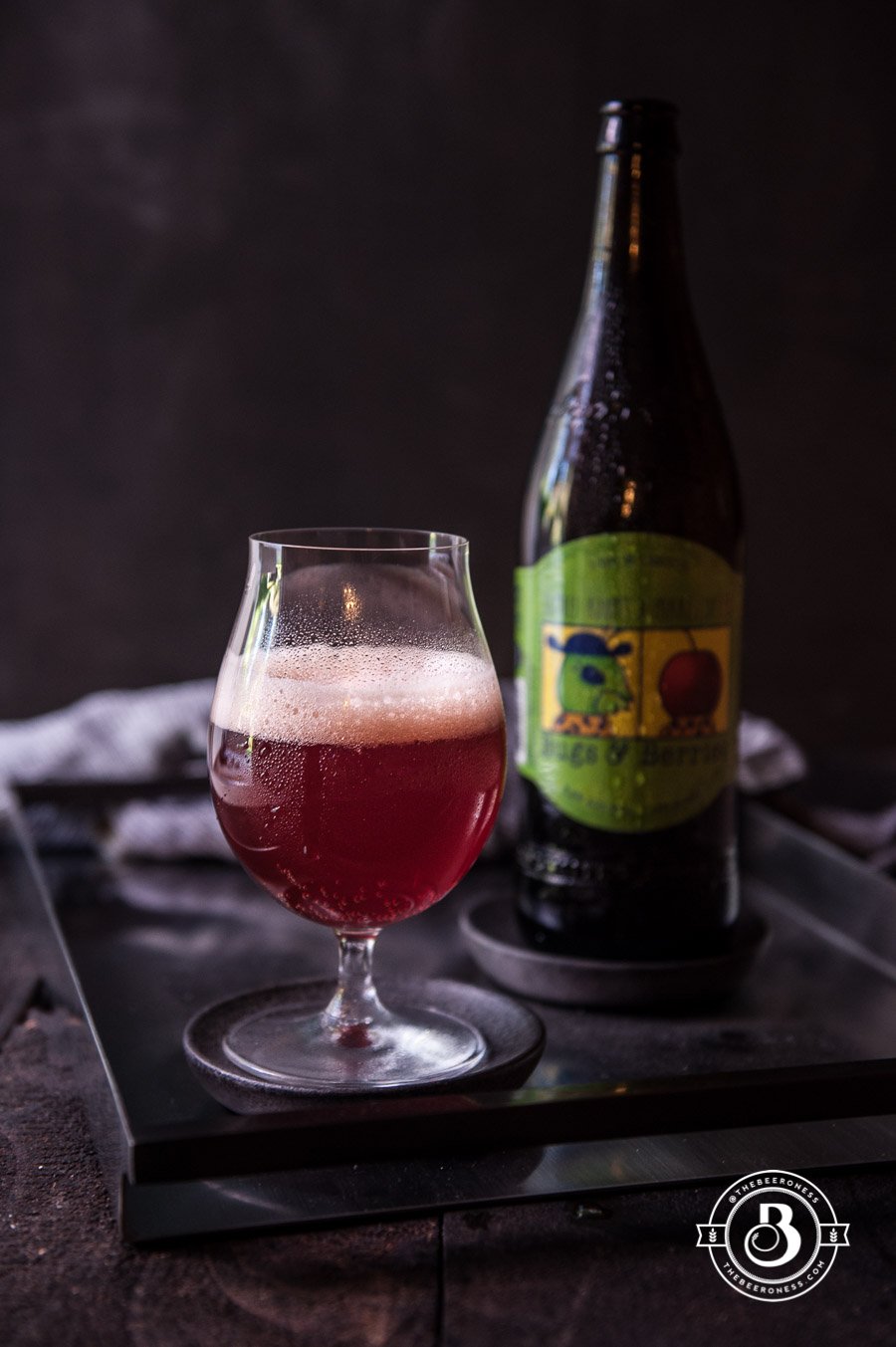 Each brewery brewed a beer, Mikkeller a sour cherry wheat beer, and Sam Adams a Strawberry Blonde ale, and the two batches of beer were merged into one beer and finished with a little more funk (brett & lacto). The result is an incredible wild ale that offers fruit, grain, yeast and water from two distinct parts of the world in one bottle. Many of the brewing worlds most brilliant minds spending countless hours on one project that will have a very small distribution, as a celebration of experimentation and the love of beer.
Bugs & Berries is both well soured and beautifully balanced. The gorgeous tart cherries and strawberry flavors are both well blended, and distinct in their own right. Bold fruit forward flavors with mild wheat back notes, without being overly-sweet and the funk to let you know it's a proud sour but without any off-putting pucker. This is a beer that I would drink all day. If you are lucky enough to come across this beer, buy it. Buy two.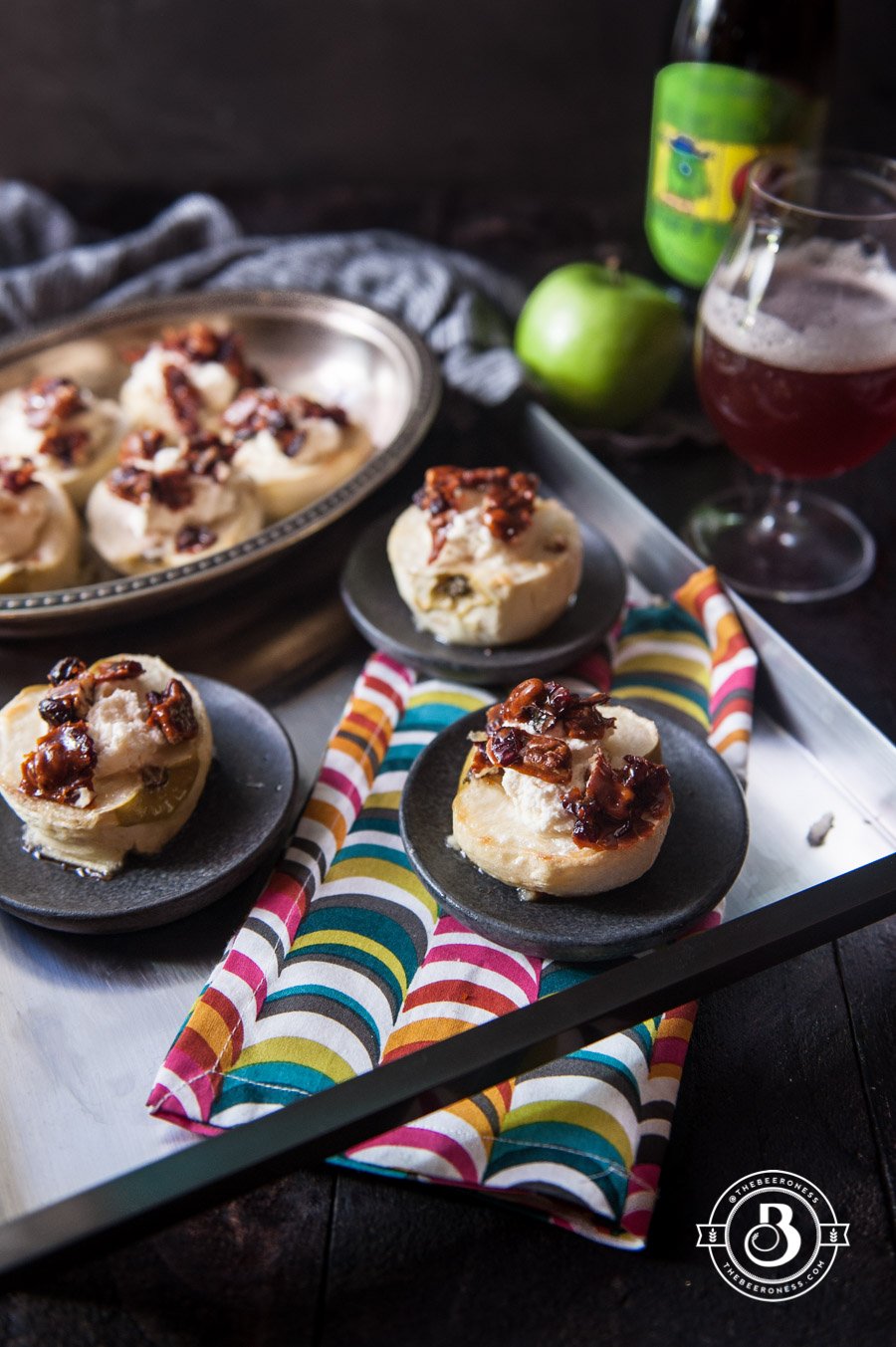 Baked Apples with Wild Ale Mascarpone and Beer Candied Pecans
Ingredients
½

cup

wile ale

divided

1

cup

white sugar

2

tablespoons

butter

plus 1 cup divided

½

teaspoon

baking soda

1

cup

pecan pieces

1

cup

dried cranberries

1

teaspoon

salt

4

Granny Smith apples*

1/3

cup

packed brown sugar

8

wt oz mascarpone

¼

cup

powdered sugar
Instructions
Preheat the oven to 200F.

Add ¼ cup beer, 1 cup sugar and 2 tablespoons butter to a pot over high heat. Stir until the butter has melted and the sugar is dissolved. Bring to a boil for 4 minutes or until dark amber. Do not stir after the sugar starts to boil, but you can swirl the pan if hot spots start to appear.

Remove from heat, add the baking soda and 2 tablespoons beer. Stir until well combined. Add the pecans and cranberries, stir until well coated.

Spread evenly onto a baking sheet that has been sprayed with cooking spray or lined with parchment paper.

Bake for 15 minutes. Remove from oven, sprinkle with salt. Allow to cool before braking apart. (Can be made 3 days in advance. Cool and then store in an airtight container in a cool place).

Turn oven heat up to 350F.

Peel the apples, cut in half lengthwise, and scoop out the core with a melon baller.

Place the apples, cut side up, a baking sheet that has been sprayed with cooking spray or lined with parchment paper.

Sprinkle each apple with about 2 teaspoons brown sugar, place 1 tablespoon of butter on top of each apple.

Bake for 15-18 minutes or until apples are fork tender.

Remove from oven, add to a serving plate.

In a bowl add the mascarpone and powdered sugar. Beat on high with a hand mixer until well combined. While the mixer is running slowly add the remaining 2 tablespoons beer, beating until well combined.

Add the mascarpone to the center of the apples, sprinkle with the pecan and cranberry pieces. Serve immediately.
Notes
*Granny Smith apples hold their shape better than other apples, some varieties will turn to mush when baked so be careful of the variety you choose.