Bacon Beer Cheese Stromboli + Our Real Issue with Buyouts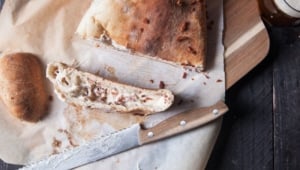 Bacon Beer Cheese Stromboli, just 30 minutes to make the best football food ever.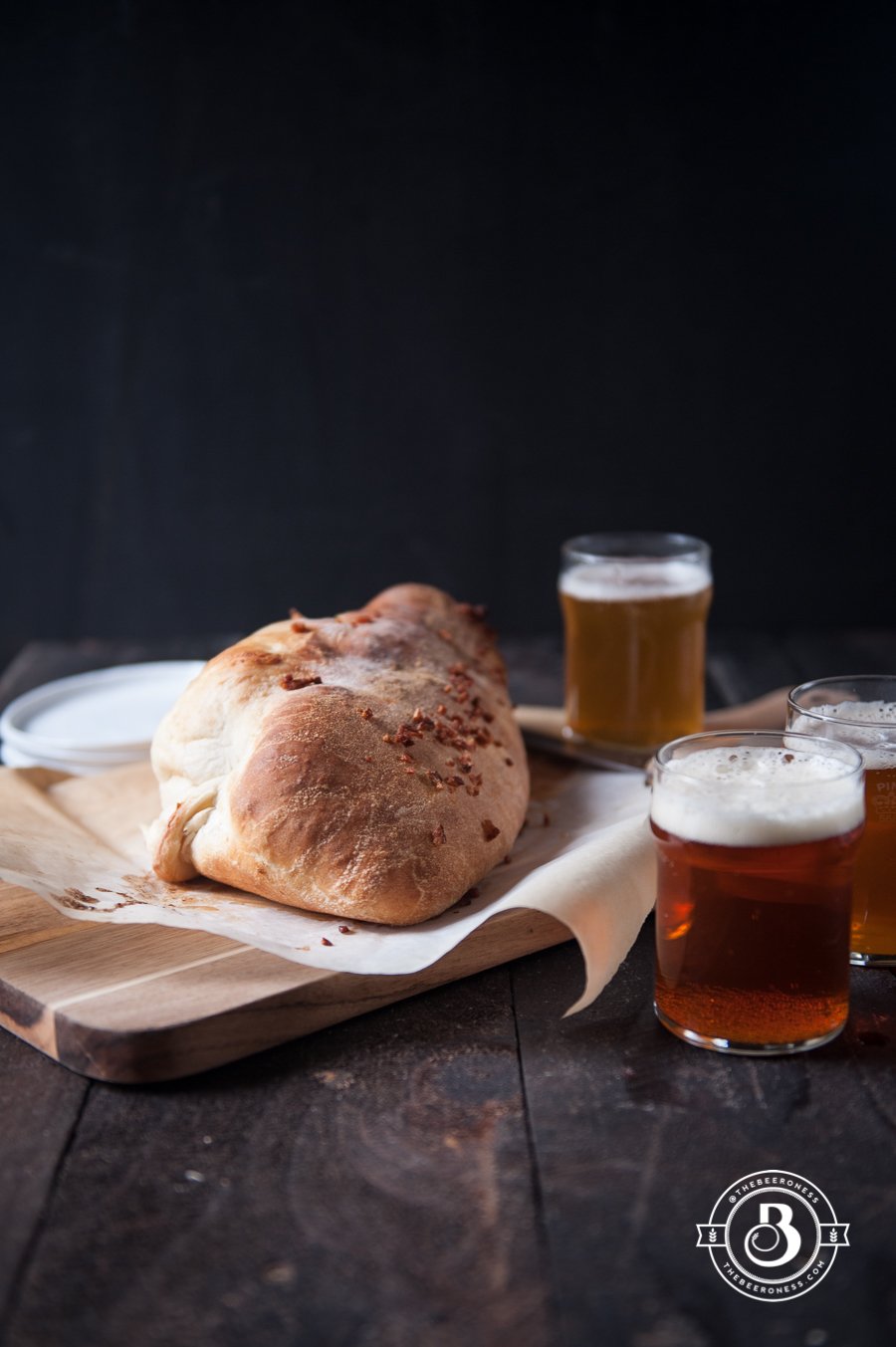 I'm sitting in my kitchen on a phone interview with a reporter from Bloomberg answering questions about the buyouts. You know the ones, the ABI, Miller-Coors, Constellation, Big Bad Macro Beer comin' in and buying up OUR beer. The ones that ignite twitter with angry, witty, outraged messages that amount to a digital foot stomping tantrum.
I'm trying to put my finger on what it is, why this sets off a shockwave of indignation. Because the truth is, other than the normal issues that come with scaling up a recipe (which happens with or without buyouts), the recipes don't change. The beer is, as far as our experience with the bottles that come across our bottle shops, the same as it always was. Even if we had an absolute guarantee that the beer would never, ever, ever change, we would still take issue with the buyouts.
But it threatens the smaller beer brands! Maybe, but what if it didn't? What if it actually increased demand for the small guys, we'd still take issue with it. So that isn't it either.
What is it? We are afraid beer will lose its soul. We drink craft beer for the flavor but we are in love with it for the people. For the soul of it. I saw the same thing when I ran around LA with rock stars. I was very well acquainted with the analog recording console from Sound City music studio, the one Dave Grohl was so attached to that he not only bought this machine that recorded music onto dat tapes he made a documentary about it and recorded an album on it. Could you tell by listening to it that it sounded different? Probably not. Maybe that wasn't the point. As the music world shifted from analog to digital, there were holdouts that feared music would lose its soul. That was what we felt when the mixing boards were replaced with lap tops, auto tune and pro tools. Of course older music sounds different, but not because of the tapes. But because Led Zeppelin decided to record it all in one take, errors and all, in a grain silo. The issues was never really the sound, which is arguably better with digital methods. We were all afraid music would lose its soul. Arguments can be made for or against that actually being the case, but the reality is that more people are able to make music. Due in part to the digital revolution A&R guys no longer hold the keys to the kingdom and more small independent musicians can make a living off their art, sans recording contract.
Beer is in the same metamorphosis. We can't stop buyouts any more than the drummer from Nirvana could stop music from being recorded digitally and we are scared of what that will mean. We are afraid the people will be removed in favor of shiny new machines and the heart and guts of the industry we love will change. The photos of bearded men in old brewery shirts mashing in, picking hops, cleaning fermenters, will be replaced by an industrial process that takes no more than a switch flip to initiate. We don't want a brightly lit cafeteria of a taproom. We want a brewery that's a little bit dingy, with miss matched brew kettles and slightly dented bay doors. We don't want uniforms and sterility and soulless masses. That's the real fear.
So what now? As craft beer lovers and consumers we don't get to make the decisions about the who has what stake and how much in our favorite breweries. We aren't the ones trying to make ends meet with a high grain bill and a low profit margin. We aren't the ones with a billion dollar check in our faces. The truth is that we can't stop it, the buyouts will continue, more in 2016 than ever before and it will become increasing more accepted, thats how these things always go. What can we do? We are the soul. We can keep that. We can make it known that even with the paperwork shuffle and the distribution deals and the administrative headaches that go one outside our reach, we want our beer to stay our beer. This is what we are attached to, and we can make it known that we have our eye on you, newly acquired brewery, do well by us. We brought you here, and we don't want to walk away now.
This is not a defense of buyouts in any way. It's just to say that our issues with big beer buying craft beer isn't as much about small breweries as we'd like to think. Even if we had a guarantee that it's actually GOOD for small beer, we'd still hate it. We'd hate it because we don't want corporate beer. Sterile, emotionless beer. We want the community that we've build and we don't want that taken away from us. We want to be punk rock, not boy bands. That's also how we will survive this. Big beer has distribution and dollars, but that can't replace the community and the soul we've built. That's ours, that won't change.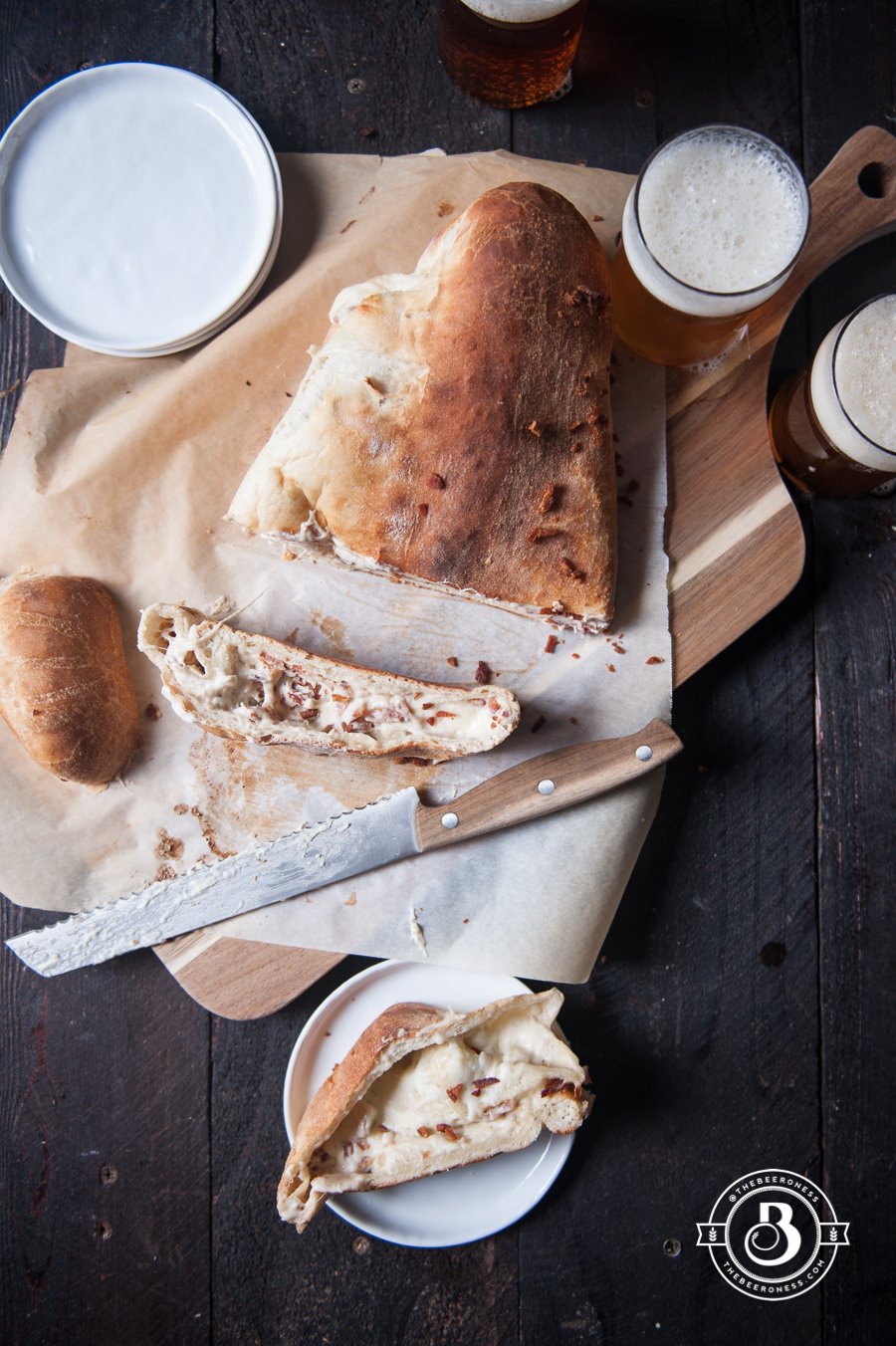 Bacon Beer Cheese Stromboli
Ingredients
8 wt oz cream cheese
1 ½ cups (168g) mozzarella
½ cup (56g) parmesan
1 tbs cornstarch
½ cup (115g) pale ale
½ tsp (2g) garlic powder
1 tsp (3g) salt
1 lbs pizza dough, raw
10 strips (155g) bacon, cooked and chopped
1 tbs melted butter
Instructions
Add the cream cheese, mozzarella, parmesan, cornstarch, beer, garlic powder, and salt to a blender, blend until smooth.
Roll the pizza dough out on a lightly floured surface to form a rectangle.
Place dough onto a sheet of parchment paper about the size of a baking sheet.
Add the beer cheese to the center of the dough, sprinkle with chopped bacon, reserving about 2 tablespoons of bacon.
Fold both long sides in towards the center to form a tight log, fold the short side over about two inches towards the center.
Roll the log over so the seam sides are down, transfer the parchment paper onto a baking sheet.
Brush with melted butter, sprinkle with remaining bacon.
Bake at 425 for 14-18 minutes or until golden brown.
https://domesticfits.com/bacon-beer-cheese-stromboli-real-issue-buyouts/
For homemade pizza dough, try this pale ale pizza dough recipe.