Bacon and Beer Bread Stuffing + Craft Beers to Drink on Thanksgiving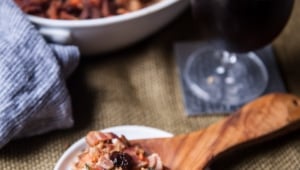 Bacon and Beer Bread Stuffing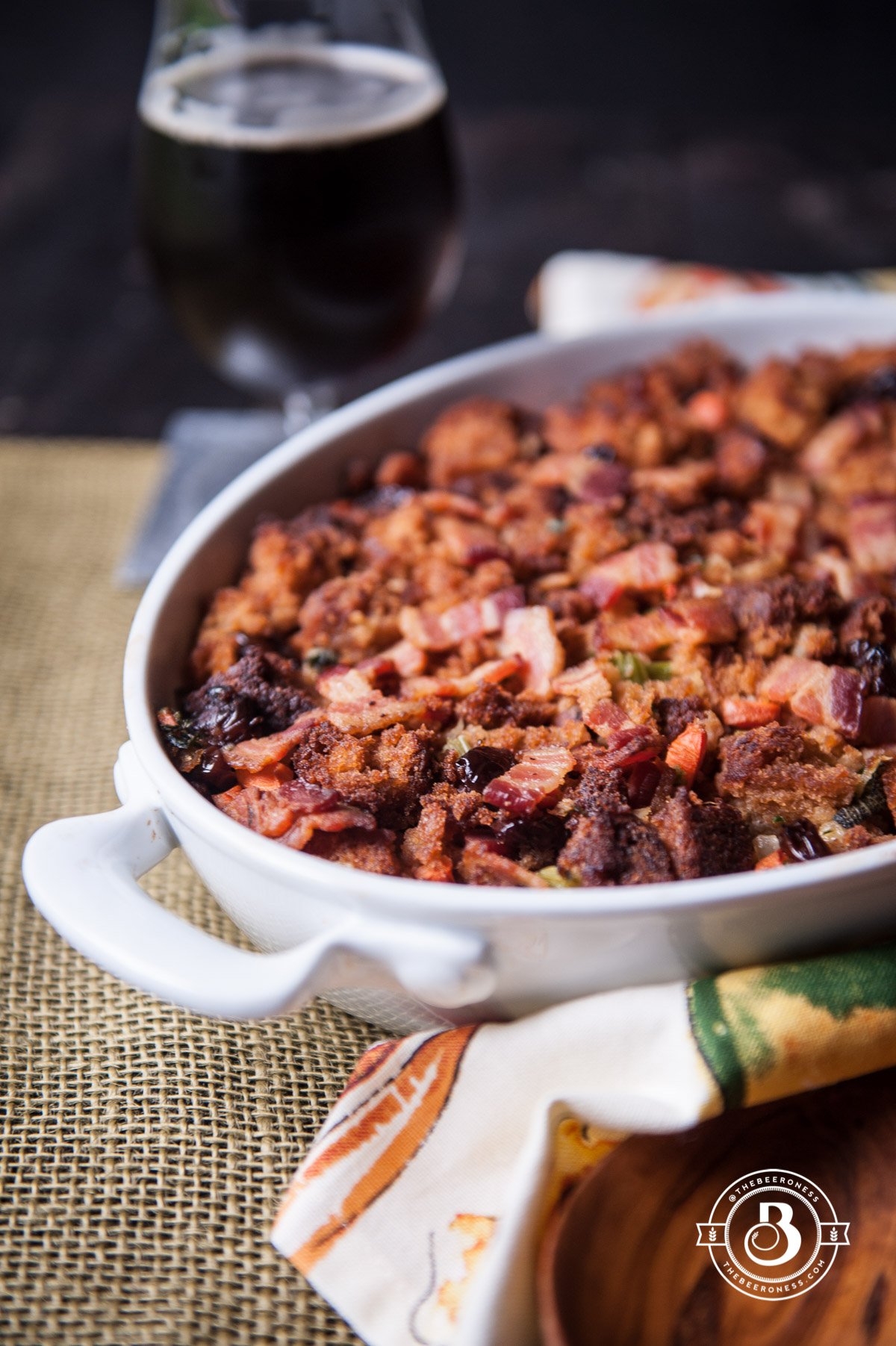 As biased as I am, I can pretty solidly affirm that beer needs to be your adult beverage of choice for Thanksgiving. The flavors of your fall Holiday table will run around much better with the malt, spices, and carbonation that beer has to offer than any other alcoholic concoction. I have a few tips to get you started as you begin your thanksgiving-beer-offering search.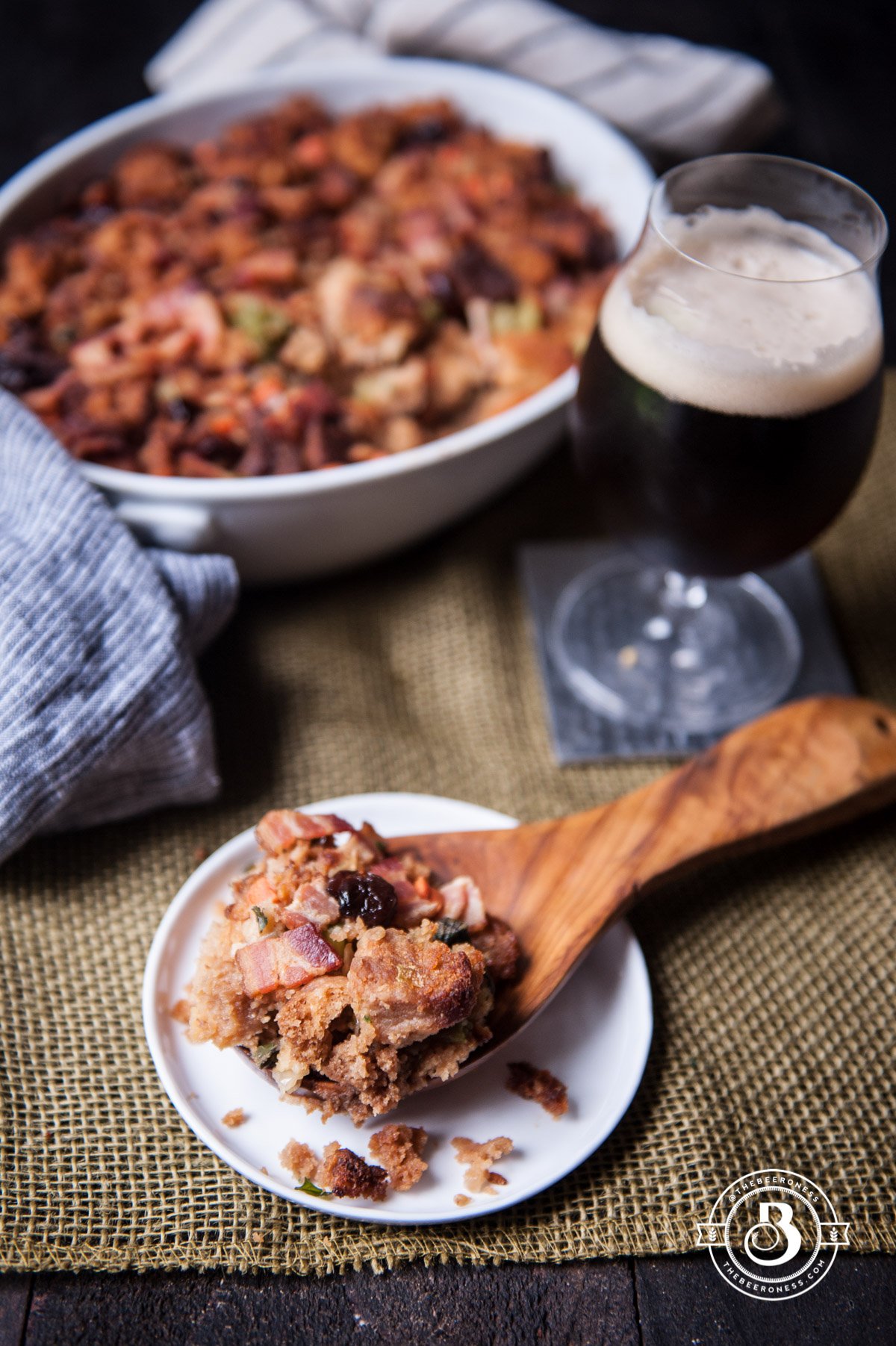 I know you love hops, but let them rest for today. Choose a malty beer.
Don't forget the carbonation. It will aid in palate cleansing between courses.
You have enough to do, don't worry about pairing to each dish. Just pick a beer that plays nice with everything.
Don't be afraid of a higher ABV, these beers can be the best fit (and please, if you're driving splurge on an Uber)
A few style suggestions:
Witbier (or white ale): These are the crowd pleaser, the beers that are hard to argue with. They have a low IBU's (low bitterness), a nice carbonation and flavors of orange peel, coriander and cloves that go well with everything on the Thanksgiving table. Even Grandmas Jell-O salad. A few to seek out: White // Allagash Brewing, White Rascal // Avery, Witte // Ommegang
Belgian Abbey Ales (Belgian Dubbel): These are rich, malty beers with enough hops to keep them from being overly-sweet but not enough to linger. They have rich flavors of dark fruits, caramel, nuts and an active carbonation to help you cleanse the palate between bites. A few to seek out: Abbey Ale // Ommegang, Lost & Found Abbey Ale // The Lost Abbey, Prior 8 // St Bernardus
Seasonal Ales: Most of the time, these are beers that are brewed to feel like the season. With ingredients that are starting to show up in the farmer's markets and on our tables, making these a great choice to pair with your holiday meal. Just make sure to choose something with low hop bitterness to compliment, rather than compete with, the food you are about the share. A few to seek out: Autumn Maple // The Bruery, Christmas Ale // Schlafly, Sleigh'r // Ninkasi
Bacon and Beer Bread Stuffing
Ingredients
For the beer bread:

3 cups flour
2 tsp baking powder
2 tsp baking soda
¼ cup honey
12 ounces beer (summer ale, wheat beer, saison, pilsner)
¼ cup melted butter

For the Stuffing:

½ lbs bacon, chopped
2 tablespoons butter
½ sweet white onion, chopped
1 celery rib, chopped
1 large carrot, chopped
2 teaspoons chopped fresh sage leaves
¼ cup chopped Italian parsley
1/2 teaspoon salt (more if you used unsalted broth)
1/2 teaspoon pepper
1/2 teaspoon garlic powder
1 teaspoon chopped fresh thyme
½ teaspoon salt
3 cups chicken broth
½ cup dried cherries
Instructions
Preheat the oven to 375.
In a large bowl stir together the flour, baking powder, and baking soda.
Pour in the beer and the honey, stir until just combined.
Pour into a loaf pan that has been sprayed with cooking spray. Pour melted butter over the batter.
Bake for 50 minutes or until the top springs back when lightly touched. Allow to cool, remove from pan (this can be done a day in advance).
Cut the bread into cubes. Reduce oven to 350F.
Add the chopped bacon to a pan off heat. Add to medium heat and cook until the bacon is crispy and the fat has rendered (this method of starting bacon in a cold pan and cooking on a lower heat is the most effective way to render fat and crisp the bacon).
Remove the bacon with a slotted spoon, reserving the pan and the bacon grease.
Turn the heat to medium high and add the bread cubes. Cook until the bread is lightly toasted. (If your pan is too small to accommodate, place bread cubes on a baking sheet, drizzle with bacon fat, and bake at 350F until toasted, about 10 minutes).
Add the bread cubes to a 4-quart (or 9x13) baking dish along with the bacon and the dried cherries.
Melt the butter in the pan, add the onion, celery, and carrots, cooking until softened. Add the sage, parsley, thyme, salt, pepper, and garlic powder stirring to combined.
Add the chicken broth, simmering for 3 minutes.
Pour the broth, vegetables and herbs over the bread cubes. Toss gently to combine.
Bake at 350 for 25 minutes. Serve warm.
https://domesticfits.com/bacon-beer-bread-stuffing-craft-beers-drink-thanksgiving/