Asparagus Pale Ale Soup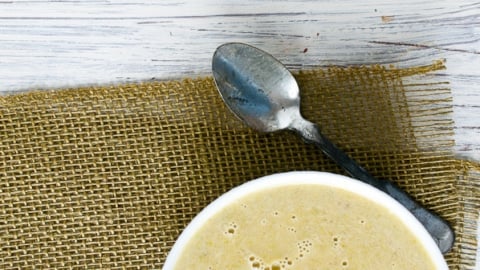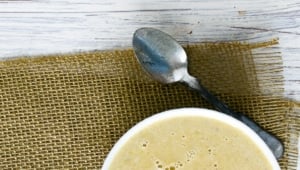 Lately, I've been struggling with a creative plateau I can't seem to push myself past. A dissatisfaction with everything I make. The recipes that just don't seem creative enough, the photos that I can only see as average, and the sub-par writing. I've been trudging through this phase, trying to push myself, and the things I create, closer the level I want to be on.
A few days ago I came across this quote from Ira Glass that reminded me that although I'm not where I want to be, I just might be on the right path.
Because maybe discontentment is the only common thread of successful people. Maybe it's dissatisfaction that pushes anyone towards the best self they can ever achieve, and maybe complacency is an anchor into mediocrity.
Maybe.
I don't know if I have more talent to unearth in myself, or if I've squeeze every bit out of an average ability, but Ira Glass did give me hope that the struggle is part of the journey. And it's a normal part.
I see this struggle in brewers, too. The ones that make the jump from homebrewer to successful brewery owner share that same dissatisfaction, the push to be better, learn more, create great beer, and master the simplicity of classic styles. The biggest leaps in potential comes from feeling self-dissapointment in the middle of your own celebrations. When everyone else is cheering your accomplishments, you are taking inventory of your short falls.
Seasonal and special release beers are brewers pushing the levels of their own creativity. A way for the rest of us to thoroughly enjoy the fight these talented, creative, souls are engaged in to push themselves higher in their own climb.
Hop Cuvee is a newly released pale ale from Bison Brewing. It's a beer that has an accessible, balanced, hoppiness that uses three different types of hop as a celebration of the best hop crops of the years. It's crisp and citrusy with notes of pine, it's a great choice for summer. Dan Del Grande, Bison's fearless leader says, "My hop blend in Hop Cuvée will change every year, like a vintage, to reflect the best crops that our organic hop farmers have to offer." Bison is a great brewery to get to know, they have a love of great beer, and have figured out how to give it to us in a way that's organic, eco-friendly, and aims for a lower carbon footprint every year.
This is a beer that celebrates seasonal crops, making it perfect for the asparagus that just came into season. It finishes the soup to give it a bit of an earthier taste. I prefer this soup warm, but it can also be served as a chilled soup when the weather jumps into the triple digits.
Asparagus Pale Ale Soup
Ingredients
3

tbs

unsalted butter

1

large sweet white onion

chopped

2

pounds

asparagus

trimmed

5

cups

chicken broth

or vegetable broth

1

tsp

salt

1

tsp

pepper

1/3

cup

heavy cream

2/3

cup

pale ale
Instructions
In a large pot or Dutch oven heat the butter over medium high heat. Add the onions and cook until softened, about 5 minutes. Add the asparagus and cook until slightly darkened, about 3 minutes.

Add the broth and cook until asparagus has softened, about 10 minutes, remove from heat.

Using a blender, food processor or immersion blender, puree until very smooth. Season with salt and pepper. Stir in cream and return to heat, brining to a gentle simmer. Remove from heat, stir in beer.