Apple Streusel Pancakes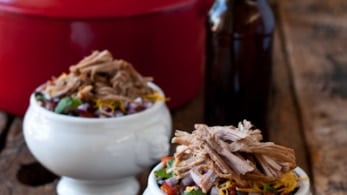 Pancakes are my first food memory.
I'm one of 8 children (all girls, wrap your head around that) and one of  about 27 cousins (I don't even know the actual number) which made alone time with my grandparents really special.
The spring after I turned 4, I spent a Saturday night in a My Little Pony sleeping bag on the floor of my Grandparents bedroom, falling asleep to a wall mounted TV playing Wheel of Fortune. When I woke up, my Grandpa (Papa) was already gone. He was an artist that had done quite a bit of the original artwork for the Madonna Inn, looked a lot like Desi Arnaz and had a heart of pure gold.
My Grandma packed me into her 1980's Cadillac with overstuffed seats that felt a lot like recliners and headed for the San Luis Obispo community center's Pancake Sunday. My Papa was the "featured chef" and the hall was packed. My Grandma shuffled me past tables of seniors, wide eyed and waving at the tiny blond 4 year old. I was like a celebrity, I was Harry Tregarthen's granddaughter and I was a "baby" to these ladies who just wanted to pick me up and squeeze my cheeks.
My Grandma and I join a round table with four other older ladies. "Your Papa makes the best pancakes, you know," one of the ladies was actually talking to me, instead of about me, that was new for me as a 4 year old, "That's why this place is so busy. Last weekend, when Sal was cooking, only half full. Today, standing room only!" I didn't know what "standing room only" meant, but I knew it was good.
"They must be good pancakes!" It's all I could think to say, but the thing about being 4 is that as long as you form a coherent sentence and say it with enthusiasm, people laugh. And they did, these ladies were my crowd and I was on fire.
"Do you know the secret ingredient is?" She asked, clearly as excited with the banter as I was. "Sugar?!" I said, because I'm 4, and that's pretty much my life.
I hit again, they were rolling. I could have mic dropped. Once she caught her breath the older lady let me in on the secret, "7-up! Can you believe it? Instead of milk!" I didn't know how to make pancakes, or even that milk was a part of the process but I did like 7-UP. He was brilliant, I couldn't believe it. He had put soda in pancakes?! At 4 years old, before I had even seen a recipe, let alone followed one, my Papa taught me that you should experiment. Break the rules, do your own thing.
Pancakes are a great recipe to experiment with. So basic, and with so many places to go. I don't drink soda anymore, so I never have it on hand, but when I did I always used it in pancakes. It makes them fluffy and light. But now, even though I'm back to using milk, I like to experiment. Pancakes are like a canvas, nearly ever ingredient from sweet to savory somehow work in a pancakes.
And to this day, I always think of Papa when I make pancakes.
Ingredients
1 tbs brown sugar
1 tsp black pepper
1 tsp salt
¼ tsp cayenne
¼ tsp smoked paprika
3 lb chuck roast
2 tbs olive oil
12 ounces porter or stout
3 cups beef stock
4 French sandwich rolls
Directions
Preheat oven to 325.
In a small bowl, combine the brown sugar, black pepper, salt, cayenne, and smoked paprika.
Pat the roast dry. Rub with spice mixture.
Heat olive oil in a Dutch oven, or other large oven safe pot, until hot but not smoking. Add the roast, sear on all sides. Pour beer and broth over the meat. Cover and roast in oven at 325 for 3 hours or until very tender. Move meat to a cutting board.
Place Dutch oven back on the stove. Bring to a boil, stirring occasionally, until slightly reduced, about 10 minutes.
Shred meat using two forks. Split rolls, fill with meat. Spoon a bit of sauce over the meat. Serve remaining broth in bowls with sandwiches for dipping.
https://domesticfits.com/apple-streusel-pancakes/
Copyright �© TheBeeroness.com