Apple Pie Bread Pudding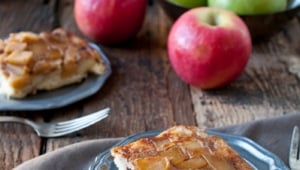 I grew up just feet from an apple orchard on a farm in Easter Washington. Although not as idyllic and charming as one may be led to imagine, I did walk away with an above average ability to name an apples variety just by looking at it. I've also learned a thing or two about which apples to use for what, and more importantly, why.
Apples not only run the spectrum of sour to candy like sweetness, but texture is also a huge issue. If a recipe calls for a Granny Smith and you use a Gala don't be surprised if you end up with an overly sweet pie pan full of mush. Some apples hold up really well to high heat, others don't. Some need more sugar, while others need very little. If a recipe calls for a specific type of apple, try your best to find that type, the recipes success may depend on it.
Red Delicious: This is the most popular apple in America and I have little idea why, other than it looks so beautiful in a fruit basket. The flesh easily turns to mush when cooked and texture is grainy. Try to avoid this when cooking and use it only raw, like in salads.
Granny Smith: Very popular baking apple because it holds up to high heat, keeping it's shape during baking. It is also on the sour side, so if you're substituting a different apple for recipe that calls for a Granny Smith, you might want to pull back on the sugar a bit.  Still a great choice for baking, pies especially, but it tends to be best when mixed with another sweeter apple (like a Braeburn or Golden Delicious).
Honeycrisp: with a beautiful red and green skin, this apples has had a rapid rise in popularity among bakers in the past decade. With a snappy crispness, well balanced sweet-tart flavor and a flesh that wont let you down once baked, this is a variety to seek out when making an apple tart, apple pie or apple tart Tatin. If you can't find the popular Honey Crisp, look for the Rome Beauty or a SweeTango. With similar qualities, these an excellent stand in.
McIntosh: This is another large red and green marbled beauty. It isn't the best choice for baking because it tends to fall apart, but because of it's strong apple flavors it's a great choice for apple sauce makin'.
Cortland: This is one of the few apples that has tannins. Tannins are most often talked about when discussing wine, they give you that pucker feeling in the back of your throat when drinking a glass of vino. Because of that, Cortlands make a great addition to cider making.
Just be aware that "apple" is not one size fits all when it comes to baking. Making sure you have the right man for the job will help make sure you hit the mark when making those holiday pies.
Mediterranean Beer Braised Pork Burgers
Ingredients
For the Meat:

1 tbs brown sugar
1 tsp smoked paprika
2 tsp salt
1 tsp onion powder
1 tsp garlic powder
1 tsp black pepper
1 tsp cumin
3 lbs country style pork ribs
2 tbs olive oil
14.5 wt. oz. stewed tomatoes
12 oz smoked porter
1 tbs Worcestershire sauce
1 white onion, chopped
3 cloves of garlic, chopped

For the topping:

1 cup Greek yogurt
2 tbs fresh lemon juice
2 tbs dill, chopped
½ cup red onion, very thinly sliced
1 English cucumber, dices
1 cup firm tomatoes, chopped
8 Homemade Beer Burger Buns
Directions
In a small bowl stir together the brown sugar, smoked paprika, salt, onion powder, garlic powder, black pepper and cumin.
Sprinkle pork on all sides with spice mixture.
Heat the olive oil in a large Dutch oven until hot but not smoking. Sear pork on all sides, working in batches in necessary.
Pour the stewed tomatoes and beer over the pork. Add the Worcestershire, onions and garlic. Reduce heat to a low simmer. Add a lid at a vent and allow to cook until pork is very tender and falling off the bone, about 4 hours. Shred using two forks, removing the bones from the pot. Remove meat from the pot with a slotted spoon to drain off excess moisture.
To make the sauce, whisk together the yogurt, lemon juice, dill and red onion. Chill until ready to serve.
Split the burger buns and fill with pork, top with cucumber, tomatoes and yogurt sauce.
https://domesticfits.com/apple-pie-bread-pudding/
Copyright �© TheBeeroness.com